EXTRA 15% Off Everything
purchase before the time runs out
FOOD
Cut down on that meat! Vegetarian recipes you can try today!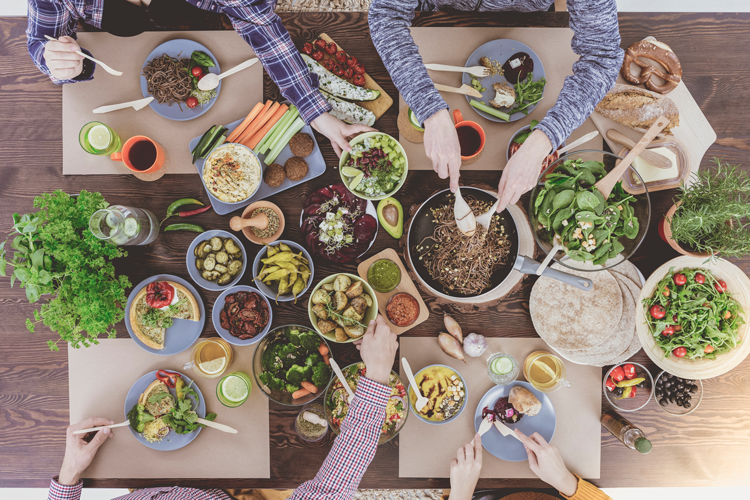 Do you know our bodies need at least 3 servings of vegetables each day? We need our vegetables as much as our proteins (meat). However, in Malaysia we mostly neglect the needs of our bodies and over indulge in unhealthy meals. It is often said that vegetarians live a longer and healthier life as compared to those who do not consume vegetables in their diet. There are even some of use who hate the sight of vegetables!. Most of the time this is due to the fact that vegetarian meals are considered to have lesser taste. There are many vegetarian recipes in Malaysia made by Malaysians on daily basis and loved by many. Below I will be sharing some vegetarian recipes that would tickle your taste buds. Let's give these recipes a chance and your body the nutrients it needs!
1. Hot Noodles With Tofu
Ingredients
13 oz Tofu, dried — sliced
9 oz Chinese dried wheat noodles
13 oz Firm tofu — cubed 1/2″
3 tb Chinese sesame oil
3 tb Fresh ginger — minced
1/2 ts Yellow asafoetida powder*
1 bn Choy sum**, leaves and -stalk — chopped in 1″ -sections
3 tb Soy sauce
2 tb Plain sambal oelek***
3 tb Fresh lemon juice
2 c Mung bean shoots
Directions
First step is to soak dried tofu slices in hot water for 15 minutes. So when softens, cut into 1″ squares, drain, and pat dry.
After that, cook the wheat noodles in boiling water until it is a little firm. After that drain, rinse under cold water, and drain again.
Next, heat oil in wok over high heat, and deep-fry the tofu cubes until golden brown. Remove from pan and drain.
Now deep-fry the squares of dried tofu until golden brown and slightly blistered; remove and drain. Heat some sesame oil in another wok on full heat; saute the minced ginger for 1 minute.
Add the asafoetida and choy sum and stir fry until soft. You can now add the soy sauce, sambal oelek, lemon juice, tofu noodles.
Last step is to stir fry for another 2 minutes or until the noodles are hot. Serve immediately.
2. Crispy Fried Tempe (Keripik Tempe)
Ingredients
Get 600 gram tempe (fermented soybean cake) – not tofu
200 ml water
½ tsp. slaked lime water
100 gr. rice flour mixed with 25 gram cornstarch
vegetable oil
Spice Paste Ingredients:
4 candlenuts
1 clove garlic
1 tsp. coriander seeds
salt to taste
1 cm fresh kencur
Directions
First step, slice the tempe in thin 3½ x 5 cm squares. Set aside.
Second step, mix the spice-paste together with the water and slaked lime water. Next, add the rice flour and cornstarch and blend till smooth.
Last step, heat the oil in a wok, dip the tempe in the batter and deep-fry until it is golden brown and crisp.
Reminder: Make sure that the oil is not to hot, otherwise the batter and the tempe will not be done at the same time. Makes 5-6 servings.
3. Terong Balado
Ingredients
1 lg Eggplant
3 Garlic cloves, -sliced or chopped
4 tb Onion, chopped
1 1/2 c Tomatoes (fresh), ripe
1 t Sugar
1 t Salt
2 ts Red hot chili peppers, -fresh
1/2 c Water
2 tb Vegetable oil
Directions
First step, cut the eggplant into long quarter-round strips. Then, bake them at 400 200 for 20-25 minutes, or until they are soft but not mushy.
Now in a bowl, mix the onion, garlic, tomatoes, salt, sugar, peppers and water and mash with a wooden spoon until it forms a coarse paste.
Next step is to fry the tomato paste in the oil until the liquid is reduced (about 10 minutes). Lastly,pour the sauce over the eggplant and serve immediately.
4. Sweet Eggplant Stew
Ingredients
1 lb. eggplant
4 Tbs. vegetable oil
1 Tbs. shallots
1 clove garlic, sliced
½ cup water
1 Tbs. sweet soy sauce
½ tsp. pepper
¼ tsp. nutmeg
1 tsp. vinegar
½ tsp. salt
1 tsp. sugar
Directions
First step involves cutting the unpeeled eggplant into ½-inch-thick slices, and then cut the slices in half. After that fry lightly in 2 Tbsp. of oil for about 2 minutes, or until light brown and softened. Set aside.
Next, stir fry the shallots and garlic in the remaining oil until light brown. Now add the water, sweet soy sauce, pepper, nutmeg, vinegar, salt and sugar. After that, let all of these ingredients cook for approximately 3 minutes to prepare the sauce.
Now you must cook the eggplant slices in the sauce for additional 2 minutes to distribute the flavors. Try shaking the pan several times to mix but bare in mind not to mash the eggplant.
Serve hot or at room temperature. Makes 4 servings.
5. Laksa Lemak Nyonya
Ingredients
500 gm yellow noodles/vermicelli/spaghetti
1 inch galangal (lengkuas)
2 stalks lemon grass (crushed)
1/2″ turmeric root
10 nos shallots
2 tbsp coriander seed
5 dried chillies
2-3 cup light coconut milk
10 nos tofu puffs (tofu pok)
2 sprigs curry leaves
salt & sugar
For Garnishing:
Get 2 fried firm tofu (sliced thinly) (soya bean paneer)
10 fish balls/chicken balls
1 pc fish cake (sliced thinly)
20 gm bean sprouts
5 boiled egg (halved)
2 tbsp fried shallots
1 cup shredded cucumber
chopped spring onions
Directions
First step is to grind into a paste the galangal, turmeric root, shallots, dried chillies and coriander seeds.
Secondly, sauté the paste with enough oil. When the aroma rise add in the light coconut milk, lemon grass, salt and sugar. Lower the flame and simmer for 5-10 minutes.
Now add in the tofu puffs and curry leaves. To serve it, assemble individual portions of noodles in a bowl, top with the various garnishing and scoop enough gravy on top. Serve it hot. Remember do not substitute dried chillies and turmeric root with chilli powder or turmeric powder.
You should cook the noodles/vermicelli/spaghetti in rapid boiling water and sieve in running tap water before serving in a bowl. If you could not get tofu pok use shredded boneless chicken.
6. String-Hoppers ( also known as Puttu Mayam)
Ingredients
250g rice flour
1/2 tsp salt
325ml (approximately) boiling water
2 pandan leaves, knotted
Directions
First, steam the rice flour for about five minutes, then leave aside to cool completely. Next, sift the flour and salt into a mixing bowl and add boiling water; mix. You can should use a wooden spoon to stir the mixture into a dough. (remember it should be light and not sticky to the touch.)
After that, put a little dough into a puttu mayam press or string-hopper mould. Onto a saucer, now press out the dough into long strands in a circular motion to form a lacy circle.
Next, place the pressed-out circles on lightly greased rattan steamer trays. Steam it for 8-10 minutes over rapidly boiling water (place the pandan leaves in the boiling water).
Finally, cool the puttu mayam before easing out from the rattan tray.
7. Cauliflower and peas curry
Ingredients
300 gm cauliflower
1/2 cup green peas
1 tablespoon coconut oil or vegetable oil
1 big onion, chopped
4 cloves garlic, chopped
1 inch piece ginger, shredded
1/4 red chili, slit lengthwise
1 tomato, quartered
1 sprig curry leaves
1/2 teaspoon mustard seeds
1 teaspoon fenugreek seeds
1/2 teaspoon cumin seeds
1 tablespoon tamarind, mixed with1/4 cup water
2 tablespoons curry powder
1/2 teaspoon turmeric powder
2 teaspoons fennel powder
11/2 teaspoons sea salt
2 cups grated/shredded coconut
1 sprig coriander leaves, shredded
Directions:
Cut the cauliflower into florets and soak it in water to which salt has been added. After 10 minutes, rinse the florets.
Extract 2 cups thick coconut milk and 2 cups thin coconut milk from the grated coconut. Alternatively, use ready-made or canned coconut milk, in which case you may substitute the thin coconut milk with water.
Heat a pan or skillet and pour in the coconut oil.
Once the oil is hot, add in the onion, garlic, ginger and curry leaves, and stir lightly.
Now, add the mustard seeds, cumin seeds and fenugreek seeds, and stir.
Once the mustard seeds start spluttering, add in the chilli and tomato.
Now you can pour in the thin coconut milk and tamarind juice.
Add curry powder, turmeric powder and salt.
Cover the skillet and allow the curry to simmer for about 10 minutes on low heat.
Add the thick coconut milk and allow to simmer for another 5 minutes with skillet covered.
Then add the cauliflower, peas and fennel powder, and simmer for another 5 minutes, with the cover on.
Garnish with shredded coriander leaves and remove from the stove.
8. Vegan Cutlets
Ingredients
2 potatoes, boiled, peeled and mashed
1 cup chopped frozen mixed vegetables - carrots, corn, green peas
1 cup shredded cabbage
1/4 cup shredded coriander leaves
1/4 cup chopped onions
1/2 red chili - deseeded and chopped
1/2 teaspoon salt
1/2 tablespoon curry powder
1 tablespoon coconut oil
4 tablespoons corn flour
1 cup bread crumbs
Mix all the shredded and/or chopped vegetables to mashed potatoes.
Add curry powder and salt to the vegetable mixture and mix evenly.
Heat a pan and add 1 tablespoon coconut oil. Add the vegetable mixture to the pan and stir-fry over a light flame for about 5 minutes, stirring continuously.
Now remove the mixture from the pan into a bowl.
Add 2 tablespoons corn flour and 3 tablespoons bread crumbs to the vegetable mix and stir well.
Allow the mixture to cool for 10 minutes.
Now you can form the mixture into balls and then flatten into cakes.
Mix 1/2 cup water and 2 tablespoons corn flour for the dipping.
Dip the cutlets into the corn flour mixture and coat with some bread crumbs.
Fry in moderately hot oil until brown in color.
Thanks for reading! :D