Free Heart of Spring Coaster*
Natural
About This Product
Make a date with our Black Dates Tea Paste for a healthy and delicious all-day drink! This delicately sweet drink won't just please your taste buds, it'll give you a host of nutrients you didn't know you were lacking in an easy to ingest form. Black dates were traditionally used to improve blood circulation and stamina as well as enhance sleep quality, but it also acts as a cleanser that is effective in treating intestinal issues, sore throats, colds and fevers. Additionally, its nutrient-rich properties make it a suitable drink to replenish the body's nutrients particularly for postpartum women. It's also naturally sweetened by the dates and jaggery. A much healthier option even when compared to brown sugar or honey, jaggery boasts a rich brown sugar-like flavour and a better nutrition profile as it provides several vitamins and minerals (magnesium, copper and iron).
Country of Origin: Malaysia
What Does This Taste Like?
Mildly sweet with a hint of brown sugar-like flavour.
Health Benefits
1. Black dates contain a high percentage of carbohydrates, protein (up to 23 types of amino acids present), vitamins and dietary fibre.
2. Dates contain fluorine which helps protect teeth against decay.
3. Contains selenium which boosts the immune system and is believed to help prevent cancer.
4. Antioxidant content protects cells from free radicals, helps reduce inflammation and promote heart health.
5. Contains vitamin B, particularly vitamin B6 and B5. Also rich in vitamin A.
6. Good source of manganese, magnesium, iron, phosphorous, calcium and zinc.
7. Natural antidepressant, anti-inflammatory and an excellent source of iron which helps to replenish red blood cells.
8. Excellent source of antioxidants and may help boost energy levels, improve cholesterol levels and blood sugar control.
9. Jaggery contains several micronutrients, vitamins and minerals such as magnesium, copper and iron.
Usage Directions
Add 1-2 teaspoons to a glass of hot water and stir. Serve hot.
How To Consume
-None-
Ingredients
Black Date, Jujube (Red Date), Dried Longan Pulp, Goji Berry, Jaggery.
Allergy Information
-None-
Storage Instructions
Keep in a cool, dry place and refrigerate after opening. Avoid exposure to sunlight or excessive heat. This product has a shelf life of 6 months.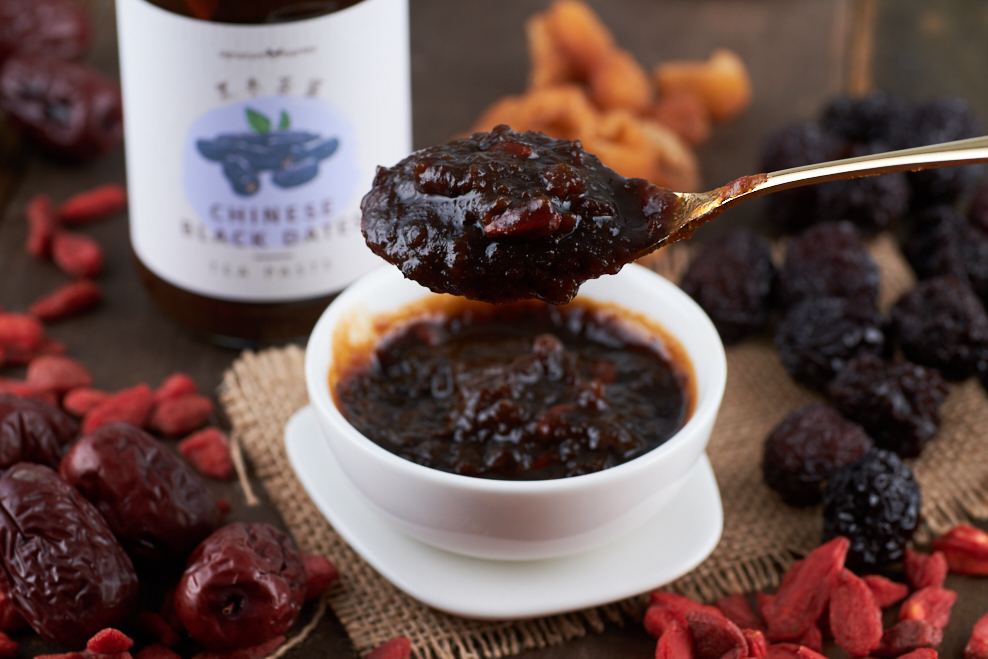 Related Products
Ratings & Reviews
Share your feedback by reviewing this product. Help other shopper decide whether it's right for them.
Black Dates Tea Paste
(250g)