Signature Market
Osmanthus Coral Seaweed Cube(桂花珊瑚草)(Expiry on: Oct 2020)
(250g)
Selling : RM 22.9 (Save 18%)
(
log in
for member pricing )
Natural
About This Product
What's the best dessert when you're battling hot weather, haze or just general internal heatiness? Jelly of course! Not just any jelly at that, but coral seaweed jelly that is jam-packed with a host of nutritional benefits and collagen. Coral seaweed jelly is often touted as a vegan-friendly option to bird's nest and it's no wonder too as it packs more than 10 times the amount of collagen you'd normally find in bird's nest. However, coral seaweed is usually harder to prepare than commercial varieties available for jellies as it requires overnight soaking and hours of cooking. But fret not, we've come up with a simpler and faster solution for you to enjoy some delicious and nutritious coral seaweed jelly: Osmanthus Coral Seaweed Cubes. Our coral seaweed cubes are easy to prepare and flavoured with the delicate fragrance of osmanthus and mild sweetness of rock sugar, popular ingredients in traditional Chinese dessert soups known for their health benefits. Enjoy a chewy, soft texture and delicate flavours that's suitable for everyone, young and old.
Country of Origin: Malaysia
What Does This Taste Like?
Mildly sweet, soft and chewy with a floral fragrance from osmanthus.
Health Benefits
1. Coral seaweed is a good source of plant-based collagen and fibre. May help relieve constipation.
2. High collagen content helps to improve skin elasticity and hydration levels.
3. Coral seaweed is rich in iron which helps to increase production of red blood cells. May help reduce symptoms of anaemia.
4. Osmanthus is said to help prevent bad breath, reduce phlegm and stasis in the body. It may also help relieve abdominal pains due to menstruation, reduce bloating and gas as well as alleviating symptoms of diarrhoea.
5. Osmanthus has a mild sedative effect which helps to relax the mind and improve brain function.
6. Osmanthus has a detoxifying effect that helps the kidneys and liver to rid the body of toxins. This results in your body feeling more energized.
7. Inhaling the scent of osmanthus may help to curb appetite and prevent overeating.
8. Osmanthus is moisturising for the skin and is great for enhancing eyesight.
9. Osmanthus contains cobalt, manganese, selenium and antioxidants such as neo-beta carotene and trans-alpha carotene which are converted into vitamin A.
Usage Directions
1. Bring 200ml of water to boil.
2. Put 1 coral seaweed cube (25g) into the boiling water and stir until cube is dissolved.
3. Pour the coral seaweed mixture into your mould or container of choice. Please ensure container is able to withstand the heat. We recommend waiting for the mixture to cool slightly (slightly warmer than room temperature but still liquid form) before pouring it into jelly moulds.
4. Place coral seaweed jelly into the refrigerator and allow it to chill for approximately 15 minutes or until the liquid hardens into jelly form.
5. Once hardened into jelly form, pop the jelly out of the container and serve chilled.
How To Consume
See usage directions.
Ingredients
Rock Sugar, Osmanthus, Coral Seaweed.
Allergy Information
-None-
Storage Instructions
Store in a cool, dry place. Avoid exposure to sunlight or excessive heat. Product might crystallise at room temperature as the product is made with natural ingredients and no artificial additives are present.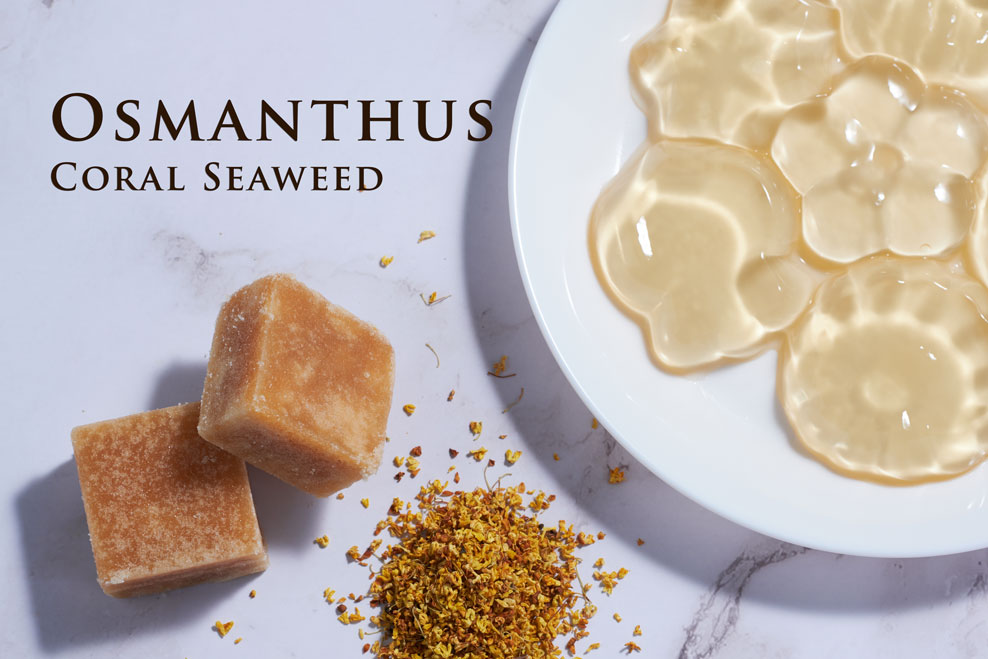 Related Products
Osmanthus Coral Seaweed Cube(桂花珊瑚草)(Expiry on: Oct 2020)
(250g)