Free Refresh & Reset Room Spray Sample*

About This Product

Fudgy and nougatty, chewy but with a surprising crunch factor - our Snowflake Crisps with Cranberries are pastry hybrids born from the sticky marriage of a milky nougat-like mixture, biscuits and cranberries. Popular amongst Taiwanese and Chinese foodies, it is slightly chewy at first bite but its middle reveals a pillowy almost marshmallow-like texture complemented by the contrast of crunchy biscuit bits and real cranberry pieces to balance out its sweetness. Individually packed for convenience and with a non-sticky texture for a no-mess eating experience, they're a delightful little treat to yourself no matter the time or place.

Country of Origin: China

Ingredients
Glucose, Salt, Sugar, Vegetable Oil, Protein Solution (Egg White), Margarine, Whole Milk Powder, Dried Cranberry, Pectin.

Allergy Information
Contains gelatine, egg and dairy products.


Buy 3 Get Free Gift
Related Products
Ratings & Reviews
Share your feedback by reviewing this product. Help other shopper decide whether it's right for them.
Lal***** D from Seremban, Negeri Sembilan | Posted 2 weeks ago
Can be improved
Couldn't feel the softness during munching.
XIU*** from SKUDAI, Johor | Posted 1 month ago
Taste ok
Suggest to put more cranberries
Nic*** O from Ipoh, Perak | Posted 1 month ago
Taste so good
Taste so good and I love it so much.
CHI** Y C from Pulau Pinang, Penang | Posted 1 month ago
Nice Packing
1st time order
Lie* M p from Ipoh, Perak | Posted 2 months ago
Smell like fragrance
It is a bit sticky and smell good a bit like fragrance, overall ok , still can improve
Pun********* P from Seremban, Negeri Sembilan | Posted 2 months ago
Chewy...
a bit sweet for me... perhaps to have less sugar option? neway it is cute n nice packaging each... :)
Nic***** L from Puchong, Selangor | Posted 3 months ago
Light and chewy
These are delicious. It is less chewy and dense than nougat. But they are deliciously addictive.
Anynomous | Posted 4 months ago
NICE
surprised that this tasted so so goood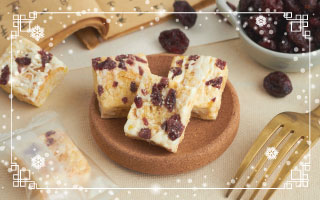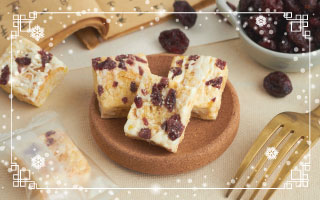 Snowflake Crisps with Cranberries
(10g x 15 sachets)