LIVING
NEW Plant Origins Body Wash
There's another new product to the Plant Origin family which is our Plant Origins Body Wash! Of course we had to compliment our Plant Origins Hand Soap right? Plant Origins Body Wash is of course 100% natural and it is enriched with ecocert organic aloe vera which deeply hydrates and soothes skin. It's hypoallergenic formulation that contains no parabens or harsh ingredients and using only natural fragrance from plant extracts helps reduces skin irritation.
As for the scent, it's similar with Plant Origins Hand Soap, a citrusy yet sensual scent but with different mixture which are geranium, sweet orange and bergamot notes for the Plant Origins Body Wash. The delicate floral of geranium intertwined with the heart notes of the bergamot and sweet orange for a uniquely uplifting and sophisticated scent.
So what are you waiting for? Click
here
to get your natural Plant Origins Body Wash now! 


Thank you and happy shopping!
Related Products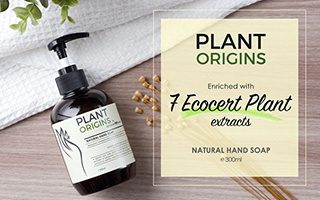 RM 14.00
RM 75.00 (Save 81%)
RM 35.00
RM 150.00 (Save 76%)
RM 19.90
RM 25.50 (Save 21%)