Signature Market
Organic Buckwheat Noodle
(300g)
Selling : RM 14 (Save 29%)
(
log in
for member pricing )
Organic, Vegan
about this product
Indulge in Japanese cuisine? Why don't you try Signature Market Organic Buckwheat Noodle?
Buckwheat noodle, also known as
Soba (そば)
in Japanese. Now you can enjoy this Japanese traditional noodle dish at home! Not only suitable to serve in hot broth to warm you up during cold day, you can also serve it cooled with dipping sauce to chill yourself during hot weather. It is delicious in both way.
Benefits
Chewy with grainy texture, this gluten-free organic buckwheat noodle is high in fiber and protein but low in fat. This low calories & gluten free-dish is a great healthy choice for you who are on
gluten-free diet
!
It also contains nutrients such as:
•
Manganese & Magnesium -
for better bone health;
•
Copper -
for proper cognitive development;
•
Phosphorus -
to build strong bones & teeth;
•
Vitamin B2 (Riboflavin) -
to facilitate healthy metabolism;
•
Vitamin B3 (Niacin) -
to improve cholesterol level;
•
AND MANY MORE!
Cooking Instructions:
1. Soak Organic Buckwheat Noodle in room temperature water for 40 minutes or warm water (40°C - 65°C) for 20 minutes.
2. Ready to eat with hot broth or dipping sauce, together with your favorite ingredients.
No hassle, just soak & ready to eat.
Ingredients:
100% Organic Buckwheat Flour, Filtered Water.
Related Products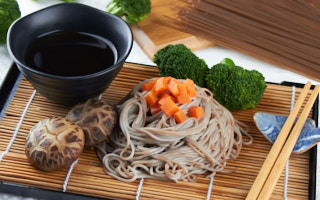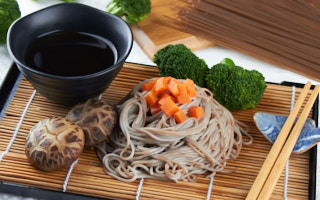 Organic Buckwheat Noodle
(300g)