Free Delivery + Lifetime Membership
Natural
About This Product
Bored of the same ol' granolas? Let us spice up your granola options with our Summer Fruits Gula Melaka Granola! A wholesome rustic granola sweetened with caramelized bits from the homemade gula melaka sauce, scrumptious apricot slices, raisins and shredded coconut tossed in with a heart-healthy combo of flaxseed and oats - it's definitely one you wouldn't want to miss.
Country of Origin: Malaysia
What Does This Taste Like?
Gula Melaka lends a smoky caramel sweetness to the toasty flakes of oats, shredded coconut and flaxseed while the apricot slices and raisins give it a delectably rich fruity taste.
Health Benefits
1. Gula Melaka is naturally low on the glycaemic index (GI) and therefore is much better sweetener than cane sugar or even honey. It also contains plenty of micronutrients and more mineral salts as it is less processed. In Indian Ayurvedic medicine it's used to treat throat and lung infections.it contains vitamins and minerals such as potassium, zinc, iron and vitamins B1, B2, B3 and B6.
2. Apricots contain plenty of minerals necessary for healthy bone growth and cardiovascular health such as calcium, phosphorous, manganese, iron and copper.
3. Flaxseed and oats are both great for cardiovascular health as well as gut health as both contain high amounts of fibre. They're not only good at helping to lower cholesterol levels but are also filling and contain plenty of vitamins and minerals.
4. Flaxseed contains a generous amount of Omega-3 essential fatty acids, antioxidants and fibre (both soluble and insoluble).
Usage Directions
Open packet and consume directly.
How To Consume
Open packet and consume directly.
Add to a bowl of milk/yoghurt and fresh fruit for a healthy snack.
Ingredients
Rolled Oat, Pumpkin Seed, Raisin, Egg, Apricot, Shredded Coconut, Gula Melaka, Brown Sugar, Flax Seed, Honey, Coconut Oil, Pink Salt
Allergy Information
Contains nuts, seeds, honey and egg products.
Storage Instructions
Store in an airtight container or in its original resealable bag to maintain freshness. Keep in a cool, dry place. Avoid exposure to sunlight or excessive heat.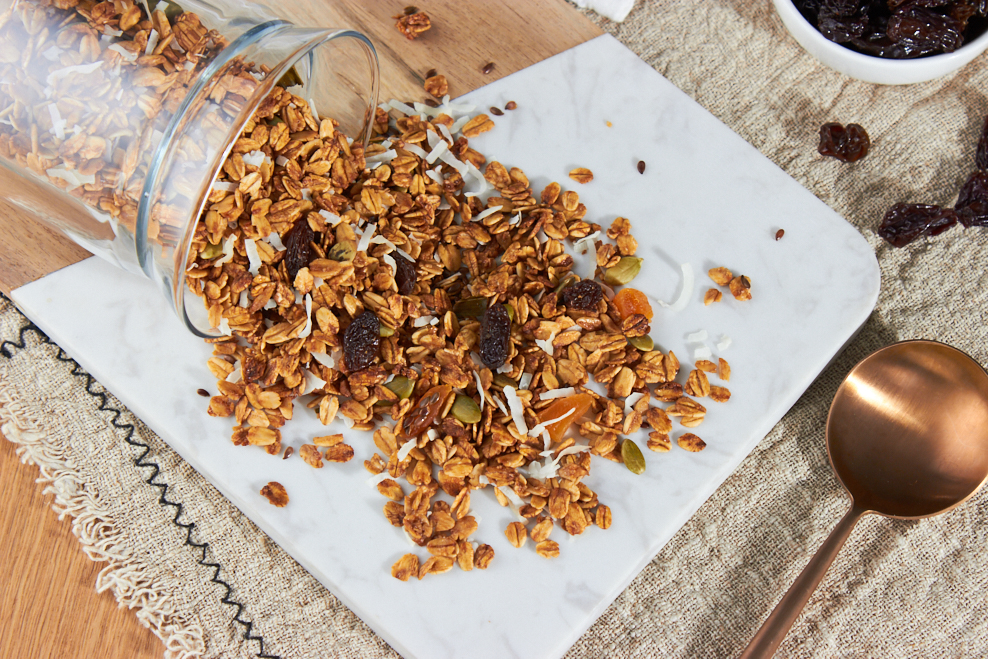 Ratings & Reviews
Share your feedback by reviewing this product. Help other shopper decide whether it's right for them.
Summer Fruits Gula Melaka Granola
(250g)