Signature Market
Nuts About Butterscotch Granola
(250g)
Selling : RM 19.9 (Save 28%)
(
log in
for member pricing )
Natural
About This Product
Love the warm velvety flavours of butterscotch and caramel? Then you'll go nuts for our Nuts About Butterscotch Granola. Combining a variety of nuts and seeds with a generous coating of butterscotch, this granola won't just be making its appearance with your morning yoghurt. Its buttery caramel flavours go well with a host of other foods as well. Our homemade recipe contains heart-healthy fats and gives you a significant dose of fibre to keep your gut healthy too. Still not enough to convince you? Our Nuts About Butterscotch Granola is a homemade recipe that hasn't just replaced unhealthy white sugar with brown sugar, but it's reduced sugar too!
Country of Origin: Malaysia
What Does This Taste Like?
Buttery caramel-like taste underlaid with the nutty crunch of nuts and seeds.
Health Benefits
1. Contains high levels of antioxidant avenanthramides which help dilate blood vessels leading to better blood flow.
2. Protects good cholesterol from damage and aids in improving blood sugar control.
3. Very filling and promotes satiety to help you lose weight.
4. Good source of manganese, phosphorous, magnesium, copper, iron, zinc, folate, Vitamin B1 and B5.
5. Flaxseed and oats are both great for cardiovascular health as well as gut health as both contain high amounts of fibre. They're not only good at helping to lower cholesterol levels but are also filling and contain plenty of vitamins and minerals.
6. Rich in Omega-3 essential fatty acids, antioxidants and fibre (both soluble and insoluble).
7. Packed with vitamins E, K and B6 as well as minerals such as copper, phosphorous, zinc, magnesium, iron and selenium.
8. Helps the body form and use red blood cells due to the iron and copper content. May help individuals who are anaemic.
9. Contains high levels of lutein and zeaxanthin which can protect the eyes from damage that may lead to blindness as a result of old age. It also decreases the risk of cataracts.
10. Contains good fat which helps prevent cardiovascular diseases and reduces the risk of strokes.
11. Pumpkin seeds contain zinc and magnesium which help to relieve symptoms of anxiety, irritability, insomnia, depression and short-term memory.
Usage Directions
Open packet and consume.
How To Consume
1. Open packet and consume directly.
2. Add to a bowl of milk/yoghurt and fresh fruit for a healthy snack.
3. Top your acai bowl or dessert with a handful of granola for a more filling snack.
Ingredients
Rolled Oat, Cashew Nut, Brown Sugar, Pumpkin Seed, Flaxseed, Salt, Coconut Oil, Natural Butterscotch Flavour.
Allergy Information
Contains nut products.
Storage Instructions
Store in an airtight container or in its original resealable bag to maintain freshness. Keep in a cool, dry place. Avoid exposure to sunlight or excessive heat.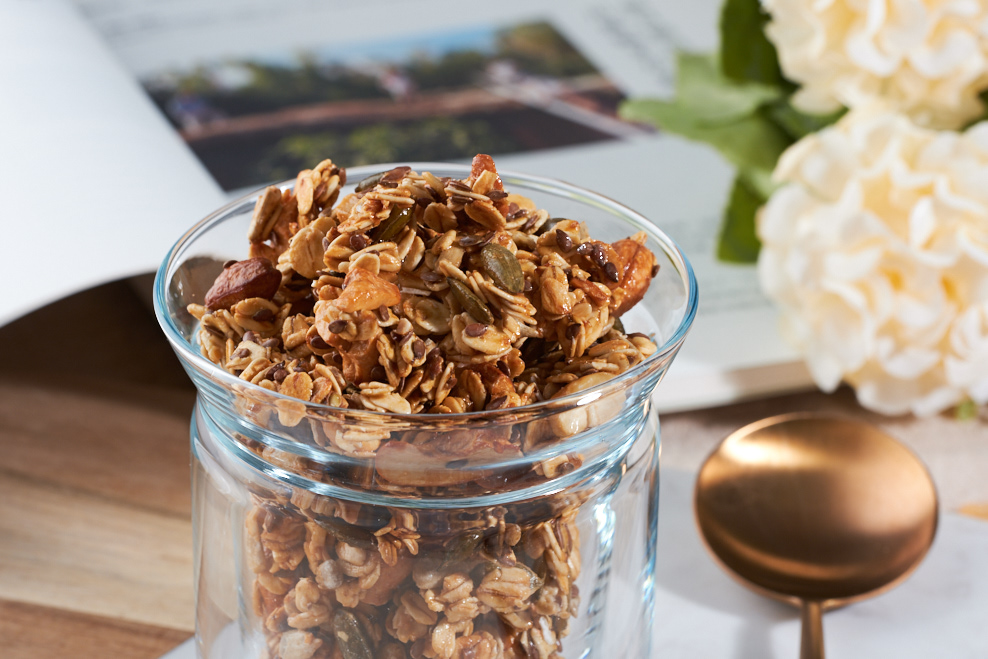 Ratings & Reviews
Share your feedback by reviewing this product. Help other shopper decide whether it's right for them.
Nuts About Butterscotch Granola
(250g)