Signature Market
Better Together Snack Pack
(7 items)
Retail :
RM 128.9
Selling : RM 128.9 (Save 0%)
(
log in
for member pricing )
Snack Pack
About This Product
Peanut butter and jelly, movies and popcorn, cookies and milk - there are many things in life that are better together and our Better Together Snack Pack encapsulates that feeling perfectly. Curated specifically to be shared, our Better Together Snack Pack has a snack for every preference out there. Like it sweet and salty? We got you. Tart or spicy? We've got that too! Just like how our five senses work together perfectly to give you the best experience in life, our variety of snacks deliver a wholesome range of flavours and textures to delight your taste buds.
This snack pack contains:
1 pack of Premium Chocolate Popcorn (150g)
1 pack of Wasabi Green Peas (180g)
1 pack of Thai Dried Mango (130g)
1 pack of Omega-3 Trail Mix (140g)
1 pack of Healthy Nut Mix (140g)
1 pack of Antioxidant Boost (140g)
1 pack of Chocolate Chunks & Chips Artisan Cookies (150g)
*Note: Items shown are for illustration purposes only. Decorative items are not included. Snack Pack contents may be substituted with similar items of equal value according to stock availability.
Usage Directions
Open box and select your favourite snack. Open pack and consume directly.
Allergy Information
Contains nut products.
Storage Instructions
Store in an airtight container or in its original resealable bag to maintain freshness. Keep in a cool, dry place. Avoid exposure to sunlight or excessive heat.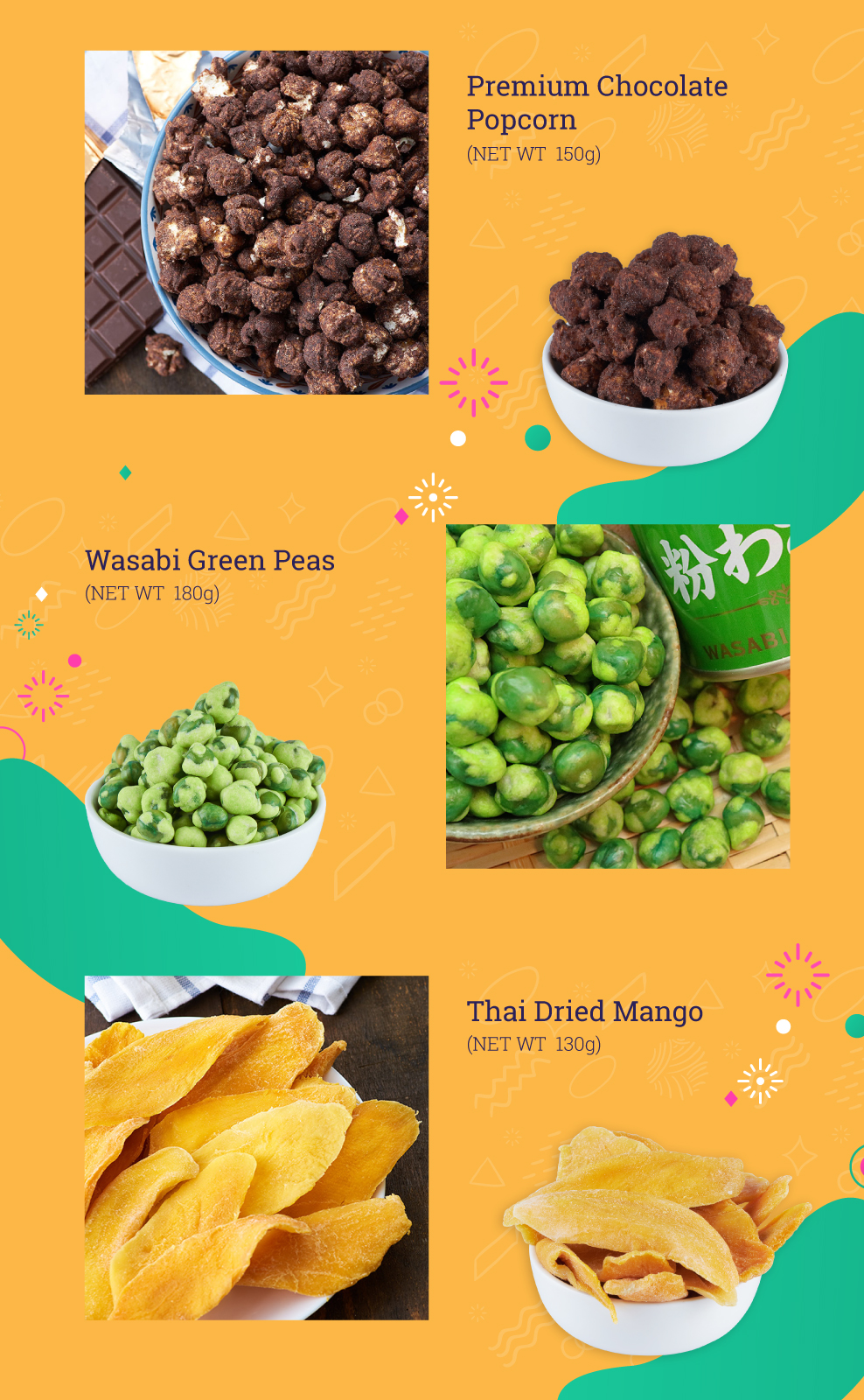 Special
Signature Market
Food
Babies & Kids
Health & Beauty
Home