Free Delivery + Lifetime Membership
Signature Market
Roasted Cashew Nuts (Bulk Pack) x2 + Elianware Ezy-Lock Microwave Keeper
(1.2kg + 1000ml)
Retail : RM 225.9
Member : RM 123.8 (Save 45%)

Roasted , Natural
about this product
Truly Roasted and Non-GMO Whole Nuts. Unsalted, Premium Quality
Country of Origin: India
Ingredients: Roasted Cashew Nuts
Don't you know? Cashews are loaded with Protein, B Vitamins and are an excellent source of fiber. Eating a handful of cashew a day boost your immune system, helps to maintain good health of bones, aid in curing cancer, helps to lower risks of formation of gallstones, promotes formation of red blood cells, reduce risk of anemia and type 2 diabetes. Wait no more and grab one for yourself now!
Healthy ways to eat Cashew~
1. Up your yogurt game.
Try picking up a container of plain, low-fat Greek yogurt and adding in a few toppings of your own to give it some flavor — fresh fruit, powdered chocolate, and CASHEW.
2. Jazz up your oatmeal.
Contrary to common belief, oatmeal doesn't have to be the most boring breakfast,ever. Try adding CASHEWS, dried fruits, chia seeds into your bowl of oatmeal. Let everything sit in the refrigerator overnight so that come morning, voila! Breakfast is ready, and it's so, so good.
3. Substitute unhealthy snacks with CASHEWS.
Try to eliminate potato chips and start grabbing CASHEWS.
Storage Tips:
1. Avoid exposure to strong smells, as cashews can absorb odors of other materials if exposed for prolonged periods.
2. Avoid exposure to direct sunlight.
3. Store in cool and dry place.
4. Protect from insects and pests.
Ratings & Reviews
Share your feedback by reviewing this product. Help other shopper decide whether it's right for them.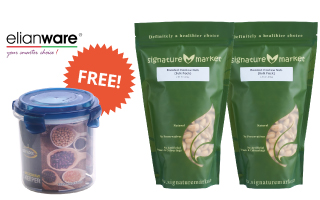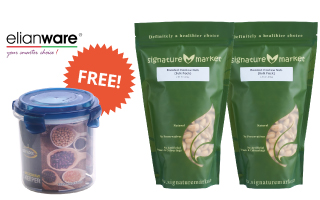 Roasted Cashew Nuts (Bulk Pack) x2 + Elianware Ezy-Lock Microwave Keeper
(1.2kg + 1000ml)