Happy Baby
Happy Baby Organic Probiotic Baby Cereal (Oatmeal)
(198g)
Retail :
RM 28.5
Selling : RM 28.5 (Save 0%)
(
log in
for member pricing )
Organic
about this product
USDA Certified Organic, Non-GMO, Premium Quality
Country of Origin: USA
Suitable for Starting Solid Baby
Our oatmeal organic probiotic baby cereal is perfect for babies ready to move beyond rice cereal. It is enriched with Iron and Choline for Baby's development and contains probiotics to support digestive system health.
What's so special about Happy Baby Organic Probiotic Baby Cereal?
Say hi to a happier belly. The perfect choice for Baby's first solid food, Happy Baby Organic Probiotic Cereal is optimized with probiotics, to support digestive health, and fortified with Iron & Choline to support baby's development.
Ingredients:
Milled organic whole grain oats, vitamin & mineral blend [calcium phosphate (phosphorus), choline bitartrate (choline), claicum carbonate (calcium), ascorbic acid (vitamin C), reduced iron (iron), tocopheryl acetate (vitamin E), cyanocobalamin (vitamin B12), zinc oxide (zinc), thiamin hydrochloride (vitamin B1), riboflavin (vitamin B2), niacinamide (vitamin B3), pyridoxine hydrochloride (vitamin B6), folic acid (folate), cholecalciferol (vitamin D3), mixed tocopherols (to preserve freshness)], inulin, probiotics (lactobacillus acidophilus, bifidobacterium lactis, lactobacillus salvarius, lactobacillus plantarum, fructooligosaccharides), DHA algal oil, mixed tocopherols (to preserve freshness).
Nutrition label: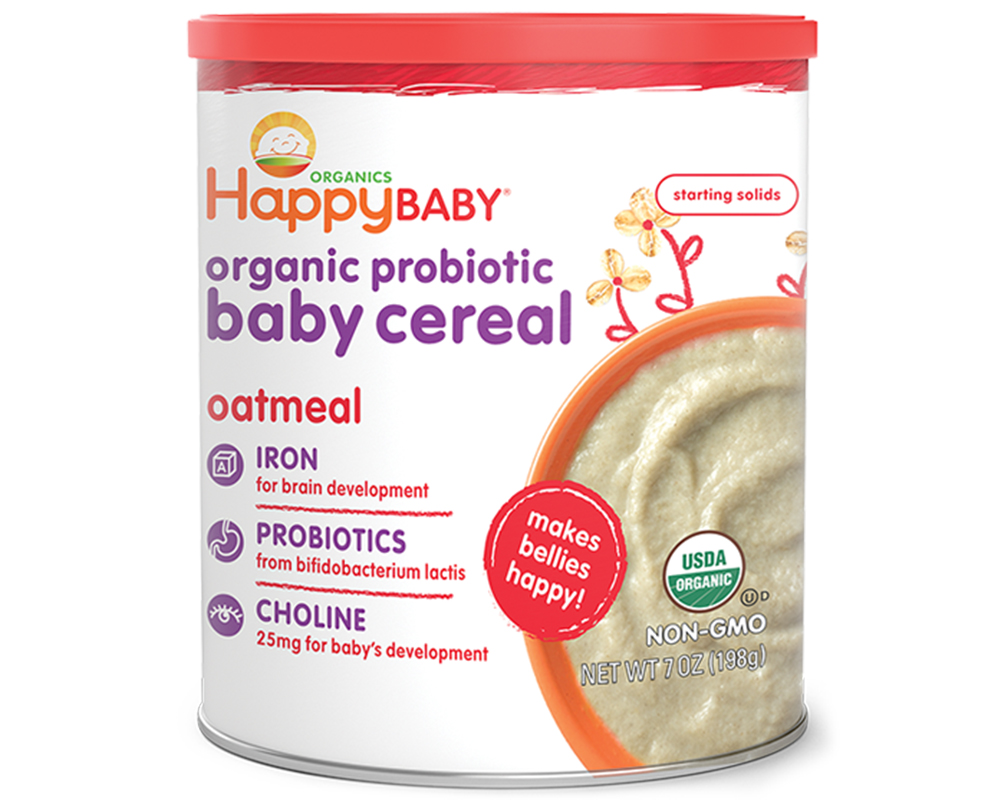 Related Products
Special
Signature Market
Food
Babies & Kids
Health & Beauty
Home