Free Delivery + Lifetime Membership
Apple Monkey
Apple Monkey Organic Gentle Teething Rice Cracker (Sweet Potato)
(10 packs)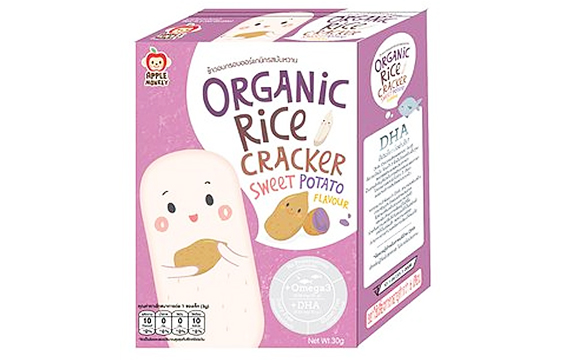 Retail : RM 15.8
Member : RM 10.5 (Save 33%)

Organic, Halal
about this product
USDA Certified Organic, Certified Halal
Country of Origin: Thailand
Suitable for Crawler
When your baby start crawling, his gum may feel itchy. He tries to bite everything around him. In this period, it's time for your baby to try some healthy finger food which has a mild flavour and soft texture. Your baby will practice how to grab, smell a new thing and learn a new taste which is called self-feeding. This way can help him soothe his gum and pick some healthy snack by himself.
What's so special about Apple Monkey Organic Rice Cracker?
This healthy snack is made from Organic Thai Jasmine Rice and local ingredients. This products contain DHA-Omega 3 which adds DHA from Tuna.
Special Features:
• Oval square shape-easy to grab
• Made from organic Thai Jasmine rice (USDA certified)
• Omega 3, Iron, and calcium
• Vitamin B1, B2, and A
Special Health Concern:
• Dairy free
• Gluten free
• No nuts or eggs
• No cow's milk
• No MSG and preservatives
Every Box With 10 Sachets Organic Rice Cracker
Ingredients:
Organic Jasmine Rice (79.93%), Organic Tapioca Starch (14.60%), Organic Sugar (7.50 %), Sweet Potato (2.95%), Salt (0.88%), Tocopherol (Soy)(0.04 %)
Related Products
Ratings & Reviews
Share your feedback by reviewing this product. Help other shopper decide whether it's right for them.
Apple Monkey Organic Gentle Teething Rice Cracker (Sweet Potato)
(10 packs)