Free Delivery + Lifetime Membership
Signature Market
Italian Dark Chocolate Hazelnut Spread
(180g)
Retail : RM 32.9
Member : RM 24.9 (Save 24%)


About This Product

Luscious, velvety and sinfully decadent, our Italian Dark Chocolate Hazelnut Spread is here to take your breath away with every bite. A rich, creamy spread made from caramelised roasted hazelnuts and single-origin, 72% dark chocolate that has been crafted from Sungai Ruan cacao nibs, its superior flavour doesn't just rival that of other popular chocolate hazelnut spreads available in the market but it's also healthier for you! Unlike conventional nut butters, our recipe involves stone-grinding the ingredients for 48 hours. This helps prevent the loss of heat-sensitive nutrients while still yielding a smooth, creamy consistency. Our spread also contains absolutely no emulsifiers, added oil, vegetable fat, preservatives or artificial flavouring. Instead, it relies on 100% natural, premium ingredients to deliver the chocolatey deliciousness you crave. Make the switch to our Italian Dark Chocolate Hazelnut Spread today for a healthier, guilt-free experience!

Country of Origin: Malaysia

Ingredients
Hazelnut, Raw Cane Sugar, Cacao Nibs, Cocoa Butter.

Allergy Information
Contains tree nut products.


Related Products
Ratings & Reviews
Share your feedback by reviewing this product. Help other shopper decide whether it's right for them.
eri**** t from sungai buloh , Selangor | Posted 4 days ago
delicious
will repeat order later
Edd** W from Cheras, Selangor | Posted 5 days ago
Looked as described
The spread and free gift were received in good condition. The spread looked as described. I haven't tried it yet.
Wen* k from kuala lumpur, Kuala Lumpur | Posted 1 week ago
New product .Have not try it yet . Should be good
Good
Vin** E from Petaling Jaya, Selangor | Posted 3 weeks ago
An honest product
Upon tasting it, the labels on the bottle hold true. Truly less sweetness, slightly bitter dark choc flavour is strong enough, and you can feel the crushed hazelnut texture inside. So no, this is not a heavily processed ultra creamy spread, but very high quality and healthier too. Will go well with some ripe banana slices for added sweetness (naturally).
Won* Y W from Selangor , Selangor | Posted 3 weeks ago
Italian Dark Chocolate
Interesting pack with strong flavor and freshness of ingredients. It goes very well as dipping sauce for nuts,as well as spread for toast bread and pancake.
Jam** J G from Ampang, Selangor | Posted 1 month ago
My Children loved it on their bread
Niceeee
Izy** N B A F from Kuala Lumpur, Kuala Lumpur | Posted 4 months ago
To dark choc lovers out there
It is a healthier version of nutella. It is not sweet and you can taste the deep, rich chocolate flavour with a hint of nuttiness from the hazelnut. Can eat this without feeling too guilty 😋
Sit* Y from Kertih, Terengganu | Posted 4 months ago
Italian Dark Chocolate Hazelnut Spread
Well received in good packed. Not try yet but smell delicious.
Jac******* H from Petaling Jaya , Selangor | Posted 4 months ago
Good
The hazelnut spread taste good and not sweet
Rub* M from Klang, Selangor | Posted 5 months ago
Bitter sweet taste!
Nice to eat with crackers and waffles.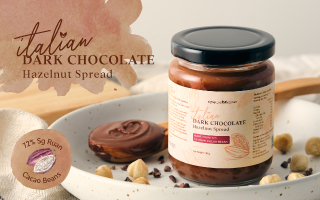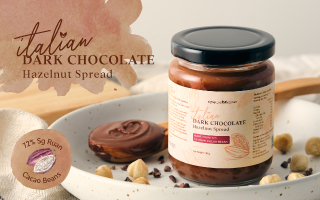 Italian Dark Chocolate Hazelnut Spread
(180g)