Free Heart of Spring Bamboo Bowl*
100% Natural
About this product
Make this Chinese New Year the best one yet with the Plant Origins Prosperity Bundle! As you will be busy hosting gatherings with your family and friends, this bundle's aromatherapy diffuser comes with a handy remote, giving you the power to summon a mist of wealth at your fingertips! Included in this bundle is an auspicious selection of essential oils that will cloak your living space in an aura of prosperity; the selections include Mandarin, Pink Grapefruit, Clary Sage, and Bulgarian Lavender Essential Oil. You will also be getting the Refresh & Reset series combo of Essential Oil Blend and Aromatherapy Room Spray. Since it's Chinese New Year after all, the bundle will also include the Plant Origins Aroma Stone, a clean, safe and effective way of vaporising essential oils on the go (as it doesn't need electricity or heat), so you can carry a prosperous aura with you wherever you go! Last but not least, a Palladio Lipstick that will bring out a generous smile from the lady of the house!
This set includes:
Plant Origins aromatherapy diffuser with remote (550ml)
Plant Origins Mandarin essential oil (10ml)
Plant Origins Pink Grapefruit essential Oil (10ml)
Plant Origins Clary Sage essential oil (10ml)
Plant Origins Bulgarian Lavender essential oil (10ml)
Plant Origins Refresh & Reset essential oil blend(10ml)
Plant Origins Refresh & Reset aromatherapy room spray(100ml)
Plant Origins aroma stone & pouch
Palladio lipstick
Cautions
Do not use undiluted on skin. Discontinue use if skin irritation occurs.
Consult physician before use if pregnant, nursing or under doctor's care.
Keep away from children.
Storage
Store in cool & dry place, away from heat & direct sunlight.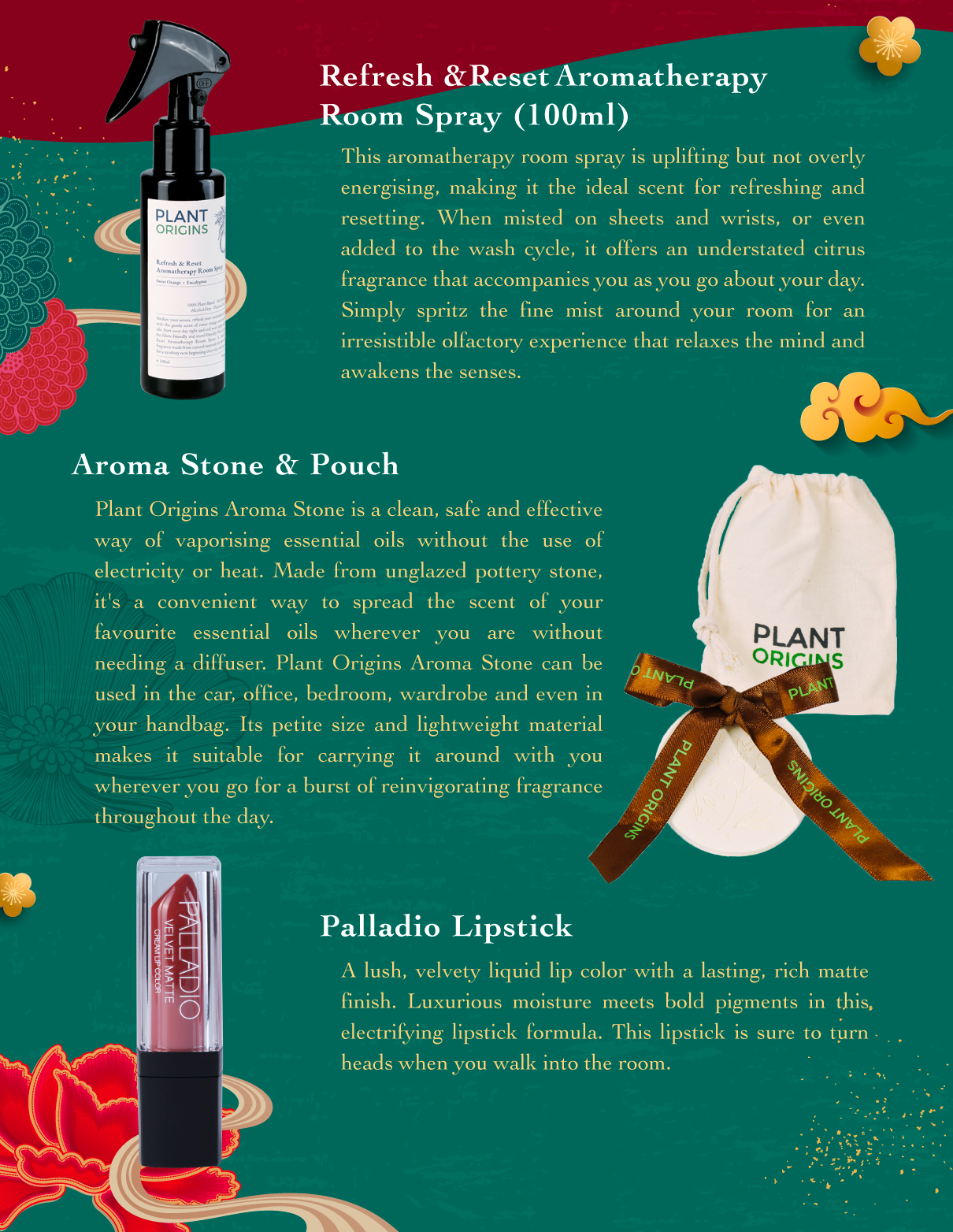 Buy 1 Get Free Gift
Related Products
Ratings & Reviews
Share your feedback by reviewing this product. Help other shopper decide whether it's right for them.
Plant Origins Prosperity Aromatherapy Bundle
(9 unit)