Yogood
Yogood Choc & Nuts Muesli Bar
(138g)
Retail :
RM 12.6
Selling : RM 12.6 (Save 0%)
(
log in
for member pricing )
Muesli bar, dietary fibre
about this products
Yogood Choc & Nut features the delightful blend of cereals and mixed nuts coated with creamy milk chocolate. We select only the finest ingredients for Yogood Choc & Nut to bring you a nutty, chewy and delicious treat.
General Feature:
Yogood Choc & Nut Muesli Bars 6 x 23g
Ingredients:
Milk Chocolate (25%) (Sugar, Whole Milk Powder, Cocoa Butter, Cocoa Mass, Skimmed Milk Powder, EMULSIFIER: Soya Lecithin, Aroma), Cereal Crisps with Cocoa (Rice Flour, Corn Flour, Sugar, Wheat Flour, Low Fat Cocoa Powder (5.2%), Barley Malt, Salt, Glucose Syrup, Vegetable Fat), Nut Mixture (14.5%) (Roasted Peanuts (66%), Almonds (17%), Minced Hazelnuts (17%)), Glucose Syrup, Roasted Oat Flakes, Cornflakes (Corn, Salt, Barley Malt Extract), Coconut Flakes, Fructose, Dextrose, Sugar, Vegetable Fat, Toffee Cream (Sugar, Caramel Sugar Syrup, Skimmed Milk Powder), Humectants: Glycerine, EMULSIFIER: Soya Lecithin, Antioxidant: Butyated Hydroxyanisole, ALLERGEN WARNING: Contains Peanuts, Almonds, Hazelnuts, Gluten (Wheat, Oat, Barley), Milk Components, Lactose and Soya Lecithin
Storage Condition:
Please store in a cool dry place. Keep refrigerated for optimum serving.
.

Customers Also Bought
Cereal & Granola Bars
RM 12.70
RM 22.00 (Save 42%)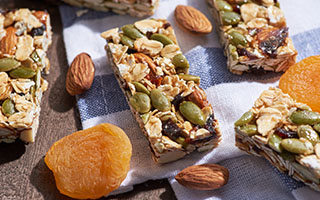 RM 13.50
RM 22.00 (Save 38%)
Breakfast
Health & Beauty
Home