Yogood
Yogood Fruit & Nuts Granola Bar
(138g)
Selling : RM 10.1 (Save 19%)
(
log in
for member pricing )
Granola bar,Multigrain
about this products
Yogood Fruit & Nuts Granola Bars feature the delightful blend of multigrain flakes with raisins, almonds & hazelnuts. We select only the finest ingredients for Yogood Granola Bars to bring you a light, crispy & crunchy snack.
Each delicious bar contains less than 100 Calories, making it an ideal choice as a light & guilt free snack to satisfy your cravings whenever, wherever you are.
General Feature:
Yogood Fruit & Nuts Granola Bars 6 x 23g
Ingredients:
Multigrain Flakes (Rice Flour, Whole Grain Wheat Flour, Sugar, Gluten, Barley Malt, Wheat Flour, Skimmed Milk Powder, Salt, Wheat Germ, Emulsifier: Mono- and Diglycerides from Fatty Acids), Glucose-Fructose Syrup, Sugar, Roasted Almonds 4.3%, Vegetable Fat, Maltodextrin, Raisins 3.1% (Raisins 99.5%, Vegetable Fat), Roasted Hazelnuts 2.9%, Salt, Emulsifier: Soya Lecithin, Aroma
Allergy Advice:
Cereals Containing Gluten, Barley, Oats, Wheat, Milk, Nuts, Peanuts, Soya
Storage Condition:
Please store in a cool dry place. Keep refrigerated for optimum serving.
.
Customers Also Bought
Cereal & Granola Bars
RM 12.70
RM 22.00 (Save 42%)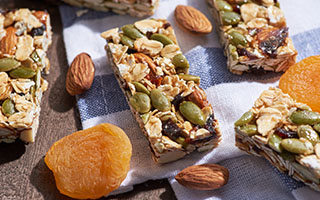 RM 13.50
RM 22.00 (Save 38%)
Breakfast
Health & Beauty
Home