Carman's
Carman's Classic Fruit & Nuts Muesli Bars
(180g)
Selling : RM 11.1 (Save 25%)
(0% GST)
(
log in
for member pricing )
muesli bar, vegan
about this products
Simply Irresistible, add some delight to your day with these delicious bars. Full of oaty goodness, plump vine fruits, gourmet nuts, seeds and coconut, it's simply our muesli in a bar!
What's in the box?:
Carman's Classic Fruit & Nuts Muesli Bars 45g x 4 bar
Contains:
Oats, Gluten, Almonds, Pecans and Sesame Seeds.
May be present:
Peanuts, Other Tree Nuts, Milk Products and Soy.
Ingredients:
Carman's Muesli Blend 77% (Whole Grain Oats 52%, Fruit 14% [Sultanas, Currants, Raisins, Coconut 1.5%], Sunflower Oil, Nuts 7% [Almonds, Pecans], Seeds 7% [Sunflower Seeds, Sesame Seeds, Pepitas], Golden Syrup, Oat Flour, Cinnamon), Glucose, Natural Vanilla Flavour. Suitable for a vegan diet.
Nutrition Information
Storage Condition:
Store in a cool, dry place out of direct sunlight
.
Consumer Testimonial:
THIS IS A SMALL NOTE WITH A BIG THANK-YOU IN IT! YOUR SENSATIONAL CLASSIC FRUIT & NUT AND ORIGINAL FRUIT FREE MUESLI BARS ARE THE ONLY THINGS STANDING BETWEEN ME AND A TRULY HORRENDOUS BOUT OF MORNING SICKNESS. I HAVE ONE IN MY NAPPY BAG, ONE IN MY GLOVE BOX, AND ONE ON MY BEDSIDE TABLE AND IT IS SO GOOD TO BE ABLE TO SNACK ON SOMETHING SO NUTRITIOUS, AND TASTY AND FILLING, AND FIND IT STAYS DOWN! THANKS FOR THE GOOD STUFF. – EMMA
Customers Also Bought
Cereal & Granola Bars
RM 12.70
RM 22.00 (Save 42%)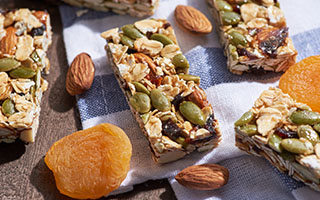 RM 12.70
RM 22.00 (Save 42%)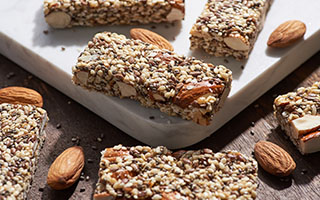 RM 12.70
RM 22.00 (Save 42%)
Breakfast
Health & Beauty
Home