Free Own Your Power Tumbler*
Signature Market
Spicy Salted Egg Potato Chips
(100g)
Retail : RM 32
Member : RM 15 (Save 53%)


About This Product

Some like it mild but some like it spicy. If you loved our Potato Chips - Salted Egg but needed that extra oomph when it comes to your favourite chips, then our Spicy Salted Egg Potato Chips is the one for you. We've combined the flavours of our bestseller salted egg potato chips with chilli and paprika flakes for an added punch of spiciness that's sure to get you hooked! Our Spicy Salted Egg Potato Chips isn't just addictive, it also contains no preservatives, artificial colouring, flavouring or MSG making them a great choice for guilt-free snacking!

Country of Origin: Malaysia

Ingredients
USA Russet Potato Chip, Salted Egg Yolk, Olive Oil, Non-Hydrogenated Palm Oil, Sugar, Salt, Curry Leaf, Chilli Flake, Paprika Flake.

Allergy Information
Contains egg products.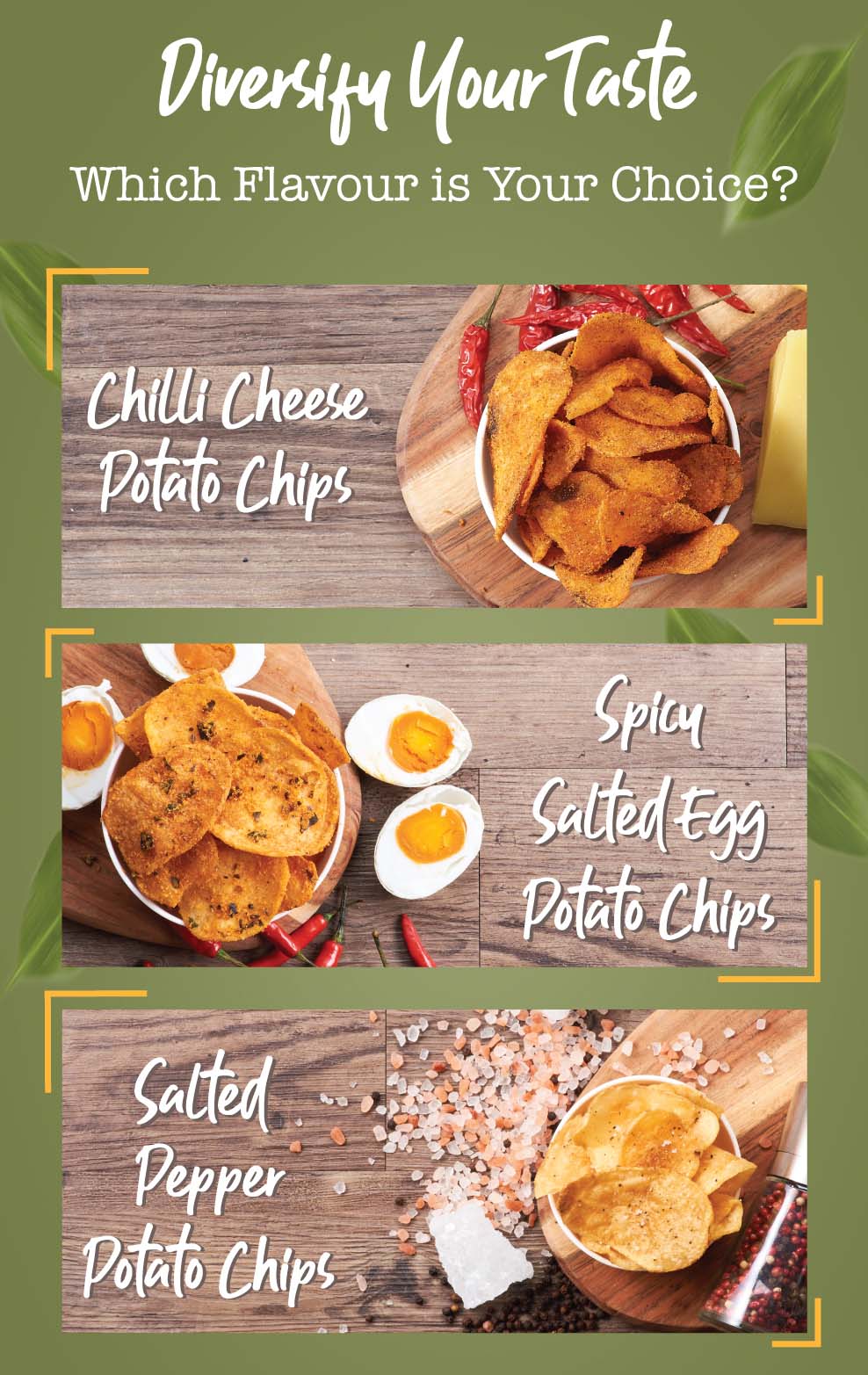 Related Products
Ratings & Reviews
Share your feedback by reviewing this product. Help other shopper decide whether it's right for them.
Afi*** T from Kuala Lumpur, Kuala Lumpur | Posted 2 weeks ago
Thickness
The taste is superb Would like to suggest to make it thinner in slice
Tan R Y from Kuala Lumpur, Kuala Lumpur | Posted 1 month ago
Really spicy! Really nice!
Similar to the regular salted egg chips, I wish the chips were thinner so that I can enjoy a lighter, crispier bite! But otherwise, it is VERY well seasoned and spicy in a good way! Love it!
Mav** W from Kuala Lumpur, Kuala Lumpur | Posted 1 month ago
Tastebud tackled
Like this savoury chips
XM S from Pelabuhan Klang , Selangor | Posted 1 month ago
Good
The chips very spicy but taste good.
LOW C W from muar, Johor | Posted 2 months ago
GOOD
fast delivery, good taste
Ten*** a t l from Bukit Payong, Terengganu | Posted 3 months ago
Potato chips spicy
Also is the best
Ais*** from Kuala terengganu, Terengganu | Posted 3 months ago
KHA******* M T A from IPOH, Perak | Posted 3 months ago
sya**** b a s from Simpang Ampat, Kuala Lumpur | Posted 4 months ago
Ann H L from Seremban, Negeri Sembilan | Posted 5 months ago
Taste good
The taste are super nice
Nur** H b M A from Rawang, Selangor | Posted 5 months ago
Tasty
Eventhough the chips are a little bit hard, it's tasty! And super spicy 🔥
Spicy Salted Egg Potato Chips
(100g)