Free Pistachio Almond Trail Mix with any purchase*
Signature Market
Salted Egg Shiitake Mushroom
(80g)
Retail : RM 42.9
Member : RM 20 (Save 53%)


About This Product

Prized for their rich earthy, umami flavour, shiitake mushrooms have long featured in countless recipes with a versatility that allows them to fit in into just about any type of cuisine. But shiitake mushrooms are more than just an accompaniment to the dish, they're nutrient-rich and come with a distinctly earthy flavour that's delicious enough to stand in the spotlight on its own whether eaten fresh or in their dried form. If you loved our Shiitake Mushroom Chips then our Salted Egg Shiitake Mushroom snack is the salted egg mushroom upgrade you never knew you needed. Our Salted Egg Shiitake Mushrooms make great keto-friendly snacks, containing many of the same amino acids as meat. They're also packed with riboflavin, niacin, copper, vitamin B5, selenium and many other immunity-boosting and cholesterol-lowering properties for a nutritious yet still delicious treat for when you've got a craving for something savoury and crunchy!

Country of Origin: Malaysia

Ingredients
Shiitake Mushroom Crisp, Salted Egg Yolk, Olive Oil, Curry Leaf, Red Paprika Flake, Sugar.

Allergy Information
Contains egg products.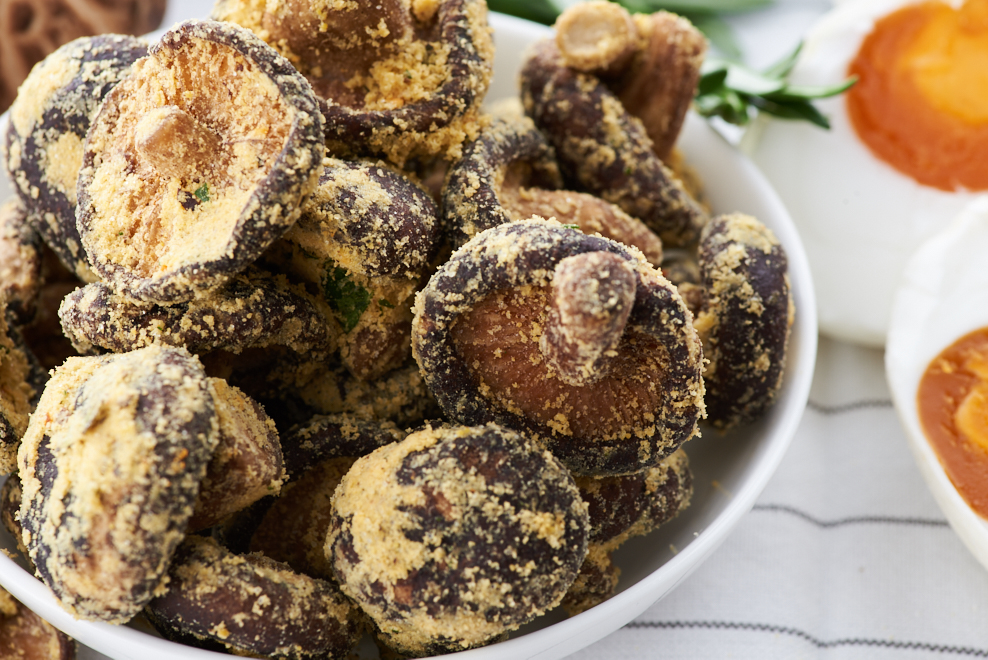 Related Products
Ratings & Reviews
Share your feedback by reviewing this product. Help other shopper decide whether it's right for them.
Hai** F from Batu Caves, Selangor | Posted 2 weeks ago
Love the crunch
Guilt free snack, though I prefer the spicy version over this
Jub**** J from Rawang, Selangor | Posted 3 weeks ago
So goood!
Just enough of the salted egg yolk seasoning. Finished the whole packet immediately 😬
Sia** S H from MELAKA, Melaka | Posted 3 months ago
becareful when chew
i like the taste. but is just too keras. nasib baik i dont have fake teeth. is nice. just tooo keras
Koo Y L from Ipoh, Perak | Posted 4 months ago
Nice taste
The taste very nice but a bit hard if I want to give it for my parent to enjoy. Make sure you have a nice healthy teeth
Bat****** I S from Kuala Lumpur, Kuala Lumpur | Posted 4 months ago
Good
A lil bit sweet for my liking but overall good after I added cayenne powder to the packet and mix!!
ame* i from Putatan, Sabah | Posted 4 months ago
good product
good food, but im not into much with the taste..
tan c y from bukit jalil, Kuala Lumpur | Posted 5 months ago
Ahm** B b R from Kerteh , Terengganu | Posted 5 months ago
Jen** L from Subang Jaya, Selangor | Posted 6 months ago
Crunchy n Light in taste
A bit pricing but nice to eat
Pan N N from Puchong , Selangor | Posted 6 months ago
Crunchy snack!
Very crunchy and tasty! Good snack choice.
Izy** A from Cheras, Kuala Lumpur | Posted 6 months ago
lots of egg powder which i like
not too salty but a but hard to chew
Jen***** T P C from Petaling Jaya , Selangor | Posted 7 months ago
Packaging
Packaging looks good.
Cha* W Y from Kuala Lumpur, Kuala Lumpur | Posted 7 months ago
Que* S X from Bangsar, Kuala Lumpur | Posted 7 months ago
First try
Taste ok, less salty than my expectation, but the taste just match. Worth a try!
Suz******* from Shah Alam, Selangor | Posted 8 months ago
Good product
Good product
Christina chong from Kuala lumpur, Kuala Lumpur | Posted 10 months ago
Crunchy
crunchy n nice taste
Salted Egg Shiitake Mushroom
(80g)