Signature Market
Chocolate Indulgence Granola
(250g)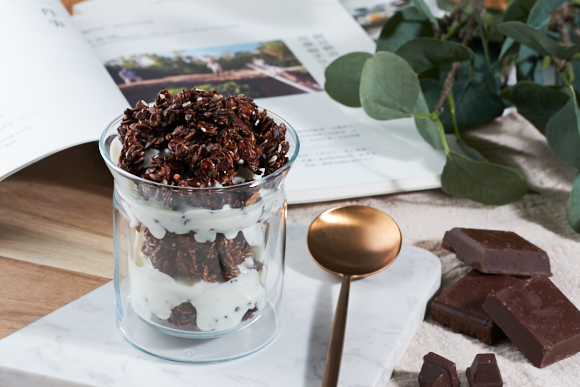 Selling : RM 18 (Save 35%)
(
log in
for member pricing )
Natural
About This Product
We've got summer fruits and marshmallows, but our granola range isn't complete without the most classic of flavours: chocolate. Love chocolate so much that you want to eat it for every meal? Now you can have chocolate for breakfast and snack time too! Enjoy the taste of wholesome dark chocolate coated granola topped with a generous amount of nuts, seeds and chocolatey, coconutty goodness. Not only do you satisfy your chocolate cravings, you also get to enjoy the benefits of a high fibre snack with no artificial colouring or flavourings. Still not enough to convince you? Our Chocolate Indulgence Granola is a homemade recipe that hasn't just replaced unhealthy white sugar with brown sugar, but it's reduced sugar too!
Country of Origin: Malaysia
What Does This Taste Like?
Chocolatey, crunchy and nutty.
Health Benefits
1. Contains high levels of antioxidant avenanthramides which help dilate blood vessels leading to better blood flow.
2. Protects good cholesterol from damage and aids in improving blood sugar control.
3. Very filling and promotes satiety to help you lose weight.
4. Good source of manganese, phosphorous, magnesium, copper, iron, zinc, folate, Vitamin B1 and B5.
5. Flaxseed and oats are both great for cardiovascular health as well as gut health as both contain high amounts of fibre. They're not only good at helping to lower cholesterol levels but are also filling and contain plenty of vitamins and minerals.
6. Rich in Omega-3 essential fatty acids, antioxidants and fibre (both soluble and insoluble).
7. Sunflower seeds are exceptionally high in vitamin E and selenium which function as antioxidants to prevent free radical damage to cells.
8. Contains significant amounts of magnesium, protein, linoleic fatty acids and heart-healthy fats.
9. High in vitamin E which promotes healthy hair, skin and nails. It also has anti-aging benefits, lowers the rate of cancer and Alzheimer's.
10. High in healthy monounsaturated fats, fibre and protein which helps with effective weight control. Also contains high amounts of manganese, magnesium, calcium, iron and zinc which can supplement our body's required daily intake of nutrients.
11. May improve mood and alleviate some symptoms of depression.
12. Flavanols in cocoa can help improve symptoms of Type 2 Diabetes.
13. Cocoa contains anti-asthmatic compounds such as theobromine and theophylline thus helping people with asthma.
Usage Directions
Open packet and consume.
How To Consume
1. Open packet and consume directly.
2. Add to a bowl of milk/yoghurt and fresh fruit for a healthy snack.
3. Top your acai bowl or dessert with a handful of granola for a more filling snack.
Ingredients
Rolled oat, sunflower seed, flaxseed, brown sugar, almond, cocoa powder, salt, coconut oil, natural chocolate flavour, natural vanilla flavour
Allergy Information
Contains nut products.
Storage Instructions
Store in an airtight container or in its original resealable bag to maintain freshness. Keep in a cool, dry place. Avoid exposure to sunlight or excessive heat.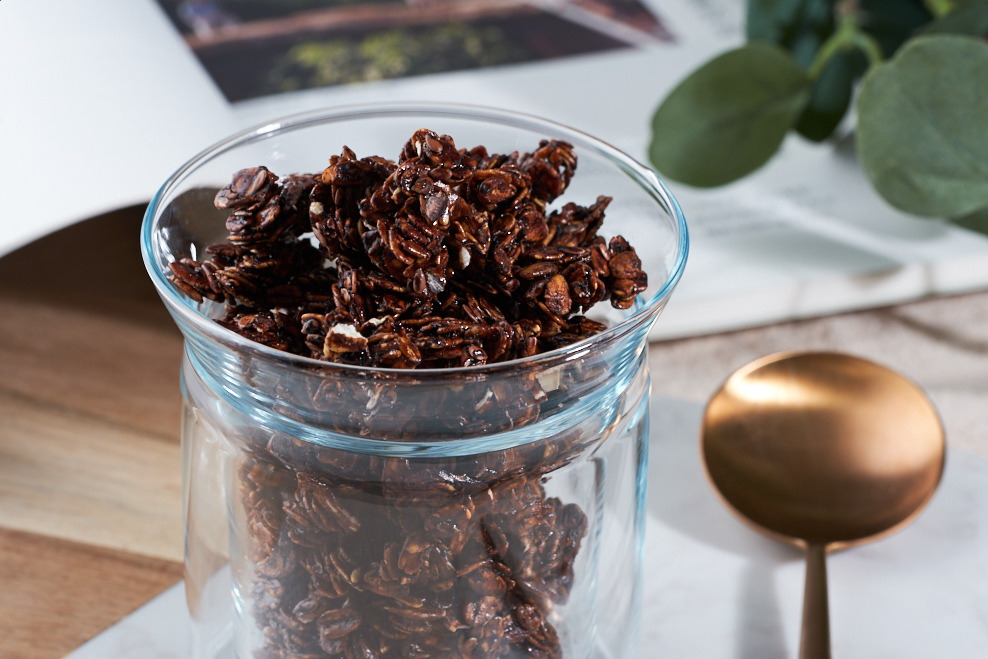 Related Products
Special
Signature Market
Food
Babies & Kids
Health & Beauty
Home