Free Chunky Peanut Butter *

About This Product

We've got summer fruits and marshmallows, but our granola range isn't complete without the most classic of flavours: chocolate. Love chocolate so much that you want to eat it for every meal? Now you can have chocolate for breakfast and snack time too! Enjoy the taste of wholesome dark chocolate coated granola topped with a generous amount of nuts, seeds and chocolatey, coconutty goodness. Not only do you satisfy your chocolate cravings, you also get to enjoy the benefits of a high fibre snack with no artificial colouring or flavourings. Still not enough to convince you? Our Chocolate Indulgence Granola is a homemade recipe that hasn't just replaced unhealthy white sugar with brown sugar, but it's reduced sugar too!

Country of Origin: Malaysia

Ingredients
Rolled Oat, Sunflower Seed, Flaxseed, Brown Sugar, Almond, Cocoa Powder, Salt, Coconut Oil, Natural Chocolate Flavour, Natural Vanilla Flavour.

Allergy Information
Contains nut products.

Storage Instructions
Store in an airtight container or in its original resealable bag to maintain freshness. Keep in a cool, dry place. Avoid exposure to sunlight or excessive heat.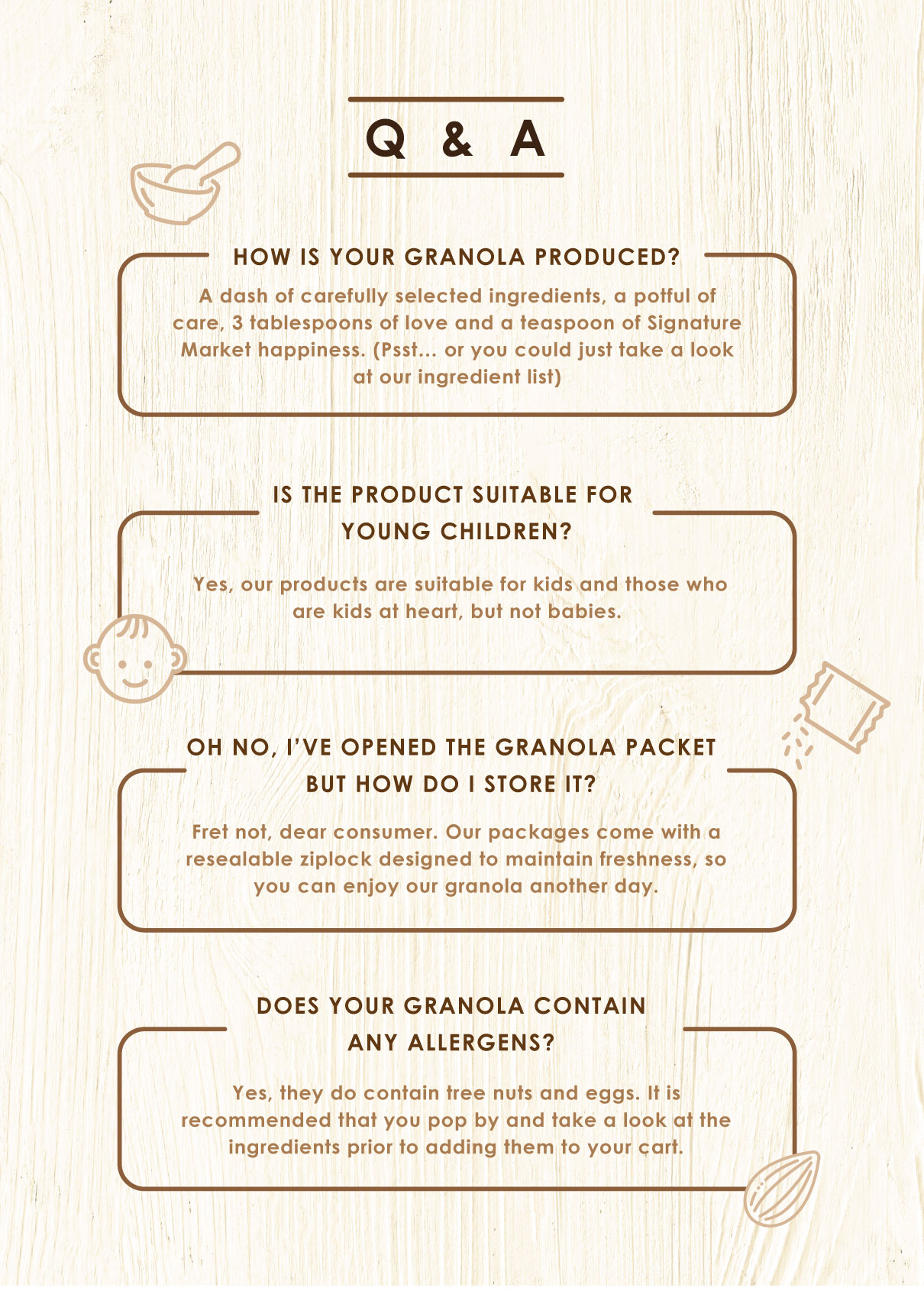 Related Products
Ratings & Reviews
Share your feedback by reviewing this product. Help other shopper decide whether it's right for them.
Fet** F from Bandar Puncak Alam, Selangor | Posted 4 days ago
Jer****** J from Kuching, Sarawak | Posted 1 week ago
nice
one of my fav signature market products
NUR S S from BAYAN LEPAS, Penang | Posted 3 weeks ago
Instantly falling in love from my first bite
This is my 2nd purchase. Love the taste!
Chi* J Y from Bentong , Pahang | Posted 1 month ago
It's too sweet for me, but overall is okay!
-
ANI** M from PORT KLANG, Selangor | Posted 2 months ago
first try
it taste good when add in oatmeal
NAJ** A from KULIM, Kedah | Posted 3 months ago
Great healthy products.
Awesome healthy lifestyle supply for daily consumption.
Nur**** B M S from Subang Jaya, Selangor | Posted 4 months ago
Chocolate Indulgence Granola (250g)
My very 1st time try the granola. it's super fantastic. it makes your tummy full till lunch hour
Tan S M from Melaka Tengah, Melaka | Posted 4 months ago
First Try
Already finish before review. Not my type of chocolate granola but still ok. Overall good experience.
Umm* S Z from Kuala Lumpur, Kuala Lumpur | Posted 5 months ago
Very delicious
I eat it for breakfast and feel full until lunch
Kah M L from Setapak, Kuala Lumpur | Posted 5 months ago
One of the best Chocolate Granolas I've ever had
I love that it isn't so sweet but still has that chocolatey taste. Always looking forward to having this for breakfast and I don't like waking up in the morning haha
Sit* M from Puchong, Selangor | Posted 5 months ago
Love it
The best granola ever taste!!
Yan* from Kuala Lumpur, Kuala Lumpur | Posted 6 months ago
Yummy and crunchy
Is good to have this with milk for breakfast. It's a morning healthy food on a regular basis..
Win*** O X Y from Gelugor, Penang | Posted 6 months ago
Best buy
Bought it during promotion, worth the money!
Eri** n R from Teluk panglima garang, Selangor | Posted 6 months ago
Nor h from Jelutong, Penang | Posted 7 months ago
Yam****** from Kuantan , Pahang | Posted 7 months ago
Very good product
Fast delivery
Lee Wan Ping from KLANG, Selangor | Posted 9 months ago
Great choice with oats
A perfect combination with oats fir a healthy breakfast drinks.
Chocolate Indulgence Granola
(250g)