Free Delivery + Lifetime Membership

About This Product

You work out and eat clean, balanced meals with all the right food groups yet still can't seem to achieve that lean mean physique you dream of. What's missing? Eating too much or too little protein can often end up ruining even the most meticulously thought out exercise plans. Proteins are an essential part of building and repairing muscle fibres. Without an adequate amount of protein, your body simply doesn't have enough to repair itself after every workout, much less build new muscles. Supplementing your protein intake with our Signature Whey is a good place to start. Easy to prepare, healthy and with no artificial additives, it's suitable as a post-workout beverage (instead of sugar-laden isotonic drinks) and is even great for a quick breakfast on the go.
Signature Whey is made from premium-grade grass-fed whey protein concentrate. Extracted from dairy cows that have been raised on a 100% grass-fed diet, the milk from these cows is non-GMO and contain no hormones or antibiotics - just pure natural whey with a deliciously creamy vanilla flavour.

Country of Origin: Malaysia



Ingredients
Whey Protein Concentrate, Vanilla Flavour, Soy Lecithin, Sucralose.

Allergy Information
Contains dairy products.

Storage Instructions
Store in an airtight container or in its original resealable bag to maintain freshness. Keep in a cool, dry place. Avoid exposure to sunlight or excessive heat.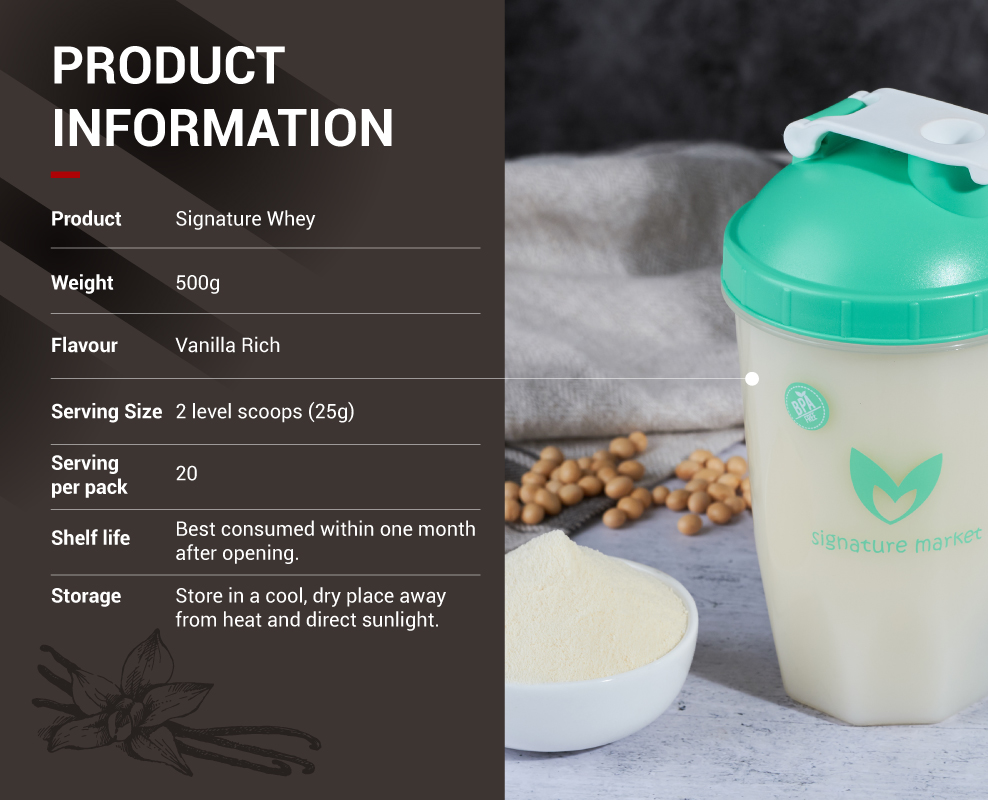 Buy 3 Get Free Gift
Related Products
Ratings & Reviews
Share your feedback by reviewing this product. Help other shopper decide whether it's right for them.
Teo a P from Gelugor, Penang | Posted 3 weeks ago
Reorder
Tried the chocolate flavor before was nice, now change to vanilla
Jun* J from Kepala Batas, Penang | Posted 1 month ago
Kids also love the taste
A great addition to your smootie drinks!
Sar** R from Bandar Baru Bangi, Selangor | Posted 2 months ago
Favourite protein shake!
I love this so much! It's yummy and it's affordable. I can drink it on its own, make a smoothie, even bake a cake!
ROS*** B R from BAYAN LEPAS, Penang | Posted 3 months ago
protein shake
reasonable price, great taste
FOO Y L E from PERMATANG PAUH, Penang | Posted 4 months ago
most natural vanilla whey
great taste
Mei L N from Klang, Kuala Lumpur | Posted 5 months ago
Awesome taste
I haven't tried the chocolate favor but this vanilla favor is happy to have it and I mix it with my yogurt milk blend for breakfast every day.
Wan S H O from Kuala Lumpur, Kuala Lumpur | Posted 6 months ago
My Best Friend
I use this to my smoothies, mug cake & even as tempura batter.
LAKSHME KANTHAN RAJENDRAN from Shah Alam, Selangor | Posted 7 months ago
Works great
Been taking it almost for more than 10 months now... every morning with mix of 500ml low fat pasteurized and homogenized milk... helps to gain slowly but steadily... a gym routine is a must for the muscle toning...and it just works great.
Signature Whey - Vanilla Rich
(500g)