Signature Market
Scrumptious Chilli Cashews
(100g)
Selling : RM 18 (Save 10%)
(
log in
for member pricing )
Natural
About This Product
Nuts often get a bad rep for being fattening but in actual fact, they're nutritious when eaten in moderation. Cashews are particularly high in iron content which is essential for the healthy production of red blood cells. Packed with a host of vitamins and minerals, they're tastier than a supplement, versatile enough for you to sneak in some into your meals and light enough to be eaten as a healthy snack. Just a handful daily can help protect your heart, lower cholesterol levels and even reduce the risk of strokes. Plus, cashews contain high levels of lutein and zeaxanthin which are both essential for eye health. But you can only eat plain cashews so many times before you want to spice things up and that's where our Scrumptious Chilli Cashews come in. Moderately spicy with just a hint of tanginess to tantalise your taste buds, it's an appetite teaser that won't cause you to reach for milk to quench a burning throat.
Country of Origin: Malaysia
What Does This Taste Like?
Crunchy, nutty and mildly spicy with a hint of tanginess akin to a tom yam flavour.
Health Benefits
1. Roasted instead of fried to preserve nutrients.
2. Packed with vitamins E, K and B6 as well as minerals such as copper, phosphorous, zinc, magnesium, iron and selenium. Cashews are a great vegetarian source of copper, providing more of the mineral than most other non-meat sources.
3. Reduces risk of cardiovascular diseases due to its ability to reduce blood pressure levels and raise good cholesterol levels.
4. Helps the body form and use red blood cells due to the iron and copper content. May help individuals who are anaemic.
5. Contains high levels of lutein and zeaxanthin which can protect the eyes from damage that may lead to blindness as a result of old age. It also decreases the risk of cataracts.
6. Contains good fat which helps prevent cardiovascular diseases and reduces the risk of strokes.
Usage Directions
Open packet and consume.
How To Consume
5. Open packet and consume directly.
6. Sprinkle over salads or even main meals for a delightful crunch and boost of nutrients.
7. Add to a bowl of milk/yoghurt and fresh fruit for a healthy snack.
8. Top your acai bowl or dessert with a handful of cashews for a more filling snack.
Ingredients
Cashew Nut, Sugar, Salt, Chilli Powder, Vinegar.
Allergy Information
Contains nut products.
Storage Instructions
Store in an airtight container or in its original resealable bag to maintain freshness. Keep in a cool, dry place. Avoid exposure to sunlight or excessive heat. Best consumed within 2 weeks after opening.
Related Products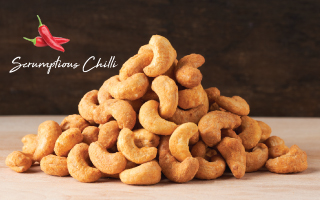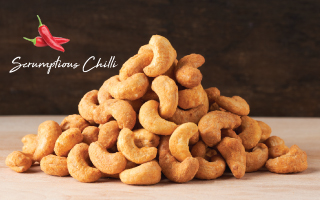 Scrumptious Chilli Cashews
(100g)