Free Chunky Peanut Butter with any purchase*
Signature Market
Scrumptious Chilli Cashews
(100g)
Retail : RM 20
Member : RM 14 (Save 30%)


About This Product

Nuts often get a bad rep for being fattening but in actual fact, they're nutritious when eaten in moderation. Cashews are particularly high in iron content which is essential for the healthy production of red blood cells. Just a handful daily can help protect your heart, lower cholesterol levels and even reduce the risk of strokes. Plus, cashews contain high levels of lutein and zeaxanthin which are both essential for eye health. But you can only eat plain cashews so many times before you want to spice things up and that's where our Scrumptious Chilli Cashews come in. Moderately spicy with just a hint of tanginess to tantalise your taste buds, it's an appetite teaser that won't cause you to reach for milk to quench a burning throat.

Country of Origin: Malaysia

Ingredients
Cashew Nut, Sugar, Salt, Chilli Powder, Vinegar.

Allergy Information
Contains nut products.


Related Products
Ratings & Reviews
Share your feedback by reviewing this product. Help other shopper decide whether it's right for them.
Fad********* b R from Sungai Petani, Kedah | Posted 1 month ago
KAR**** A from KUALA LUMPUR, Kuala Lumpur | Posted 1 month ago
Fad********* b R from Sungai Petani, Kedah | Posted 2 months ago
IVY T from Seri Kembangan, Selangor | Posted 3 months ago
Scrumptious Chilli Cashews
Like spicy snacks!
Ely* I from Shah Alam , Selangor | Posted 5 months ago
Sure will repeat order
Delicious
MUH***** F M from Wilayah Persekutuan, Kuala Lumpur | Posted 6 months ago
Good Product
Good product and service.. nice!
Azh*** A G from Johor Bahru, Johor | Posted 7 months ago
Cashews with Oomphh!
My firt try. i can't stop popping them into my mouth! The "fiery" feeling on my lips is a great reminder or how good it is! Love it, will repeat!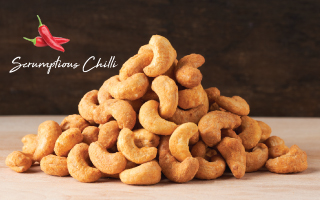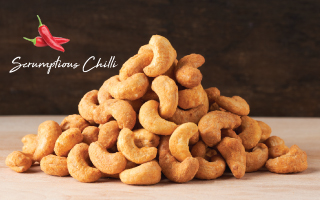 Scrumptious Chilli Cashews
(100g)