Signature Market
Organic Tricolour Quinoa
(200g)
Selling : RM 10.5 (Save 33%)
(
log in
for member pricing )

About This Product

Nutritious, beautiful and easy to prepare, Signature Market's Organic Tricolour Quinoa ticks all the boxes regardless what kind of healthy meal you have in mind. Great as a replacement for your regular white rice, our quinoa isn't just gluten-free, it's also organic and non-GMO! Organic quinoa ensures that your meals are free from pesticides and are non-irradiated. Our Organic Tricolour Quinoa is a packaged blend of 3 different colours of quinoa: white, red, and black. Can't decide which colour is your favourite? Try them all in one pack!
Quinoa is a complete protein, hence it provides all nine essential amino acids essential for good health. This superfood contains plenty of fibre both soluble and insoluble, healthy monounsaturated fat, omega-3 fatty acid, antioxidants, essential minerals (manganese, magnesium, iron, phosphorus, potassium, calcium, zinc, copper and selenium) and vitamins (B1, B2, B3, B6, B9 and E).

Country of Origin: South America

What Does This Taste Like?
Savoury and nutty with a slightly grainy texture.

Health Benefits
1. Quinoa contains all nine essential amino acids in addition to magnesium, B vitamins (particularly vitamin B9 also known as folic acid), iron, potassium, copper, magnesium, zinc, calcium, phosphorus, manganese, vitamin E and antioxidants.
2. Excellent source of plant-based protein.
3. Contains small amounts of heart-healthy omega-3 fatty acids.
4. Contains a significant amount of iron. May be helpful for those suffering from anaemia as iron is necessary for the creation of red blood cells and transporting oxygen.
5. High fibre content, helps improve intestinal health, prevent constipation and promotes satiety.
6. The nutrients found in red quinoa have been linked to reduced risk of diabetes, lower cholesterol levels and better management of blood pressure.

Ingredients
Organic White Quinoa, Organic Red Quinoa, Organic Black Quinoa.


Related Products
Ratings & Reviews
Share your feedback by reviewing this product. Help other shopper decide whether it's right for them.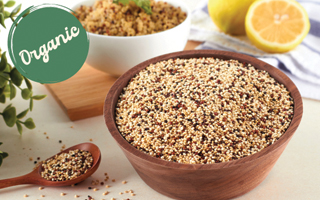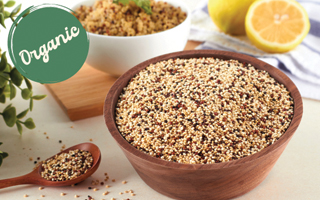 Organic Tricolour Quinoa
(200g)