Free Matcha & Houjicha Latte with any purchase*
Signature Market
Ba Zhen Vitalising Herbal Drink (八珍调补汤)
(100ml x 6 bottles)
Retail : RM 79
Member : RM 58 (Save 26%)


About This Product

Irregular menstrual cycles, severe cramping, shortness of breath, pale complexion - periods are never fun but what if you could remedy all that? Reinvigorate your body post-menstruation with our Ba Zhen Vitalising Herbal Drink and feel your period-induced lethargy melt away.
Ba Zhen recipes are traditional tonics made from a blend of blood-nourishing Chinese herbs used to help regulate irregular menstrual cycles, replenish blood and help provide relief from cold hands and feet due to poor blood circulation. Conveniently packaged in single-serving bottles, our Ba Zhen Vitalising Herbal Drink eliminates the need to slave over a hot stove for a measly serving of the herbal concoction. Enjoying the nutritious benefits of traditional Chinese remedies has never been so easy.

Country of Origin: Malaysia

Ingredients
Black Date (黑枣), Radix Glycyrrhizae Praeparata (炙甘草), Radix Rehmanniae Praeparata (熟地黄), Radix Codonopsis (党参), Radix Paeoniae Alba (白芍), Rhizoma Atractylodis Macrocephalae (白术), Radix Angelicae Sinensis (当归), Rhizoma Ligustici Chuanxiong (川芎), Poria (茯苓).

Allergy Information
Not recommended for pregnant women. If you are on medication, nursing, pregnant, considering pregnancy or have allergies you should consult a health professional before use.


Related Products
Ratings & Reviews
Share your feedback by reviewing this product. Help other shopper decide whether it's right for them.
Jes*** W from PETALING JAYA, Selangor | Posted 2 weeks ago
Ba Zhen Vitalizing Herbal Drink
Taking this is save a lot of my time to cook Ba Zhen every month. The tastes is good.
Lie* P Y from ipoh, Perak | Posted 1 month ago
CHU** X L from Batu Caves, Selangor | Posted 2 months ago
Very good
Very convenient especially for working ladies.
Anonymous | Posted 3 months ago
Convenient and Effective
Acceptable taste and smell. Ready for consumption anytime. Good and effective for my menstruations. Volume is just nice. Right choice for me.
KOH S Y from Kajang, Selangor | Posted 3 months ago
Tastes good.
Tastes good and very convenient to consume.
Chi* l t from Miri, Sarawak | Posted 4 months ago
Bazen
The herb smell is acceptable. Hope it really work for women.
Che*** P C from Damansara Damai, Selangor | Posted 5 months ago
Very concentrated Essence
Wrapped in many bubble wraps layers. Taste slightly sour and bitter. But very concentrated and taste like the cooked ba zhen soup. Very convenient and can consider if busy life.
Est*** L K s from Johor bahru, Johor | Posted 6 months ago
Received in good condition
Seller very caring and packing of the goods in very safety way👍. Thank you very much❤️
Mar**** M from Puchong, Selangor | Posted 6 months ago
Ba Zhen
Good quality product, very fast delivery and good systematic updates on the product.
Con****** Y from Pj, Selangor | Posted 6 months ago
Ba Zhen
Received products in good condition with bubble wraps,Convinient and value for money.
Jun* from Seri Kembangan, Selangor | Posted 7 months ago
Convenience
Suit for working ladies.
Tan B R from Petaling Jaya, Selangor | Posted 7 months ago
Fast delivery, value and good products
👍🏻
BELINDA WONG WEI YING from SHAH ALAM, Selangor | Posted 8 months ago
Taste exactly like boiled Ba Zhen!!!
It taste exactly like Ba Zhen boiled for hours but now it's just so convenient to drink this after my menses!
Ling yuin from Petaling jaya, Selangor | Posted 9 months ago
Nice!!
Taste exactly like the Ba Zhen I boiled for 3 hours! Good alternative for working woman on tied schedule. Not too sweet, too. Portion just nice.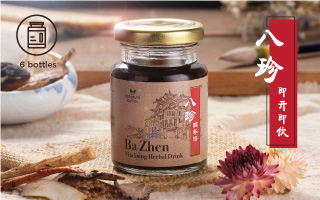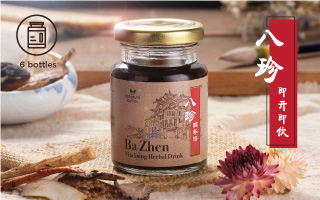 Ba Zhen Vitalising Herbal Drink (八珍调补汤)
(100ml x 6 bottles)