Free Delivery + Lifetime Membership
Plant Origins
Plant Origins Refresh & Reset Aromatherapy Gift Box
(6 unit)
Retail : RM 600
Member : RM 150 (Save 75%)


About This Product

Perhaps you've wanted to achieve something more or do something to better your life but don't know where to start. Or maybe you feel like you've long passed your peak and now struggle to relight that spark in your soul. Whatever your circumstances may be, the good news is that you can do something about these dreary feelings holding you back. You are the master of your own life, so make that move forward. Reset, rejuvenate and restart your life.

Embrace every day as a chance for a new beginning with Plant Origins Refresh & Reset Aromatherapy Gift Box, the curated reset kit to help give you the boost you needed to achieve growth in your life. Breathe deep, revive your spark and let your energy shine bright again with the rejuvenating fragrances of Plant Origins Refresh & Reset Aromatherapy Gift Box.

Country of Origin: Malaysia

This bundle includes
Plant Origins Refresh & Reset Box
Plant Origins Refresh & Reset Room Spray (100ml)
Plant Origins Clean the Air Essential Oil Blend (10ml)
Plant Origins Uplift Charm Essential Oil Roller (10ml)
Plant Origins Portable Diffuser
Plant Origins Aroma Stone & Pouch

Storage Instructions
Store in a cool, dry place. Keep away from heat and direct sunlight.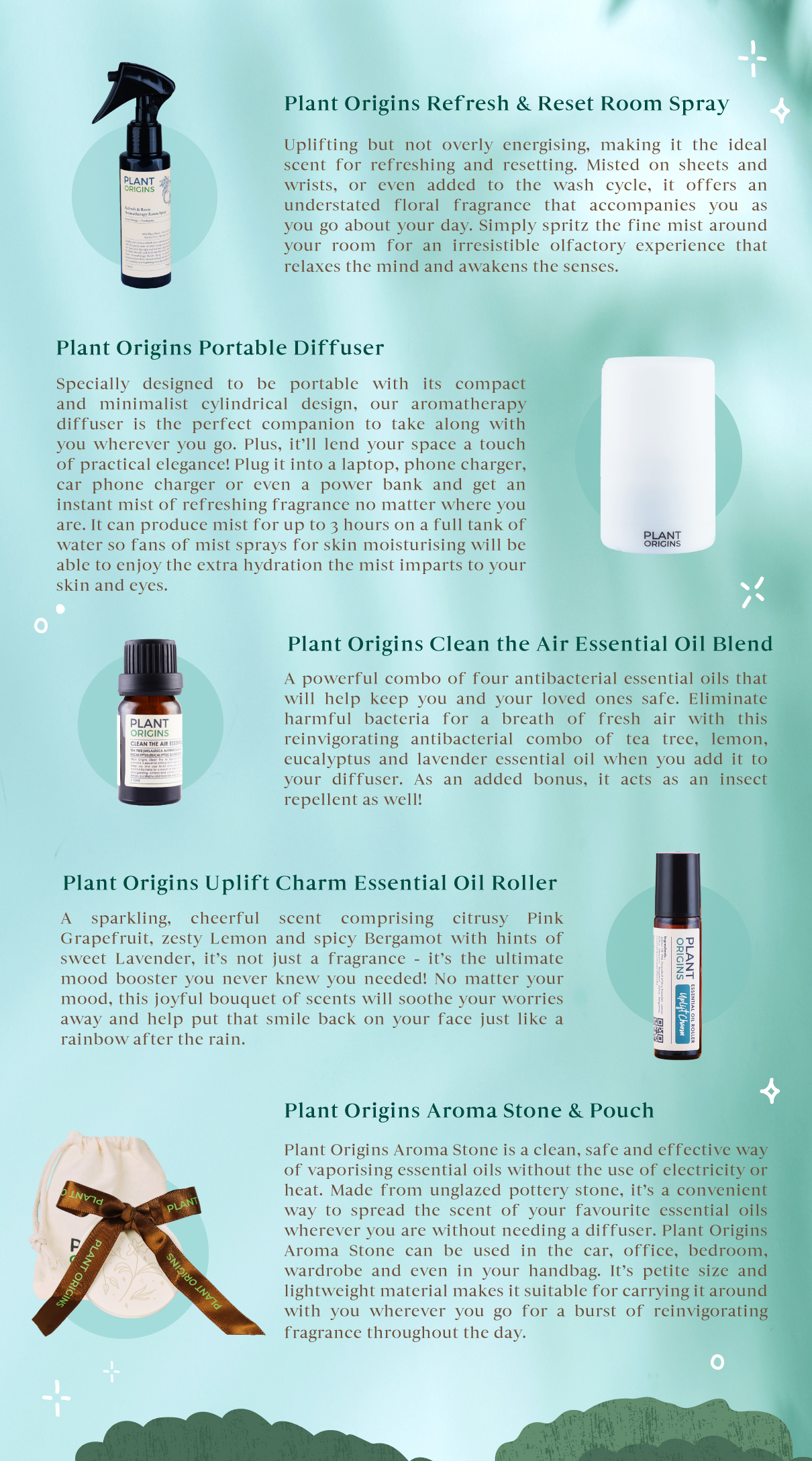 Buy 1 Get Free Gift
Related Products
Ratings & Reviews
Share your feedback by reviewing this product. Help other shopper decide whether it's right for them.
Plant Origins Refresh & Reset Aromatherapy Gift Box
(6 unit)