Free Heart of Spring Bamboo Bowl*
Signature Market
Peace & Longevity CNY Gift Box (福寿康宁礼盒)
(15 Items)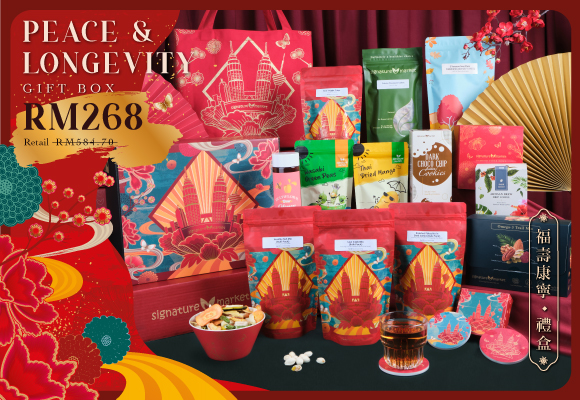 Retail : RM 1000
Member : RM 268 (Save 73%)

About this product
This New Year, let's not live in the past filled with bad memories; nor live for the future for it shall only make you anxious. Live only in the present for that will bring you peace. Also, live with this present - a curated gift box of wholesome snacks that will bring you longevity.
What's in the box?
Healthy Nut Mix (Bulk Pack) (500g)
Omega-3 Trail Mix Daily Pack (25g x 10sachets)
Low Carb Mix (Bulk Pack) (500g)
Roasted Pistachio in Shell Salted (Bulk Pack) (400g)
Dark Chocolate Chip Butter Cookies (Gluten Free) (180g)
Thai Dried Mango (130g)
Real Veggie Crisps (100g)
Wasabi Green Peas (180g)
Golden Pineapple Tartlets (160g)
3 Treasure Sour Plum Calamansi Juice (陈年老桔饮)(55ml x 8sachets)
Multiflora Raw Honey (560g)
Artisan Brew Drip Coffee (Dark Roast) (10g x 10 sachet)
Heart of Spring Tote Bag
Heart of Spring Coaster
Heart of Spring Bamboo Bowl
Heart of Spring CNY Box with Sleeve
Special note:
*Pictures shown are for illustration purpose only, decorative items are not included.
*Gift Box contents may be substituted with similar items of equal value due to stock availability.
*Box is included in each of the gift set

Ratings & Reviews
Share your feedback by reviewing this product. Help other shopper decide whether it's right for them.
Peace & Longevity CNY Gift Box (福寿康宁礼盒)
(15 Items)