Free Chunky Peanut Butter *
Signature Market
Salam Berkat Ramadan Gift Box
(11 items)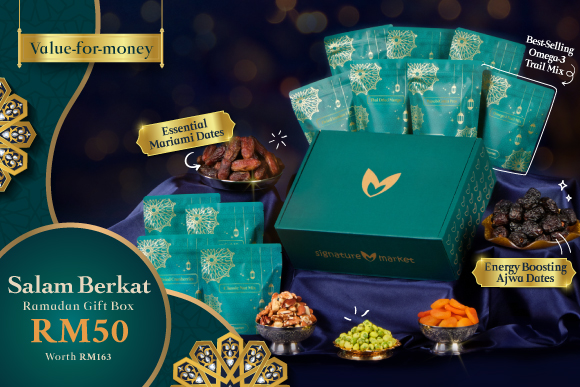 Retail : RM 163
Member : RM 50 (Save 69%)

About this product
There's something for everyone in our Salam Berkat Ramadan Gift Box. Like it sweet but need something savoury to balance it out? Hankering for a nibble or planning to fuel up on something more filling? We've heard your preferences and this gift box is the one curated to satisfy them all. Get all your favourites ranging from dates to nuts and dried fruits at an absolute steal of just RM50!
What's in the box?
Ajwa Dates - Mini Bites (100g)
Classic Nut Mix Mini Pack (50g)
Dried Cranberries Mini Pack (50g)
Dried Iranian Figs Mini Pack (50g)
Dried Mariami Dates Mini Pack (50g)
Low Carb Mix Mini Pack (50g)
Mini Sun Dried Apricot Mini Pack (100g)
Natural California Yellow Raisins Mini Pack (100g)
Omega-3 Trail Mix Mini Pack (50g)
Thai Dried Mango Mini Pack (50g)
Wasabi Green Peas Mini Pack (70g)
Special note:
*Pictures shown are for illustration purpose only, decorative items are not included.
*Gift Box contents may be substituted with similar items of equal value due to stock availability.
*Box is included in each of the gift set
Ratings & Reviews
Share your feedback by reviewing this product. Help other shopper decide whether it's right for them.
Shu***** H M S from Kuala Nerus, Terengganu | Posted 7 hours ago
Exclusive packaging
Nice experinces, very delicious taste
Dba************ from Kota bharu, Kelantan | Posted 1 day ago
Loved it !
Thank you! Loved it ,😍
Eli* M Z from Seri Gading, Johor | Posted 2 days ago
awesome
Fast delivery, great value for money
Erz*** H b M J from Simpang Pertang, Kuala Lumpur | Posted 2 days ago
Berkat ramadhan gift
Excellent and good value of money
Moh**** f h from Klang, Selangor | Posted 3 days ago
Box dented
I bought 8 ramadan gift box (50) and 1 santapan (80) most of 6 out 8 boxes come in good condition. But two of them the box bit dented and not nice already as a gift. Cause i plan to give it as a gift to a friend. Overall i like the content and very suitable for gift. Just a bit disappointed on the two dented boxes. 😅😅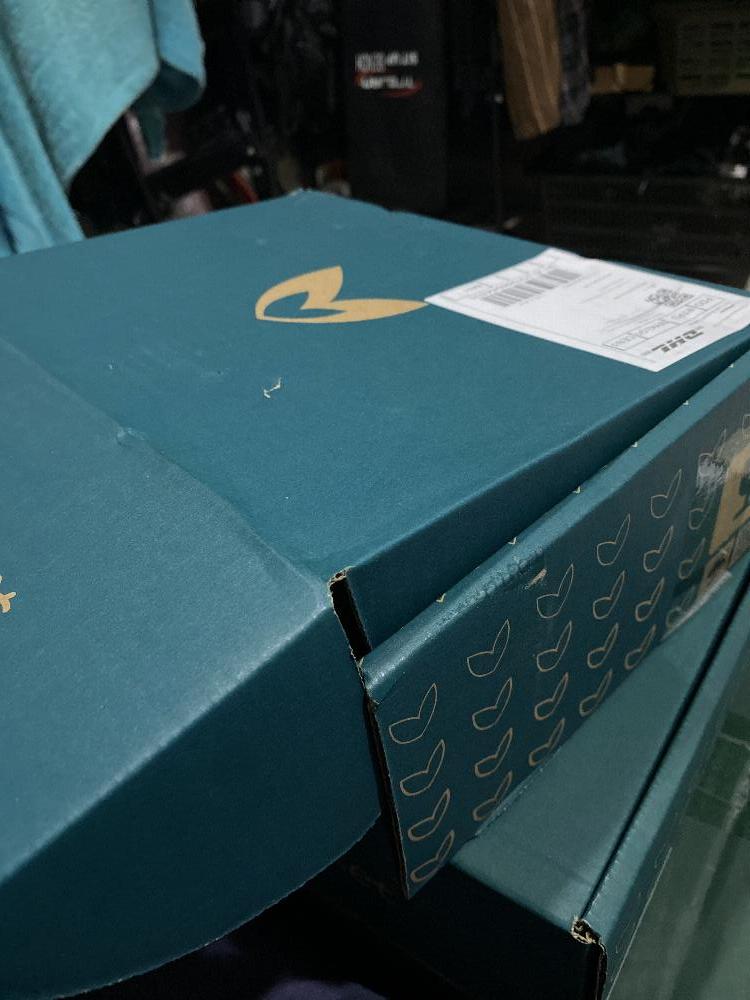 Haf** A from Sepang, Selangor | Posted 3 days ago
Aqi*** K from Banting, Selangor | Posted 3 days ago
Ramadan worthy Gift Box
I send it to my friend and his family and they are totally love it. I'm glad that i saw your Ad on net. Its worth every penny on this ramadan gift box.
NUR** F B A from TELOK PANGLIMA GARANG, Selangor | Posted 4 days ago
Fresh dan sedap
My kids suka makan dried food & kacang. Harganya sangat murah. Cuma RM50, saya dapat 11 pack + 1pack extra. Semua dried food fresh, kacang sedap. Sedap di makan dengan oat. 🤗
Syu**** R from Gemencheh, Negeri Sembilan | Posted 5 days ago
berbaloi baloi
love it and worth it !!
MAS**** B M A from MUAR, Johor | Posted 5 days ago
Gift Box
Good to have special gift box during festive seasons, Ramadan etc. The only thing is that we have to order individually and separately (more than 1 box) if want to have different wishes for each boxes via same address. Hope the website can be updated to allow multiple delivery address in one order. TQ
Wan N B W M M from Cyberjaya, Selangor | Posted 6 days ago
Loved this Ramadhan Box
My mom loved it..
Noo* A from Kuala lumpur, Kuala Lumpur | Posted 1 week ago
JC L from Georgetown, Penang | Posted 1 week ago
Salam Berkat Ramadan Gift
I had this gift delivered to my best friend. So happy that it arrived just before Ramadan. Thank you for the efficient and fast delivery.
Ven** from Ringlet, Pahang | Posted 1 week ago
Third buy
Nicely packed. Need to eat to find its taste.
Nor**** M from Kuala Lumpur, Kuala Lumpur | Posted 1 week ago
I like it
I like this gift box. Ramadan is a month that I am anticipating every year and looking for an affordable gift box like this where I can share it with the people that I miss. I am buying multiple gift boxes and sending them to the peoples that I miss which I couldn't visit during this pandemic period. I like the box too, beautiful design and color 👍
AIM****** Z from PUCHONG, Selangor | Posted 1 week ago
Ramadhan gift
Nice packaging
Nur H b M D from KL Sentral,, Kuala Lumpur | Posted 2 weeks ago
Superb delivery, superb product, great gift!
Delivary within one day to Kelantan! My notes are nicely written on a card and my father is so happy! A great gift for every occasion! Thanks, guys!
Noo******* A H from Kuala Lumpur, Kuala Lumpur | Posted 2 weeks ago
A Gift for Friends
My friends love the gift. TQ Signature Market
Salam Berkat Ramadan Gift Box
(11 items)