Free Chunky Peanut Butter *
Plant Origins
Rumah Idaman Aromatherapy Gift Box
(7 items)
Retail : RM 870
Member : RM 239.9 (Save 72%)

About this product
Home is right where you make it, so regardless of whether you're going to "balik kampung" this year or not, make your home a little cosier for the festive season with our Rumah Idaman Aromatherapy Gift Box. A comprehensive aromatherapy kit that comes with a selection of essential oils, a Bluetooth diffuser that doubles as a speaker to play your favourite Raya tunes and our best-selling room spray to set the mood, it's just what you need to get your groove on for Raya and beyond! Rest, recharge and rev up the Raya atmosphere at only RM239.90!
What's in the box?
Plant Origins Aromatherapy Bluetooth Diffuser (500ml)
Plant Origins Clean The Air Essential Oil Blend (10ml)
Plant Origins Lemongrass Essential Oil (10ml)
Plant Origins Spearmint Essential Oil (10ml)
Plant Origins Bulgarian Lavender Essential Oil (10ml)
Plant Origins Refresh & Reset Aromatherapy Room Spray (100ml)
Plant Origins Secret Garden Aromatherapy Room Spray Sample Card (3ml)
Special note:
*Pictures shown are for illustration purpose only, decorative items are not included.
*Gift Box contents may be substituted with similar items of equal value due to stock availability.
*Box is included in each of the gift set
Storage Instructions
Store in a cool, dry place. Keep away from heat and direct sunlight.
Related Products
Ratings & Reviews
Share your feedback by reviewing this product. Help other shopper decide whether it's right for them.
AHM** M C G from MIRI, Sarawak | Posted 5 hours ago
My First Plant Origin
This is my first Plant Origin purchase. It took about a week to get the package. Probably due to CMCO in Sarawak. There were 2 packages; 1 package for Rumah Idaman Aromatherapy and the other 1 is for PWP Citrus Combo. The Bluetooth diffuser was superb and the EO smell was soooo goood. On the packaging, all items were properly packed with bubble wrap except for the Refresh & Reset Aromatherapy Room Spray which was not being bubble wrapped. There was a leakage sighted on the box. Also, we received melted Dark Chocolate Coated Espresso Beans.
Azu*** M from Shah Alam, Selangor | Posted 2 days ago
Major love!
Loving this product and value for money!!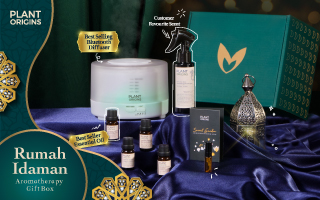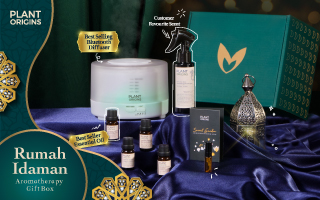 Rumah Idaman Aromatherapy Gift Box
(7 items)