[Cyber Monday Sale] RM 7.70 & 8.80 Lowest Price Deals + Free Shipping. Cyber Monday Ending In:
FREE SHIPPING with any purchase.
---
Signature Market
It's Me Gift Box
(1 unit)
Retail: RM 310.9
Member : RM 49.9 (Save 83%)

About This Product

This Pinktober, Signature Market has partnered with eight outstanding brands to bring you a gift box that embodies the spirit of strength and resilience. Just as pink diamonds that shine brightly under immense pressure, our handpicked selection of wholesome goods celebrates the beauty of imperfection and the extraordinary within. Inside this box, you'll discover nourishing treats and empowering products that embrace your inner light, no matter the shape or form. It's a tribute to the incredible tenacity that emerges when faced with adversity. Gift yourself or a remarkable woman in your life this treasure trove of goodness, and let your inner radiance shine as brilliantly as a precious gem.

This bundle includes:
Organic Energy Soy Milk Powder (No Added Sugar) (30g x 5 sachets)
The Snacky Trio (25g x 3 sachets)
Hawaiian Salted Coconut Cookies [FUN PACK] (12g x 5 sachets)
Plant Origins Blissful Balance Essential Oil Roller (2ml)
Plant Origins Detangling Hair Brush-Pink
It's Me Water Bottle (Breast Cancer Awareness Month)
**Neutrovis Laundry Pod (1 pc) / Neutrovis Wet Wipes (1 pack)
Neutrovis Face Mask 4-ply (1 pc)
Youvit Adult Gummies with Multivitamins (7s)
**Marc Jacobs Fragrance (Perfect Eau De Parfum) (3ml) / Philosophy Dose of Wisdom (3ml) [Fully Redeemed]
Sunway Medical Center 20% Medical Check-up Voucher
Libresse SensitiV Trial Pack
Blackmores Vitamin C 500mg (60's)
Wardah Everyday Fruity Sheer Lip Balm (4g)

Note:
**Items will be distributed randomly on a first-come, first-served basis, subject to availability.
*Pictures shown are for illustration purposes only, decorative items are not included.
*Voucher terms & conditions may vary according to the sponsor.


Ratings & Reviews
Share your feedback by reviewing this product. Help other shoppers decide whether it's right for them.
---
Nur H Z from Batu Berendam, Melaka
Posted 2 days ago
Awesome
Excited cause so much things in one small box!!!
---
fun* y p from Seremban, Negeri Sembilan
Posted 6 days ago
很有意思的活动
一看到这个活动,就立马下单2套来SUPPORT
---
fun* y p from Seremban, Negeri Sembilan
Posted 1 week ago
---
Sit* A from Kluang, Johor
Posted 1 month ago
Terbaik
Teruja dapat banyak barang.. Penghantaran pantas.
---
Tan Y Y from Kuala Lumpur, Kuala Lumpur
Posted 1 month ago
Great deal
The overall packaging is truly amazing and the content of the stuff was okay . Looking forward to try the goodies and the vit c expiry is quite near (Jan 2024) 😑
---
PAN* E Y from Kota Kinabalu, Sabah
Posted 1 month ago
---
Suk* t from Kuala Lumpur, Kuala Lumpur
Posted 1 month ago
Breast Cancer gift
Very good quality
---
Sak*** R from KL, Kuala Lumpur
Posted 1 month ago
---
Yvo*** O from KUALA LUMPUR, Kuala Lumpur
Posted 1 month ago
pink October greatest gifts
i love this very much n is so worth it with amount of things that we often use
---
Anonymous
Posted 1 month ago
have 2 things miss out send me
goods not complete have 2 things Miss out send me😅
---
Won* S Y from Kuala Lumpur , Kuala Lumpur
Posted 1 month ago
Donation with Product. Recommended 👍
Fast delivery. Received in good condition. Worth for money, donation with product. Recommended 👍 😘 😘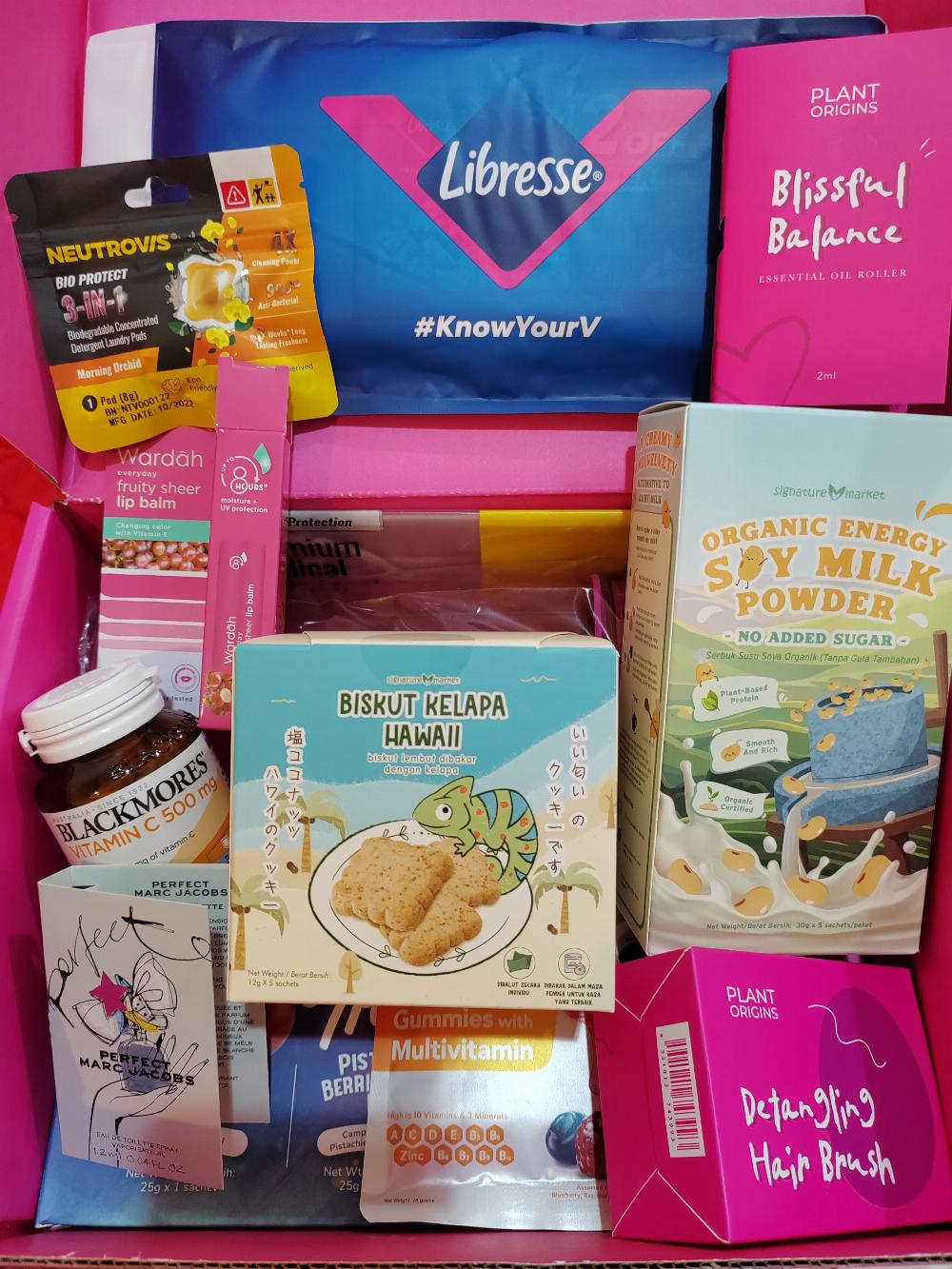 ---
Jea* W from Petaling Jaya, Selangor
Posted 1 month ago
Nice productd compilation
Love all the items. Useful
---
ain* from WANGSA MAJU, Kuala Lumpur
Posted 1 month ago
Thank you
I love the items included!! So so happy to be able to be a part of a noble cause!
---
It's Me Gift Box
(1 unit)
RM 49.9 (Save 83%)
RM 310.9