Signature Market
Natural Pumpkin Ramen
(250g)
Selling : RM 8 (Save 37%)
(
log in
for member pricing )
Natural
about this products
Signature Market 100% Natural Ramen and Pan Noodle series is made by Real vegetables and it is so pure and delicious and simple to cook. This full of nutrient Ramen and Pan noodles are specially design for people who are healthy conscious but is too busy for home cook. It's simple to cook and usually it takes not more than 10 minutes to cook the healthy and delicious noodles. Just add any ingredients that you wanted to add up the nutrition of your bowl.
100% Natural Pumpkin Ramen is full of nutrients that is essential to body.
Why 100% Natural Pumpkin Ramen
1) Pumpkin is good for eyes
2) Pumpkin aid weight loss
3) Pumpkin may reduce cancer risk
4) Pumpkin protect the skin
5) Pumpkin can help after a hard workout
6) Pumpkin can boost your immune system
How to cook
First, place the noodle into boiling water for 4-5 minutes. Next, remove noodles and rinse with cold water. Lastly, you can fry or cook noodle in your soup with your favourite ingredients. 1 serving per pieces of noodle.
Ingredients
Wheat Flour, Pumpkin, Rock Salt, Starch, Water.
Related Products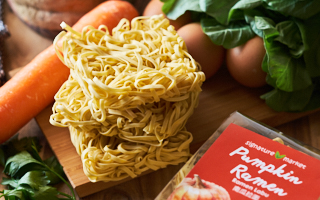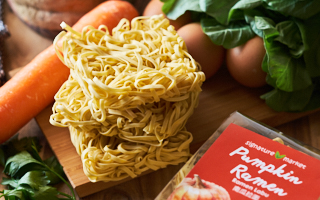 Natural Pumpkin Ramen
(250g)