Signature Market
Almond Chia Nutri Healthy Bar
( ± 130g )
Selling : RM 18 (Save 18%)
(
log in
for member pricing )
Vegan, Gluten Free
about this product
Country of origins: Products of Malaysia
Modern lifestyle leaving us out of time to prepare nutritions meals to upkeep our well-being. Signature Market now innovates and transforms beans, grains, seeds and nuts varieties into a "on-the-go" crisp bars for nutrients gorging.
Chosen delicately, Signature Market uses only high quality ingredients to offer the utmost freshness and virtues. Synergizing high fibre and omega-3 superseed chia and flax, copper rich white sesame and vitamin E rich almond, this bar is absolutely a satisfying crunch and energy boosting for that 'rush-rush' moments, sport energy supply and simply just snacking for dietary balance.
We are
- GMO free
- Addictive free
- Chemical free
- Vigorous
- Delicious
- Supreme
Ingredients
Organic Almond, Organic Flaxseed, Organic White Sesame, Organic Chia Seed, Organic Brown Sugar, Filtered Water, Grapeseed Oil, Organic Lemon Extract, French Sea Salt.
Related Products
RM 18.00
RM 22.00 (Save 18%)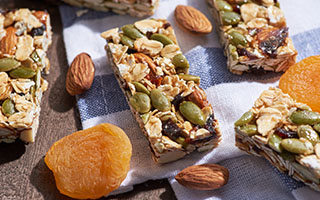 RM 18.00
RM 22.00 (Save 18%)
Special
Signature Market
Food
Babies & Kids
Health & Beauty
Home