Free Hair Shampoo with any purchase*
Signature Market
Mala Salted Egg Potato Chips
(100g)
Retail : RM 28
Member : RM 15 (Save 46%)


About This Product

When spicy just isn't enough, look to Sichuan cuisine to heat things up! Known for their bold flavours and fiery levels of spiciness, this is the one snack that is not for the faint-hearted. Famed for its intense fragrance, citrusy flavour and the tingling-numbing sensation it imparts, the Sichuan peppercorn otherwise known as flower pepper, is a spicy lover's dream. Not only does it give foods a spiciness unlike common peppers or chillies, it's also a powerhouse of potassium, vitamin A, iron, manganese, zinc, copper and phosphorus. But wait, this isn't just the basic Sichuan Mala flavour potato chips. We've added a mouth-watering ingredient to amp up the flavours! Introducing our favourite savoury ingredient, salted egg to the mix, we're giving you an even more addictive experience. Why take our word for it? Try our Mala Salted Egg Potato Chips today!

Country of Origin: Malaysia

Ingredients
Potato, Salted Egg Powder, Olive Oil, Sichuan Peppercorn, Chilli Pepper, Chilli, Sugar, Red Paprika, Curry Leaf, Salt.

Allergy Information
Contains egg products.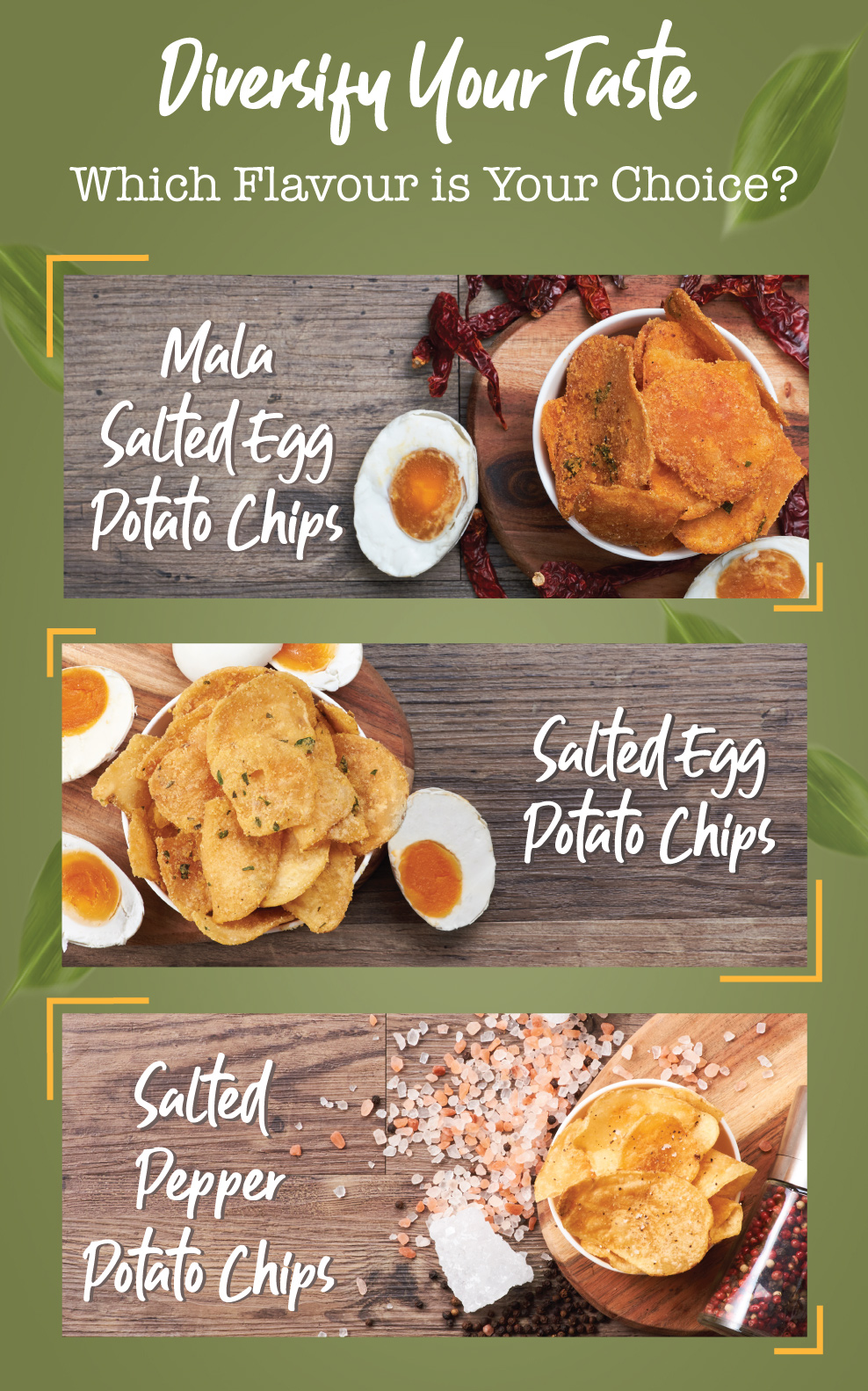 Related Products
Ratings & Reviews
Share your feedback by reviewing this product. Help other shopper decide whether it's right for them.
Nor s M s from kuala lumpur, Kuala Lumpur | Posted 2 weeks ago
lazattt
sedap. pedas nau nau
Tan L P from Klang, Selangor | Posted 1 month ago
Yummy but can be spicier
If the mala flavour is stronger then it will be even best!
Gra** L M L from JOHOR BAHRU, Johor | Posted 3 months ago
I love this!
Crunchy and spicy! Great snack!
San*** T from Bukit Mertajam, Penang | Posted 5 months ago
Nice packing and ingredients
Nice packing and ingredients
Joc**** L from Kuala Lumpur, Kuala Lumpur | Posted 7 months ago
Fragrant salted egg smell~
Surprisingly good combo for mala and salted egg, definitely addicted to it !
An N B Y from Seremban, Negeri Sembilan | Posted 7 months ago
Delicious
Delicious & satisfying
AID* S A from BATU CAVES, Selangor | Posted 7 months ago
Cla***** from Kuala Lumpur, Kuala Lumpur | Posted 8 months ago
Delicious
The taste is nice but the chips cutting too thick
Kho* K L from Genting highlands, Pahang | Posted 8 months ago
Great taste
Not too spicy just nice
Shi** S N from Nilai, Negeri Sembilan | Posted 9 months ago
Kong Foong Min from Kampar, Perak | Posted 11 months ago
Nice flavour chips
I love the spicy level and the rich flavour of the salted egg. I recommended this to my friends and they like it too.
Mala Salted Egg Potato Chips
(100g)