Signature Market
Norimaki Rice Crackers
(150g)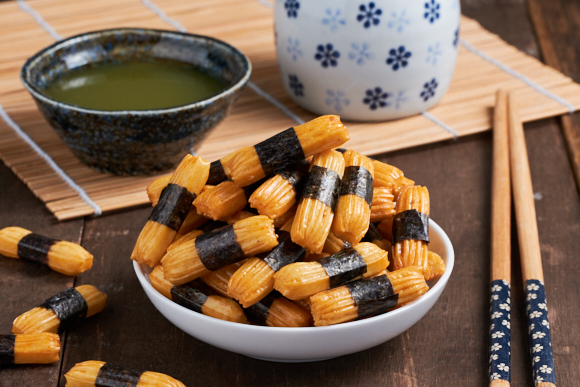 Selling : RM 18 (Save 25%)
(
log in
for member pricing )
Natural
About This Product
What's the best way to relive your childhood? With a familiar and well-loved snack of course! While the name Norimaki may not sound very familiar, the sight of the honey brown glazed rice cracker pellets wrapped in the middle with a strip of seaweed probably would be. A popular snack in Japan (and Malaysia of course!), these irresistible rice-based snacks are umami-packed bites often served with tea for light refreshments due to its light texture and appetizing flavours.
Containing very few calories per serving, these crunchy munchies are great substitutes for store-bought potato chips and other calorie-laden nibbles. Best of all, they're MSG-free so you can teach your kids about your favourite childhood snack the healthy way! Our Norimaki Rice Crackers are seasoned with premium soy sauce and baked instead of fried for a healthier twist on the classic recipe. Plus, they don't contain artificial flavouring or colouring either, just natural savoury flavours from the seaweed and soy sauce seasoning. Don't forget to buy at least two packs because you're going to need to hide one for yourself once they discover the deliciousness that is Norimaki Rice Crackers.
Country of Origin: Malaysia
What Does This Taste Like?
Crunchy and savoury with a rich umami flavour from the combination of the soy sauce coating and seaweed strip.
Health Benefits
1. Seaweed is an iodine-rich food which supports thyroid function. It also contains fibre and polysaccharides that not only support gut health but also may help you lose weight (due to fibre content).
2. Rice crackers contain vitamin E, riboflavin, vitamin B6, pantothenic acid, iron, potassium, zinc, copper and selenium.
3. Baking requires no addition of oils, thus making it a healthier process that does not add additional fat and calories to the food.
Usage Directions
Open packet and consume.
How To Consume
-None-
Ingredients
Rice, Soy Sauce, Sugar, Seaweed, Maltodextrin, Fish Powder, Caramel, Seaweed Powder.
Allergy Information
Contains soy products and produced in a facility that processes nut products.
Storage Instructions
Store in an airtight container or in its original resealable bag to maintain freshness. Keep in a cool, dry place. Avoid exposure to sunlight or excessive heat. Best consumed within a week after opening.
Related Products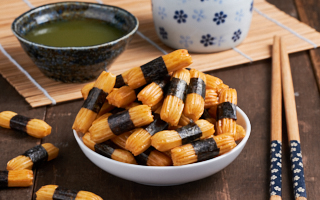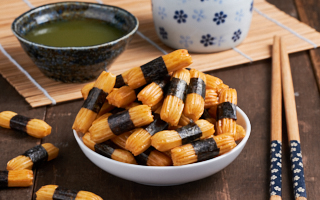 Norimaki Rice Crackers
(150g)