Signature Market
Hot Crispy Shrimp Chilli
(180g)
Selling : RM 14 (Save 30%)
(
log in
for member pricing )

About This Product

Do you like it hot and spicy? Enjoy the burning feeling building in intensity throughout your mouth? Eyes watering, nose dripping, sweat pouring kind of fiery hot? If you do, our Hot Crispy Shrimp Chilli will be right up your alley. Made from hand selected premium dried shrimp, the hottest chillies locally available and a generous helping of fried shallots for added crispy factor, it's a shrimpy, delightfully umami, crispy experience with every fragrant mouthful. Versatile enough to add a dollop onto your rice or noodles straight from the bottle and easy enough to incorporate into your choice of dishes, keep a bottle of our Hot Crispy Shrimp Chilli nearby for those times when you need to spice up your day.
Caution: Hot stuff inside with none of that artificial preservatives or MSG nonsense!

Country of Origin: Malaysia

What Does This Taste Like?
Fiery hot with an unforgettable umami flavour.

Health Benefits
1. Shallots and chilli are natural and effective blood cleansers.
2. Chillies contain capsaicin that are often used for its analgesic properties and may help with weight loss. Chillies are also antioxidant-rich.
3. Chillies contain vitamins and minerals such as vitamin C, vitamin B6, vitamin K, potassium and copper.
4. Capsaicin contained in chillies can aid diabetes prevention. It is credited with promoting weight loss by reducing appetite and increasing fat burning.
5. Capsanthin contained in red chillies make up 50% if carotenoid content. It has potent antioxidant properties that may help fight cancer.
6. Shrimp are rich in selenium, a mineral that may help reduce inflammation and promote heart health.
7. Shrimp are one of the best natural food sources of iodine and zinc which is essential for proper thyroid function and brain health. Zinc also helps curb the appetite while iodine helps maintain the basal metabolism of the body.

Usage Directions
Open jar and consume as preferred.

How To Consume
1. Best served with fried rice, noodles and pasta.
2. Recommended as a topping for tofu and other cooked dishes.
3. Add a spoonful of Hot Crispy Shrimp Chilli with a drizzle of olive oil for the perfect aglio olio.

Ingredients
Groundnut Oil, Sesame Oil, Shallot, Shrimp, Chilli, Sugar, Salt.

Allergy Information
Contains crustacean (shrimp) and nut products.

Storage Instructions
Keep in a cool, dry place. Avoid exposure to sunlight or excessive heat. Best consumed within 2 months once opened.


Related Products
Ratings & Reviews
Share your feedback by reviewing this product. Help other shopper decide whether it's right for them.
Suz**** C from Batu caves , Kuala Lumpur | Posted 5 hours ago
Great product
Very nice.. I've been repeat order a lot of times
Jun* from Seri Kembangan, Selangor | Posted 3 days ago
LIE* C L from BENTONG , Pahang | Posted 6 days ago
Delicious
Good packing... nice chili....
FOO** Y S from CHERAS, Selangor | Posted 1 week ago
Hot Crispy Shrimp Chilli 180g
Second time buying this chilli. Really taste good and crispy. Very nice !
Kum*** K T from Klang, Selangor | Posted 4 weeks ago
Love this
It's my favourite sambal
Tan m y from Ipoh, Perak | Posted 1 month ago
TC T from SUNGAI BAKAP, Penang | Posted 1 month ago
hot crispy shrimp chilli
worth to buy
Anynomous | Posted 1 month ago
Very NICE taste !
shrimp is crispy and tasty... my husband and me...really like it alot.. well and perfect product i've even seen !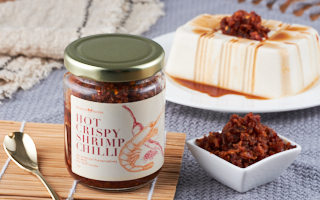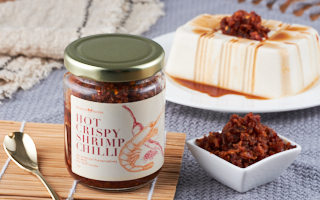 Hot Crispy Shrimp Chilli
(180g)