Signature Market
Autumn Fruits Granola (Less Sweet)
(250g)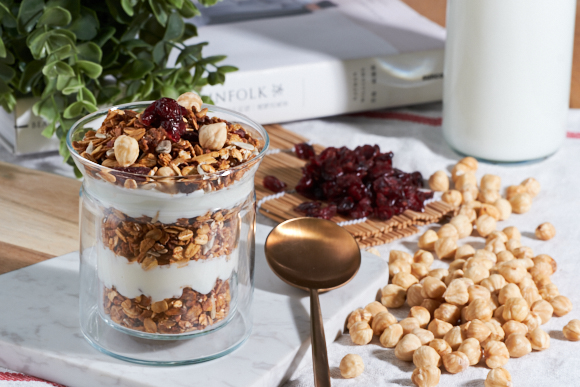 Selling : RM 19.9 (Save 28%)
(
log in
for member pricing )
Natural
About This Product
Whenever autumn is mentioned, the image of red and gold leaves and pumpkins come to mind despite Malaysia only ever having one season: perpetual summer. Nonetheless, you can still transport yourself into an autumnal wonderland with our Autumn Fruits Granola. Chock full of cranberries, hazelnuts and raisins, you'll get a sweet and buttery mouthful with every bite. Our granola would not be complete without a hearty helping of crunchy toasted rolled oats elevated with hints of smoky gula Melaka to give you that warm honey-like vibe of autumn. Paired with sweet and tart flavours from the raisins and cranberries, our Autumn Fruits Granola is formulated with less sugar to ensure that you'll be able to distinguish each premium ingredient's delicate balance of delectable flavours.
Country of Origin: Malaysia
What Does This Taste Like?
Mildly sweet and tart with hints of smoky honey-like gula Melaka.
Health Benefits
1. Rich in antioxidants.
2. Contain a soluble fibre called Beta-Glucan that helps control cholesterol levels and lowers risk of cardiovascular disease.
3. Contains high levels of antioxidant avenanthramides which help dilate blood vessels leading to better blood flow.
4. Protects good cholesterol from damage.
5. Very filling and promotes satiety to help you lose weight.
6. Good source of manganese, phosphorous, magnesium, copper, iron, zinc, folate, Vitamin B1 and B5.
7. Promotes growth of good bacteria in the gut.
8. Exceptionally high in vitamin E and selenium which function as antioxidants to prevent free radical damage to cells.
9. Contains significant amounts of magnesium, protein, linoleic fatty acids and heart-healthy fats.
10. Contains flavonoids and several other plant compounds that have anti-inflammatory properties.
Usage Directions
Open packet and consume directly.
How To Consume
1. Open packet and consume directly.
2. Add to a bowl of milk/yoghurt and fresh fruit for a healthy snack.
3. Top your acai bowl or dessert with a handful of trail mix/nuts/seeds for a more filling snack.
4. Sprinkle over salads or even main meals for a delightful crunch and boost of nutrients.
Ingredients
Rolled Oat, Sunflower Seed, Egg, Coconut Oil, Honey, Raisin, Brown Sugar, Hazelnut, Cranberry, Gula Melaka, Pink Salt
Allergy Information
Contains egg, seed and nut products.
Storage Instructions
Store in an airtight container or in its original resealable bag to maintain freshness. Keep in a cool, dry place. Avoid exposure to sunlight or excessive heat.
Related Products
Ratings & Reviews
Share your feedback by reviewing this product. Help other shopper decide whether it's right for them.
Autumn Fruits Granola (Less Sweet)
(250g)