Free Delivery + Lifetime Membership
Signature Market
Wasabi Green Peas
(180g)
Retail : RM 14
Member : RM 7.2 (Save 48%)


About This Product

Nothing clears your sinuses quite like a punchy hit of wasabi right to your taste buds. With that in mind, Signature Market set out to find the perfect partner in crime for wasabi and we could not have found a better partner for wasabi than all-natural, premium green peas. Green peas make for a great snack, particularly as they're low in fat but high in plant-based protein, fibre and micronutrients. In addition, peas and wasabi both share anti-inflammatory properties, making them great for helping to prevent diseases associated with ageing.

Country of Origin: Malaysia

Ingredients
Premium Green Pea, Wheat Flour, Corn Starch, Palm Oil, Japanese Wasabi Powder.

Allergy Information
Contains wheat products.

Certified Halal
This product has been certified as halal by JAKIM.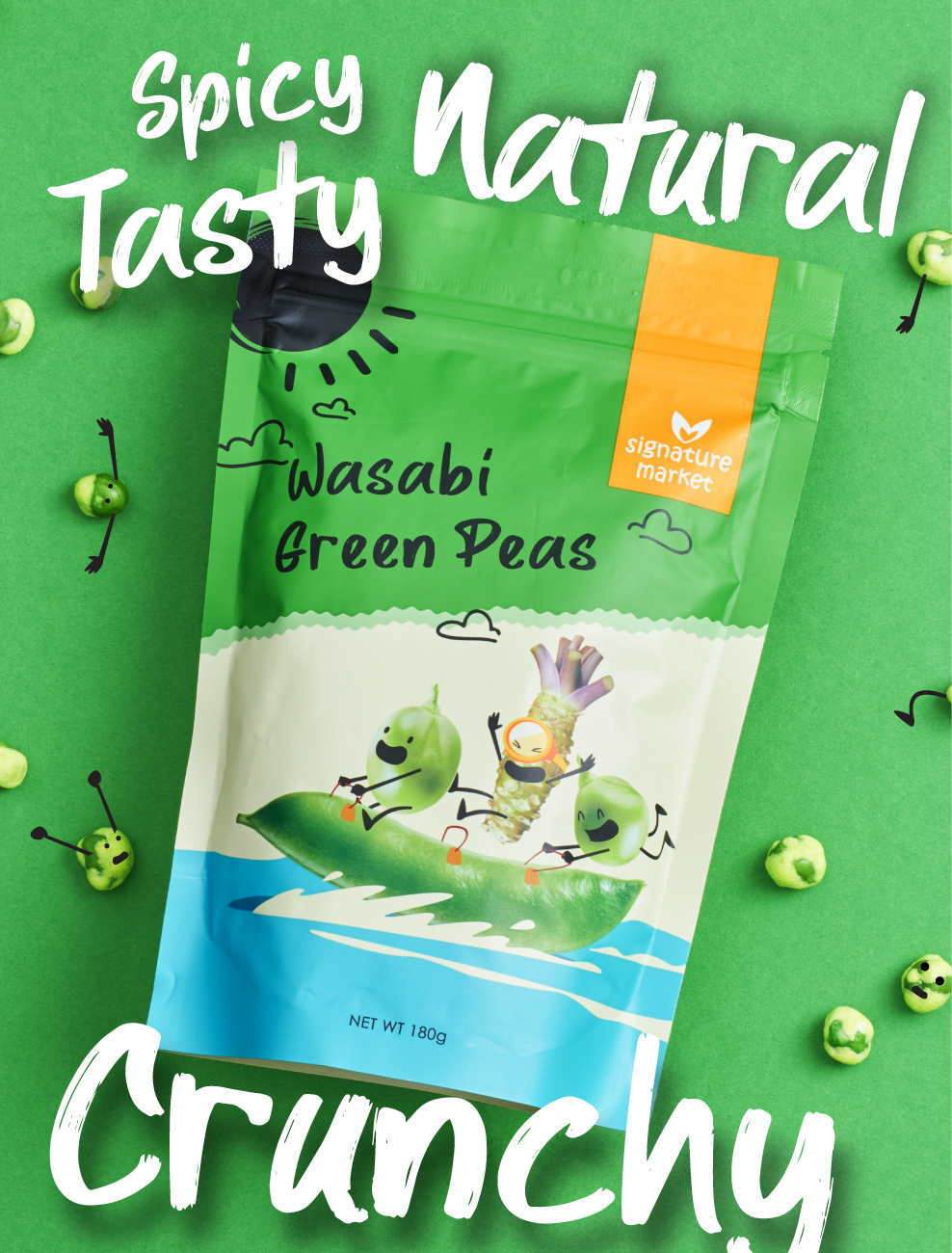 Related Products
Ratings & Reviews
Share your feedback by reviewing this product. Help other shopper decide whether it's right for them.
Cat****** H from Kuching, Sarawak | Posted 3 weeks ago
Scrumptious snack
The best green peas I've ever munched on. Love the wasabi version and would be glad if there'll be the original flavour(without salt) as green peas is one of my fav beans.Tqsm.
EST*** L from Batu Caves, Selangor | Posted 1 month ago
Fresh nuts & efficiency
Fats delivery and smooth payment gate..Welldone SIGNATURE MARKET! Of coz...delicious and fresh nuts!
Aid* A from Shah Alam, Selangor | Posted 1 month ago
Guilt free craving
Like the green peas but can't stand the wasabi. But good snack for those who like wasabi.
Won* T M from Iskandar Puteri, Johor | Posted 1 month ago
Too spicy
I know it's spicy because of the wasabi. But please provide non-spicy version especially in your bundle packages so that I've an option. Spicy peas not to my liking. Otherwise it's a healthy crunchy snack.
Ani* s from Puchong, Kuala Lumpur | Posted 1 month ago
Sedap sangat!
Sedap sangat! Kacang rasa fresh dan pedas wasabi dia takde la menyengat sangat. memang sedap! berapa kali repeat dah! Tq Signature!
nor******* m n from kuala terengganu, Terengganu | Posted 2 months ago
Wasabi Green Peas
love it
WON* W L from Raub, Pahang | Posted 2 months ago
Cha* T P from Butterworth , Penang | Posted 3 months ago
👍🏻
The orange it so chunky... loves it
Ali*** A from Kuala Lumpur, Kuala Lumpur | Posted 3 months ago
Nice
very fresh and tasty.
Lok* F Y from Petaling Jaya, Selangor | Posted 3 months ago
Good
the taste is nice and sneeze into my nose breath
KHO* F R from Muar, Johor | Posted 3 months ago
Wasabi green peas
Nice. Not so spicy
ain********* from johor bhahru, Johor | Posted 3 months ago
best nuts!
such a good snack to eat while sleepy in the office 😂
Ami** Z from Kerteh, Terengganu | Posted 3 months ago
Ooi S L from Gelugor, Penang | Posted 4 months ago
👍🏻
2nd time purchase.. very nice n fresh ..
LUK* G from BALING, Kedah | Posted 4 months ago
Stingy Wasabi
I like it when it gives a stingy feeling when it hits your tongue. My fav munchy when watching a movie.
BLi** from Ipoh, Perak | Posted 4 months ago
Chruncy and spicy
Due to my gastric so I can't eat a lot. Anyway it's tasty with little bit spicy.
Jo from Cheras, Kuala Lumpur | Posted 4 months ago
addictive from first pea!
snacking on it right now as I type this - good quality wasabi used for flavoring the peas, I'm legit tearing up from it!
BELINDA WONG WEI YING from SHAH ALAM, Selangor | Posted 5 months ago
Strong Wasabi flavour
I'm a big fan of wasabi & the green peas is so fresh! I've been eating the same packet for almost 3 weeks & the peas are still so crunchy & tasty!