Free Heart of Spring Bamboo Bowl*

About This Product

Dry air can wreak havoc on even the healthiest of individuals, particularly during flu or haze season. While we can't bring down the rains to wash away the dirty air particles, dust or germs that are floating around, our Plant Origins Bluetooth Aromatherapy Diffuser does the trick to get rid of them efficiently and effectively.
With a sleek white exterior that won't distract from your existing decor, it's perfectly discreet and has a 2-in-1 function of being both a diffuser and Bluetooth speaker! Play your favourite tunes as you sit back and relax or switch on the light function for a soothing night light with adjustable brightness and colours. Plant Origins Aromatherapy Bluetooth Diffuser can produce mist for up to 13 hours on a full tank of water so you can wake up with radiant, hydrated skin. The atomizing particles help to neutralize dust, germs and other dirty air particles in the air, particularly when it's hazy season. Thus, the diffuser's constant stream of moisturizing air reduces the likelihood of illnesses caused by stale air circulating around the room and helps eliminate static. Fans of mist sprays for skin moisturizing will also appreciate the extra hydration the mist imparts to your skin and eyes. No more worries about having dry, itchy eyes, cracked lips or painfully dry skin.

NOTE: This package includes one unit of Plant Origins Aromatherapy Bluetooth Diffuser, a UK 3-pin plug, measuring cup and remote.

Country of Origin: China

Product Specifications
Voltage: 100V-240V AC
Power: 12W
Material: PP material, ABS material
Colour: White
Water Tank Capacity: 500ml
Mist Frequency: ~30ml/h
Mist Settings: Standard, Strong
Timer Settings: 10 second intervals, 2 hour, 4 hours, continuous.
Lights: 8 colours, 2 light options (bright or dim), 3 modes. (First mode: full 7 colour cycle. Second mode: 1 fixed colour. Third mode: light off when you press and hold light button for 3 seconds.)
Product Size: Approximately 160mm x 160mm x 120mm

NOTE: Diffuser shuts down automatically once water level in tank is low.

Health Benefits
1. Improves quality of air in enclosed spaces.
2. Reduce likelihood of dry skin, irritated eyes, dryness of the throat, allergies, frequent coughs, sinus headaches and cracked lips.
3. Humidity above 40% helps deactivate virus particles in the air, making them less likely to be infectious. This helps prevent influenza and unproductive coughs.
4. May help reduce snoring as the moisture in the air can aid with lubricating the airways.
5. Keeps hair and skin moisturized.
6. Reduces allergy, sinus and asthma symptoms.
7. With additional use of essential oils for aromatherapy purposes, it may also help relieve stress, alleviate symptoms of anxiety and liven up the atmosphere.

Usage Directions
1. Gently lift the cover of the Plant Origins Aromatherapy Bluetooth Diffuser (500ml).
2. Add water to the diffuser water tank using the measuring cup to ensure there is no overflow.
3. Close cover to secure it.
4. Insert the plug of the power cord into the power supply socket of the diffuser and connect the other end of the power cord to an electrical source.
5. Press the 'on' button to produce mist.
6. Press the light button to turn on light function.

How to activate Bluetooth Speaker function
1. To use the speaker function, turn on your phone/laptop's Bluetooth function and search for the diffuser speaker (BT Speaker) by scanning the list of available Bluetooth devices.
2. Click the diffuser's speaker name to connect.
3. Play your chosen audio as usual on your phone and adjust volume accordingly on your phone.

Caution
1. Please ensure the correct voltage is used for the machine. This machine has a working voltage of 100V-240V, kindly ensure it is linked to an AC source of power with a voltage of 100V-240V.
2. Do not dismantle or use the machine in a damp area.
3. Do not touch atomizing chips with any hard articles.
4. Use only pure, clean water in the humidifier. Unfiltered tap water can contain higher levels of minerals/particles that can build up in the machine and cause it to wear down faster. The humidifier may also push these minerals into the air and they may settle down as dust.
5. Change the water in the humidifier regularly. Dry the water in the water tank if not used for a long period of time.
6. It is recommended to clean any deposits in the water tank once a week.
7. If there is an abnormal sound or the amount of mist released becomes significantly reduced, turn off the switch and refill water into the water tank.
8. Exercise caution when using a humidifier around children.

Storage Instructions
Keep in a cool, dry place. Avoid exposure to sunlight, damp areas or excessive heat.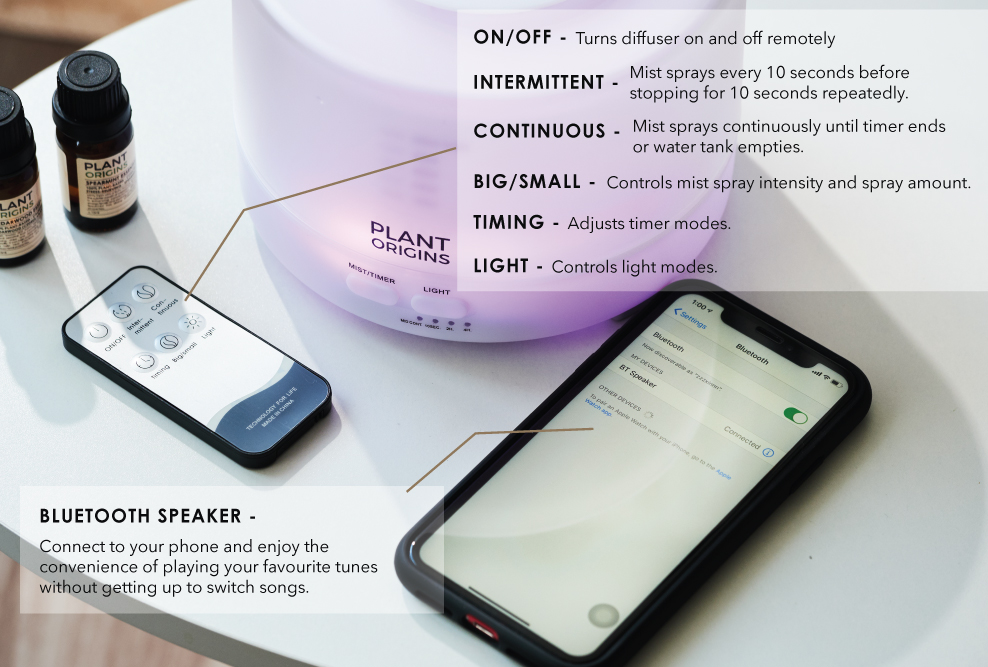 Buy 1 Get Free Gift
Related Products
Ratings & Reviews
Share your feedback by reviewing this product. Help other shopper decide whether it's right for them.
Han*** H from Petaling Jaya, Selangor | Posted 1 day ago
Super love it!
Nicely wrapped when I received it. It comes with music that the best part.
Jul** A from Klang, Selangor | Posted 1 week ago
love it
juz love it the product
Tan C K from Bayan Baru , Penang | Posted 2 weeks ago
Cat****** O from Ipoh, Perak | Posted 3 weeks ago
Nice to use
fast delivery and sounds not bad too
SIT* Z B S from BUKIT JALIL, Kuala Lumpur | Posted 3 weeks ago
Diffuser
The diffuser work fine and way cheaper to buy it while sale. I managed to grab this. The diffuser also have Bluetooth speaker which is bonus for someone who want to listening song while relaxing.
Agn** C from Kuala lumpur, Kuala Lumpur | Posted 3 weeks ago
Received in good condition
Like the combination of two in one device
Nur****** M from Petaling Jaya, Selangor | Posted 4 weeks ago
love this
you can have a nice smell from diffuser while listening to music and nice lights, relax until you fall asleep.. :)
Nur** s a from cheras, Selangor | Posted 1 month ago
multifuction diffuser
with someone on a budget this is so good. it has bluetooth speaker, light and the diffuser itself. Gonna repurchase and put one in the living room ♥️♥️♥️
Jac******* Y from Cheras, Kuala Lumpur | Posted 1 month ago
Fast delivery
Highly recommended
rai*** s ( from Ipoh, Perak | Posted 1 month ago
Ais*** from Kuala terengganu, Terengganu | Posted 1 month ago
Lie* M p from Ipoh, Perak | Posted 2 months ago
Very good
Great product, works well
Tho*** T B K from Petaling Jaya, Selangor | Posted 2 months ago
Very value for money
but don't plsy heavy bass song with the speaker. Spa music is perfectky fine.
Soo* s T from Seri kembangan , Selangor | Posted 2 months ago
I love it
很快收到货物 ,第一次买diffuser,很不错。有灯也可以听歌
Nur** N from Shah Alam, Selangor | Posted 2 months ago
Won* L Y ( from Shah Alam , Selangor | Posted 2 months ago
Value for money!
Have repeat purchased 2 to give away after bought one. The Bluetooth was amazing.
Nur a a h from Jempol, Negeri Sembilan | Posted 2 months ago
Suh**** n a from Kuala Lumpur, Kuala Lumpur | Posted 2 months ago
Give good mood
Love the smell of eo while enjoy good music
AZL**** from KEPONG, Kuala Lumpur | Posted 2 months ago
Decent BT speaker
Pairs pretty easily and fairly good sound quality. The only complaint I have is that the speaker is at the bottom so there's some unpleasant resonance when placed on a glass table. Or when put on a sound absorbant surface, the sound gets muffled. Just wished the speaker is anywhere but the bottom 😌 other than that, it works great!
Moh* Z M H from Kuala Lumpur, Kuala Lumpur | Posted 2 months ago
Sit* N S Z from Seri Manjung, Perak | Posted 2 months ago
Nice!
Nice!! The mist is strong. Just the sound of the bluetooth is too loud and no way to adjust the volume.
Anynomous | Posted 3 months ago
All good!
Works perfectly though I'm deducting 1 star as the volume is unable to be adjusted :( So it's pretty loud
Wan F B W M K from Subang Jaya, Selangor | Posted 4 months ago
Bought at affordable price!
Love how the mist can be strong. The bluetooth speaker can be very loud.. even when first on the diffuser, the bluetooth will immediately say "connected" very loud. Other than that, all good.
Far** A from Seremban, Negeri Sembilan | Posted 4 months ago
Nice, pretty, easy to use
Nice, pretty, easy to use.
Nor s b a from Johor bahru, Johor | Posted 4 months ago
Terbaik
Terbaik.. beli dgn harga yg murah 👍👍
Anynomous | Posted 4 months ago
Great Diffuser
The capacity is larger than the diffuser that I have and it diffuse longer hours which I like. The only thing that I don't like is the speaker volume that cannot be adjusted from the diffuser itself. Even when my phone's bluetooth volume is set to the lowest, the speaker volume is still loud.
Aki*** U B M from Kuantan, Pahang | Posted 4 months ago
Satisfied purchase ✨
the diffuser works wonder, the bluetooth speaker also sounds good. im very satisfied with this purchase ❤️
Emmie Sharina bt Abdul Kadir from KUANTAN, Pahang | Posted 6 months ago
Bestttt
I fall in love shopping with signature market.. goods Packaging is incredible.. for Plant Origins Aromatherapy Bluetooth Diffuser... Price is affordable.. already used it in 5 days.. add with the Plant Origins Peppermint Essential Oil.. Love it.. feel restful minds .. easy to sleep n feel the energy after morning wake up.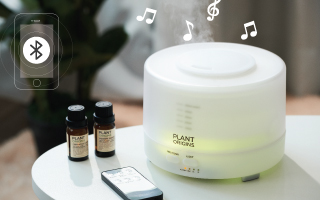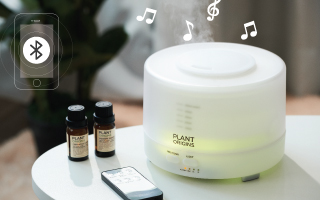 Plant Origins Aromatherapy Bluetooth Diffuser
(500ml)