Signature Market
Real Fruits & Veggie Crisps
(100g)
Selling : RM 19.9 (Save 17%)
(
log in
for member pricing )
Natural
about this product
Origin of Country: Taiwan
Signature Snack Real Fruits & Veggie Crips are 100% made in Taiwan following stringent quality rules without adding artificial pigments and preservatives.
Each recipe, flavor, quality, packaging and marketing of our products is taken as an integrated structural consideration.
Signature Snack Real Fruits & Veggie Crips are made from natural fruits and vegetables to retain their natural vitamins and minerals. It is also rich in dietary fiber, the main source of fiber in your daily dietary intake. Processing without any artificial pigments and chemical preservatives, it is indeed a quality leisure snack.
Ingredients
Okra, Pumpkin, Beetroot, Yam, Potato Stick, Purple Sweet Potato, Carrot, Long Bean, Banana, Red Apple, Jackfruit, Palm Oil, Salt, Sugar.
Storage Direction
Keep in a cool, dry place. Avoid from exposure to the sunlight or excessive heat. To ensure freshness after opening, keep box closed firmly.
Related Products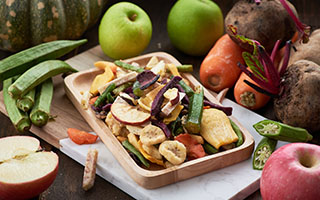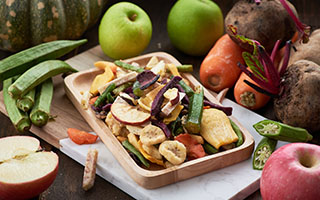 Real Fruits & Veggie Crisps
(100g)