Signature Market
Egg-Free Peanut Butter Cookies (Expiry on: March 2020)
(160g)
Selling : RM 18 (Save 10%)
(
log in
for member pricing )
Natural
About This Product
If slathering peanut butter on your toast and sandwiches isn't enough, fulfil your cravings with a nibble of our lacto-vegetarian friendly Egg-Free Peanut Butter Cookies. Now you no longer have to wait till it's the festive season to savour the nutty, buttery goodness that is a peanut butter cookie. With a rich peanut flavour and melt-in-your mouth texture, this cookie is sure to be your favourite tea time companion. Dip it in a cup of coffee or hot chocolate for a decadent snack or eat it on its own to savour the flavour.
Country of Origin: Malaysia
What Does This Taste Like?
Boldly nutty with every buttery mouthful.
Health Benefits
1. Rich in vitamin E, vitamin B3, phosphorous, zinc, niacin, magnesium and manganese.
2. Approximately half of the fat in peanut butter is made up of oleic acid, a healthy type of monounsaturated fat also found in high amounts in olive oil. Oleic acid has been linked to several health benefits, such as improved insulin sensitivity.
3. Rich in antioxidants.
4. Peanut butter and nuts help promote satiety.
5. Peanut butter contains plenty of monounsaturated fats which is essential for heart health.
Usage Directions
Open packet and consume.
How To Consume
Eat it on its own or dipped in a beverage of your choice. We suggest a cup of hot chocolate or coffee.
Ingredients
Sugar, Peanut Butter, Flour, Butter, Raising Agent, Vanilla.
Allergy Information
Contains nut products (peanuts).
Storage Instructions
Store in an airtight container or in its original resealable bag to maintain freshness. Keep in a cool, dry place. Avoid exposure to sunlight or excessive heat.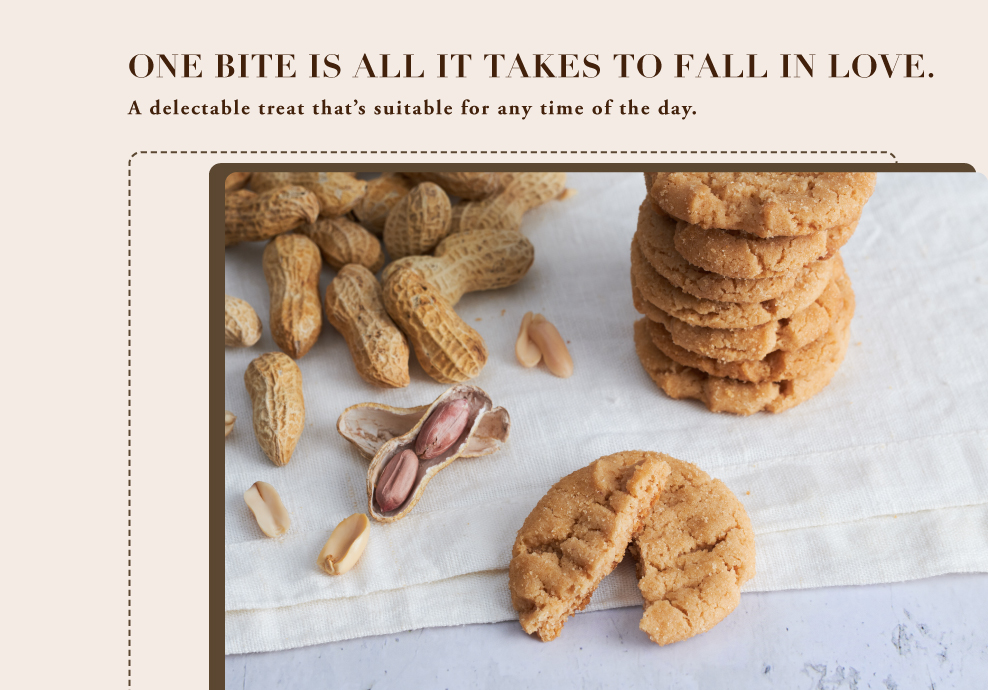 Related Products
Special
Signature Market
Food
Babies & Kids
Health & Beauty
Home