Free Heart of Spring Coaster*
Signature Market
Hainanese Chicken Rice Paste (Expiry On: March 2020)
(180g x 2 sachets)
Retail : RM 20
Member : RM 5 (Save 75%)

Quick and Healthy Recipes
About This Product
Heard of the phrase "Winner, winner, chicken dinner"? You'll certainly be a winner at mealtimes with our Hainanese Chicken Rice Paste in your cooking arsenal. A convenient, ready-to-use chicken rice mix, our Hainanese Chicken Rice Paste is made from only the freshest all-natural ingredients - no artificial flavouring, colouring or MSG involved.
Hainanese chicken rice is a simple dish of poached chicken and seasoned rice often served with a side of homemade chilli sauce and cucumber garnish. The chicken recipe is adapted from the Wenchang chicken recipe, hailing all from Hainan province in southern China. What gives the iconic Hainanese chicken rice its delicious aroma and flavour is the stock often poured directly into the rice as it is cooking. A fragrant combination of ginger, garlic and other ingredients, it imparts a rich taste to the grains that pairs well with the mild flavours of the chicken. Now you can recreate this famous hawker fare must-have at any time without having to experiment with getting the recipe right with just one packet of our Hainanese Chicken Rice Paste.
Country of Origin: Malaysia
What Does This Taste Like?
Just like your favourite Hainanese Chicken Rice but without the fattening oiliness of chicken fat.
Health Benefits
1. Garlic is a highly nutritious bulb that has been proven to help regulate and reduce blood pressure, improve cholesterol levels and lower the risk of cardiovascular diseases. Despite its small size, garlic can also combat illnesses such as common colds.
2. Ginger has been proven to help prevent nausea, vomiting and symptoms of motion sickness. It also has warming properties due to its ability to help with blood circulation. This also makes it effective at preventing menstrual cramps and fight colds.
3. Ginger is a powerful antioxidant and has anti-inflammatory effects. It may even help with pain brought on by osteoarthritis as well as reducing muscle pain and soreness.
4. Ginger has been shown to lower blood sugar levels and reduce the risk of heart disease in patients with type 2 diabetes.
Usage Directions
Open packet and cook according to preferred recipe. See below for Fragrant Chicken Rice recipe.
How To Consume
Fragrant Chicken Rice:
900 g - Fragrant rice (washed and drained)
180 g - Hainanese Chicken Rice Paste
Method:
1. Mix Hainanese Chicken Rice Paste and rice in a rice cooker and cook.
2. Serve hot.
OR
1. Cook rice in a rice cooker.
2. Stir in Hainanese Chicken Rice Paste into cooked warm rice.
3. Serve hot.
*Serving Portion: Serves 12 persons per packet.
Ingredients
Garlic, Ginger, Vegetable Oil, Salt, Sugar.
Allergy Information
-None-
Storage Instructions
Store in an airtight container to maintain freshness. Keep in a cool, dry place. Avoid exposure to sunlight or excessive heat.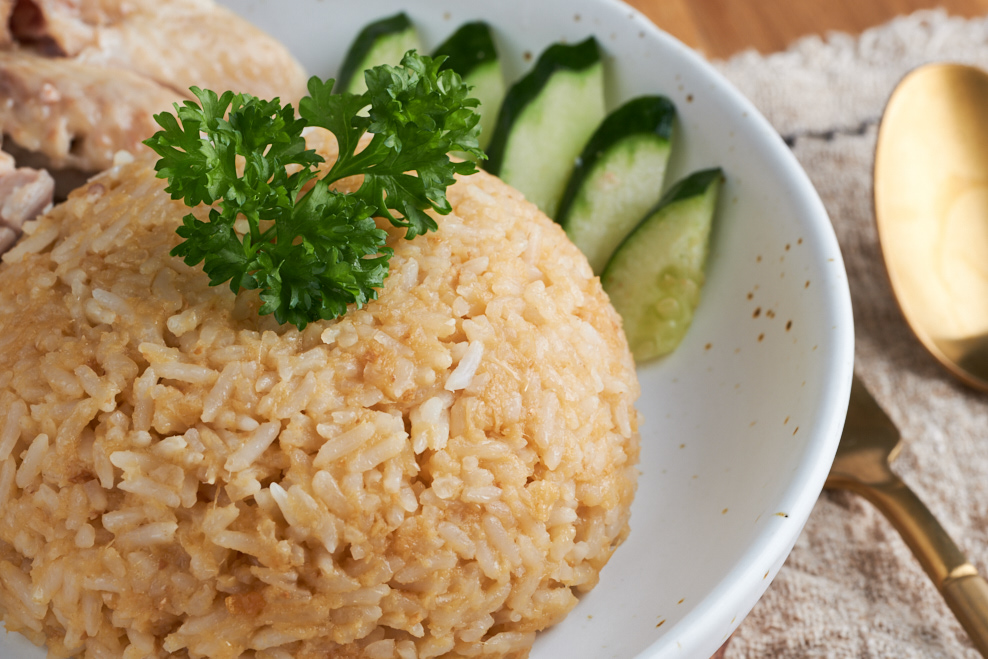 Related Products
Ratings & Reviews
Share your feedback by reviewing this product. Help other shopper decide whether it's right for them.
Hainanese Chicken Rice Paste (Expiry On: March 2020)
(180g x 2 sachets)