Signature Market
Black Pepper Coconut Chunks
80g
Selling : RM 12 (Save 20%)
(
log in
for member pricing )
Vegan-friendly
About This Product
Sweet, salty and spicy - it's enough to make you go loco for coco! Our Black Pepper Coconut chunks prove that coconuts aren't just meant for sweet dishes and desserts with an all-new savoury flavour combo that's out of this world. Creamy coconut flesh seasoned with black pepper and slow baked to crunchy perfection, it's not just addictive, it's healthy too! Our coconut chunk treats contain no artificial additives or oil and are slow baked to retain as much of its natural nutrients as possible. In fact, we've even replaced refined sugars with brown sugar, a much healthier alternative. They're an all-natural snack that's also vegan-friendly!
Coconuts are rich sources of polyunsaturated fats, fibre, manganese, copper, selenium, potassium and iron as well. These nutrients contribute to the coconut's ability to help keep your heart healthy, maintain blood sugar control, boost metabolism rates, prevent constipation and protect cells from oxidative damage.
Country of Origin: Malaysia
Ingredients
Coconut Kernel, Brown Sugar, Salt, Black Pepper.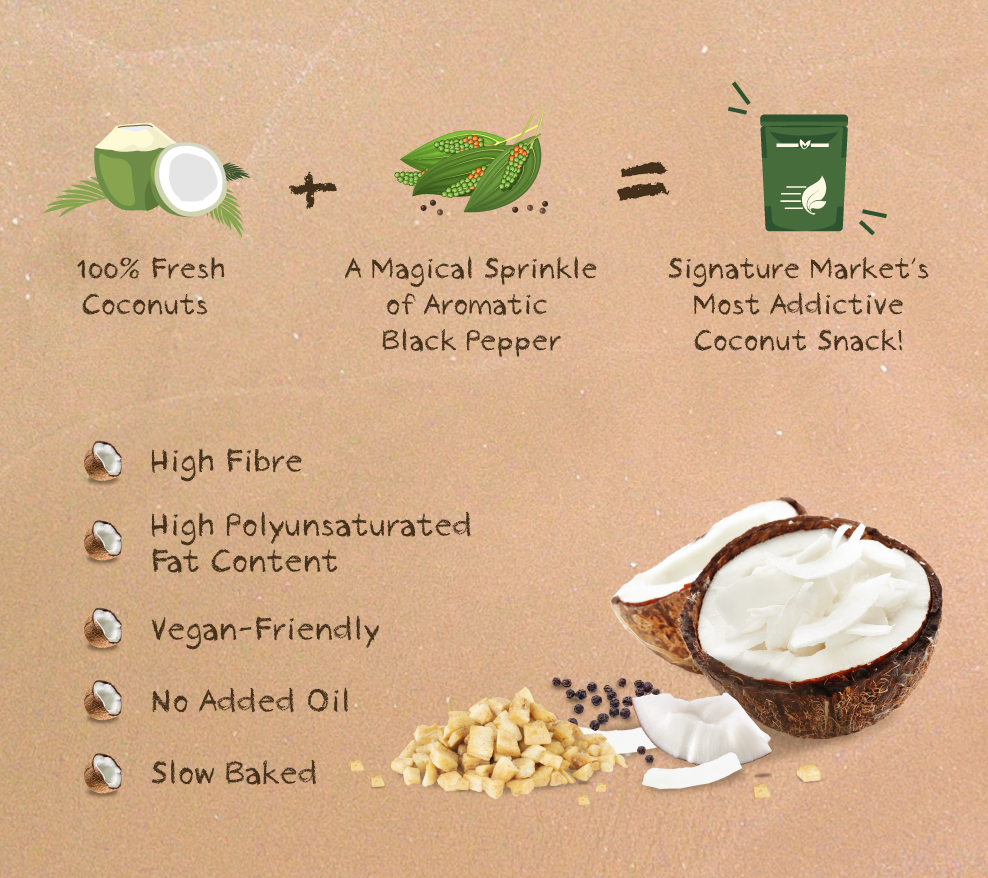 Related Products
Black Pepper Coconut Chunks
80g