Free Delivery + Lifetime Membership

About This Product

Lactose intolerant but still want to get your milk and calcium requirements? Opt for oat milk instead with our Organic High Calcium Oat Milk. Enriched with natural probiotics and rich in β-glucagon, this tasty milk option also helps lower blood cholesterol and maintain healthy blood sugar levels. It stimulates the adipose tissues to breakdown fat stores too, so it's a healthy option for when you're aiming to lose weight. The dietary fibre content aids bowel movement, relieving intestinal issues and indirectly helping to detoxify the body. On top of all that, the added boost of calcium promotes bone health.

Country of Origin: Malaysia

What Does This Taste Like?
Similar to cow's milk but with an oat-y aftertaste.

Health Benefits
1. Rich in antioxidants.
2. Contain a soluble fibre called Beta-Glucan that helps control cholesterol levels and lowers risk of cardiovascular disease.
3. Contains high levels of antioxidant avenanthramides which help dilate blood vessels leading to better blood flow.
4. Protects good cholesterol from damage.
5. Aids in improving blood sugar control.
6. Very filling and promotes satiety to help you lose weight.
7. Good source of manganese, phosphorous, magnesium, copper, iron, zinc, folate, vitamin B1 and B5.
8. Promotes growth of good bacteria in the gut.

Usage Directions
Add 20g of High Calcium Oat Milk powder to 250ml hot water and stir well. Alternatively you may use a shaker bottle.

How To Consume
-None-

Ingredients
Organic Oat, Organic Non-GMO Soy Bean, Organic Probiotic, Natural Oligo, Organic Flaxseed.

Allergy Information
-None-

Storage Instructions
Store in an airtight container to maintain freshness. Keep in a cool, dry place. Avoid exposure to sunlight or excessive heat.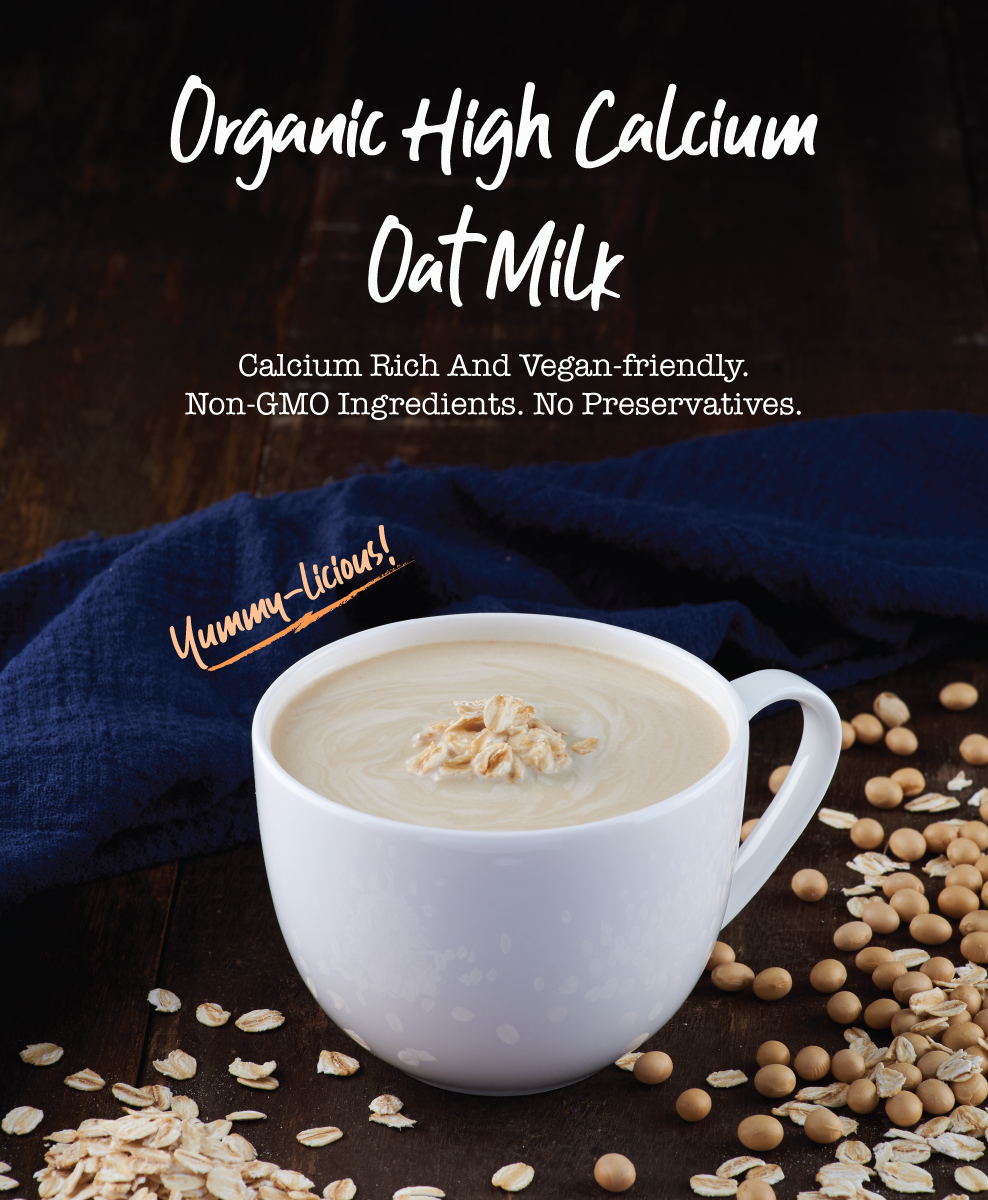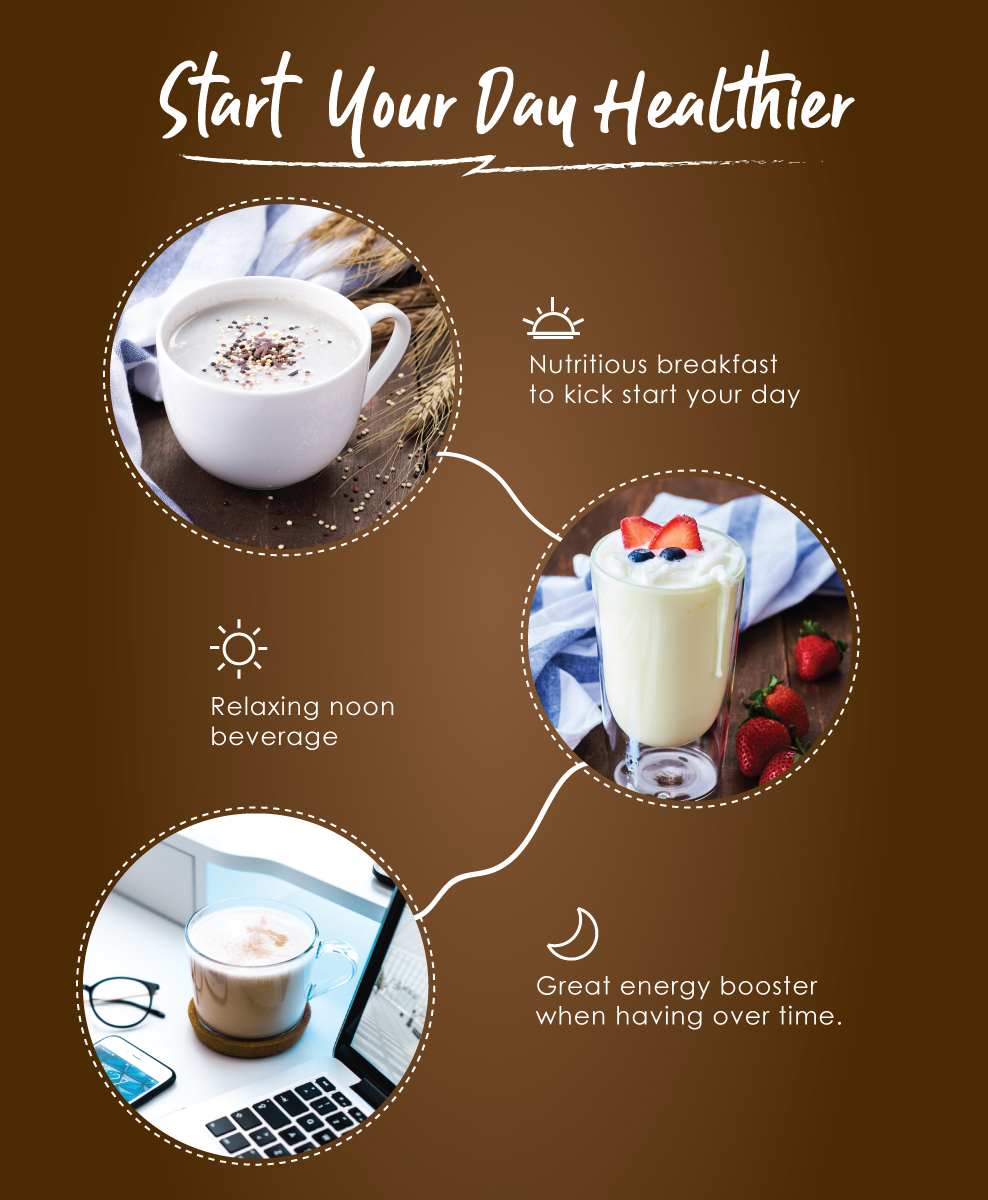 Buy 2 Get Free Gift
Related Products
Ratings & Reviews
Share your feedback by reviewing this product. Help other shopper decide whether it's right for them.
Sum*** C from CHERAS, Kuala Lumpur | Posted 3 days ago
Tasty
i drink it every morning as my breakfast.. i like it very much, will repeat order once finish
Mon*** T from Georgetown, Penang | Posted 1 month ago
Value for money. Fast delivery
All good. Bought at the right time - sales. So it was worth it
Anonymous | Posted 1 month ago
Yummy!
I enjoy it thoroughly when it's mixed with coffee!
Van**** W from Petaling Jaya, Selangor | Posted 1 month ago
Like Horlicks Without Malt
Thick and creamy, this reminds me of horlicks just without malt. It's yummy and just a teeny bit filling but not my favourite beverage option. It has a tinge of sweetness to it.
IND**** A A from JASIN, Melaka | Posted 1 month ago
Oat Milk
Taste wise good and the texture is creamy. Also fast delivery service.
Gay****** S from Farlim,Air Itam, Penang | Posted 1 month ago
Repeating Order
My fourth time purchasing this. Never taste anything tasty like this before!Keeps you full for 5 hours.
tan y c from Alor Setar, Kedah | Posted 2 months ago
taste good
super like this healthy drink , really taste good !
Pri****** K from Kuching , Sarawak | Posted 2 months ago
Healthy drink
Good for elderly to drink.
The******* from Bayan lepas, Penang | Posted 3 months ago
Deliciously creamy and filling
Been drinking for two days now. Can't get enough of it. It's so creamy and it goes well with my coffee. My mom who is diabetic also started consuming this . Hope it will be beneficial for her . I would highly recommend this for those who want a milk substitute and have all the health benefits.
Lei***** K M from Taiping, Perak | Posted 3 months ago
My favourite
Among all the drink options available, this is by far my favourite. I love it so much.
Ais*** A from Raub, Pahang | Posted 3 months ago
Oat milk powder
I love the rich taste of the oat milk drink ! I look forward to each time
Koh L L from Batu Pahat, Johor | Posted 4 months ago
No instructions
This is creamy and sweet. Added it to my barley gingko soup. It's good. But I wish you have provided a clear ratio to help reduce the time I used to figure out on my own.
CIK S B A F from Subang Jaya, Selangor | Posted 4 months ago
Good for breakfast.
Very recommended for dietary
asm*** h from kuantan, Pahang | Posted 4 months ago
Love the taste of Oatmilk
Its thick and creamy. Suitable for breakfast.my 2nd time buying
Jal*** from George town, Penang | Posted 5 months ago
Perfect combination w/ chocolate drinks
I drink my oat milk w/ sugar free avalanche dark chocolate powder and it was ✨perfect✨
Wan P Y from Kuala Lumpur, Kuala Lumpur | Posted 5 months ago
Perfect breakfast tea
Worthy. Purchase it after got a trial on the free gift 150g
Che* L k from Rawang, Selangor | Posted 5 months ago
worthy!
Can't wait to try!
ANG** H from KOTA TINGGI, Johor | Posted 5 months ago
High Calcium Oat Milk Powder
Third purchase ,good product
Chr****** O from Kuala Lumpur, Kuala Lumpur | Posted 5 months ago
good for breakfast
I prefer to drink in thick, always put more powder, really love it.
Chi** C G from Georgetown , Penang | Posted 6 months ago
Creamy Oat Milk
Easy to dissolve in warm water. Doesn't clumped up. It taste so smooth, creamy and with some oats inside. Feel so comfortable.
Chu* L C from Kajang, Selangor | Posted 6 months ago
Good product packing
Nice product packing and the products really fresh. Will repurchase
Che***** A from Kuala Lumpur, Kuala Lumpur | Posted 7 months ago
My favourite breakfast drink
It's a good basic powder for my mix and match breakfast drink. I would add in other powders like the Bellagio Chocolate and Walnut + Hazelnut powder to give it a boost to my breakfast.
Sha**** n from Kajang, Selangor | Posted 7 months ago
CHO** Y Y from Johor Bahru, Johor | Posted 7 months ago
Good for bones
Many times purchase this from signature market, the taste and scent are great. My mum loves it.
Noe* F from Greenlane, Penang | Posted 7 months ago
Well balanced instant drink for a milk replacement
-
Ana S M S from Universiti Putra Malaysia, Serdang, Selangor | Posted 8 months ago
Healthy
Very good for diet. I take oat milk powder for breakfast but still feel full until lunch.
TOH HWEE JIN from KUALA LUMPUR, Kuala Lumpur | Posted 9 months ago
Breastmilk booster
I was desperately looking for breastmilk booster. This drink works unexpectedly and amazingly on me. Happy! Thank you signature market!
High Calcium Oat Milk Powder
(500g)