Free Delivery + Lifetime Membership

About This Product

Combine the nutritious qualities of purple rice, black rice and tricolour quinoa and you get a healthy and filling cereal drink that will intrigue your taste buds. Purple rice is also known as 'forbidden rice', its regal hue destining it only for the palates of emperors when it was first cultivated in ancient China. Not only was it an exclusive grain, it was also a difficult crop to grow and was less readily available, thus making it a very rare commodity. This ancient heirloom grain is famed not only for its distinctive colour (purple rice looks black when raw but turns into a deep violet when cooked), it was also known for its high nutrition content and healing abilities. A healthy source of carbs, this unique rice contains high amounts of antioxidants, containing up to six times more antioxidants than that of brown or white rice. In fact, it's so nutritious that it's a suitable meal supplement not only for working adults, but also infants above 4 months, children, pregnant women and the elderly.

Country of Origin: Malaysia

What Does This Taste Like?
-None-

Health Benefits
1. Antioxidant-rich and has anti-inflammatory properties. Due to its antioxidant content, it's also anti-carcinogenic.
2. Quinoa contains all nine essential amino acids in addition to magnesium, B vitamins, iron, potassium, calcium, phosphorous, vitamin E and antioxidants.
3. Quinoa is also low on the glycaemic index and may help reduce blood sugar levels.
4. High fibre content, helps improve intestinal health and aids with weight loss.
5. Promotes satiety.
6. Excellent source of plant protein.
7. Contains a significant amount of iron. May be helpful for those suffering from anaemia as iron is necessary for the creation of red blood cells and transporting oxygen.
8. Lactose free and suitable for vegans and vegetarians.

Usage Directions
1. Add 250ml of warm water.
2. Add 20g/30g of Signature Market Organic Tri-Quinoa Purple Rice Milk.
3. Stir well & serve.

How To Consume
-None-

Ingredients
Organic Tricolour Quinoa (White, Red, Black Quinoa), Organic Purple Wild Rice, Organic Black Wild Rice, Soy-Based Plant Milk, Dietary Fibre, Oligo and Permitted Food Conditioner.

Allergy Information
-None-

Storage Instructions
Store in an airtight container to maintain freshness. Keep in a cool, dry place. Avoid exposure to sunlight or excessive heat.


Buy 3 Get Free Gift
Related Products
Ratings & Reviews
Share your feedback by reviewing this product. Help other shopper decide whether it's right for them.
LUK* G from BALING, Kedah | Posted 2 weeks ago
refreshing milk powder
Can mix it with my oats meal or just drink it as it is...it tastes good.
Mon*** T from Georgetown, Penang | Posted 2 weeks ago
Value for money. Fast delivery
All good. I am a happy buyer
Van**** W from Petaling Jaya, Selangor | Posted 3 weeks ago
Sweet
I love the smell, and I KNOW it says no added sugar, but it was still quite sweet compared to all the other beverages available. While it's delicious, this one isn't my favourite from SM.
Yea* P Y from Seberang Jaya, Penang | Posted 1 month ago
Tri-Quinoa Purple Rice Milk Powder (500g)
Quality product
Han P W from Cheras, Kuala Lumpur | Posted 1 month ago
Sar******** from Seri Kembangan, Selangor | Posted 1 month ago
Delicious
Very delicious, I mix with oats and drink in the morning.
Won* Y Y from Kluang, Johor | Posted 1 month ago
Purple Rice Milk Powder
Nice taste, fast delivery, good customer service.
Shi* W from Kuala Lumpur, Kuala Lumpur | Posted 1 month ago
Good Taste
Good Taste. Value of money
Che*** C X from Genting Highlands, Pahang | Posted 2 months ago
Taste good
Even it is not added sugar but still taste good.
Loh P L from Port Klang , Selangor | Posted 3 months ago
Purple rice milk
Worth to buy
Cyn** F from Batu Gajah, Perak | Posted 3 months ago
Tri-Quinoa Purple Rice Milk Powder (500g)
Not Bad
Yea* P Y from Seberang Jaya, Penang | Posted 4 months ago
Tri-Quinoa Purple Rice Milk Powder (500g)
Love the aroma
Sel*** Y from Kajang , Selangor | Posted 4 months ago
Healthy Add-Onn
This is an add-on powder into my 2.5yrs old child milk to keep her full longer during night time. Else, I will have to wake up every 2hours to feed her in the middle of the night. I love it myself too as supper.
Eve C from Kuala Lumpur, Kuala Lumpur | Posted 5 months ago
Sounds yummy
Can't wait to try it.
Cho** F F from Menglembu, Perak | Posted 7 months ago
High nutrition quinoa milk powder
I have been looking for quinoa milk powder for a long time. Finally found it here. A very high nutrition rice milk powder for those gluten allergic.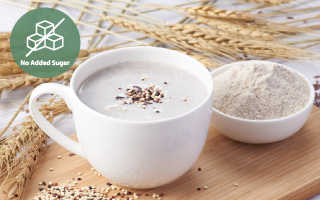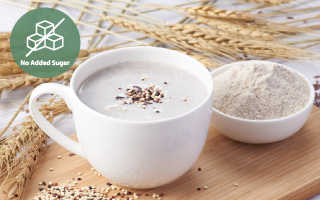 Tri-Quinoa Purple Rice Milk Powder
(500g)