Free Room Spray Trial Gift Box*

About This Product

Love your chocolate milk but lactose intolerant? Not a fan of the taste of nut milks or soya milk? We've got just the thing for you then. CocoaMalt Active is a gluten-free, lactose-free alternative to the other milks available in the market now. Made from organic millet powder and fortified with DHA from seaweed extracts, it's vegetarian-friendly and contains plenty of heart-healthy nutrients. Millet milk is rich in dietary fibre, protein, calcium, copper, iron, magnesium, phosphorous, potassium and selenium as well as vitamins like folate, pantothenic acid, niacin, riboflavin and vitamins B. Cocoa is rich in polyphenols and can aid in reducing inflammation, improving blood flow and cholesterol levels as well as lowering blood pressure. When combined, millet and cocoa may help improve blood flow to the brain and give you an energy boost, thus making this the ideal drink to sip when studying or working.

Country of Origin: Malaysia

Ingredients
Organic Millet Powder, Flaxseed Powder, Seaweed Extract Powder (DHA), Beta-Carotene, Lutein, Natural Cocoa Powder, Galactooligosaccharide (GOS).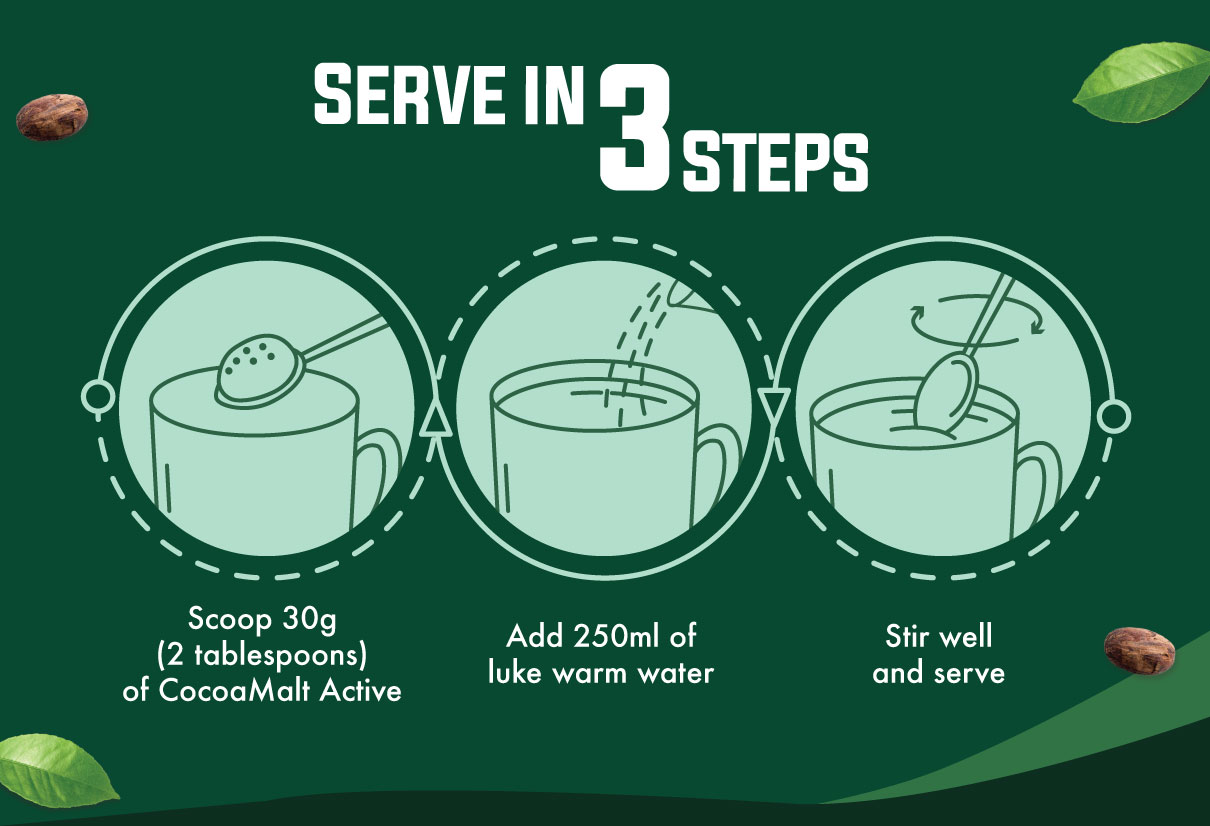 Buy 4 Get Free Gift
Related Products
Ratings & Reviews
Share your feedback by reviewing this product. Help other shopper decide whether it's right for them.
sha***** m from kuching, Sarawak | Posted 1 week ago
Fast Delivery!!
Loved it taste!
Anynomous | Posted 4 weeks ago
Energetic Drinks
Blend with strawberries. Put some macadamia trail nuts.
Fel**** T from Genting Highlands, Pahang | Posted 1 month ago
Nutritious
Mix with muesli is good choice
Est*** T from Kuala Lumpur , Kuala Lumpur | Posted 1 month ago
Choco malt
Taste really nice!
ER J L from WPKL, Kuala Lumpur | Posted 2 months ago
Less sugar and feels the great of the cocoa
Yummy
Nor***** M from Seri Kembangan , Selangor | Posted 3 months ago
simplify my life
2nd-time repeat order, it was so convenient for me as especially in the office for an energy booster
Menaga D/O Krishnan from Johor Bahru, Johor | Posted 6 months ago
My fav drink
I have stopped using Milo due to too much of sugar contain. And started to drink CocoaMalt, slightly similar to Milo & extremely healthy💚
CocoaMalt Active (with natural DHA)
(500g)