Free Delivery + Lifetime Membership
Signature Market
Japanese Houjicha Latte with Organic Soy Milk
(25g x 8 sachets)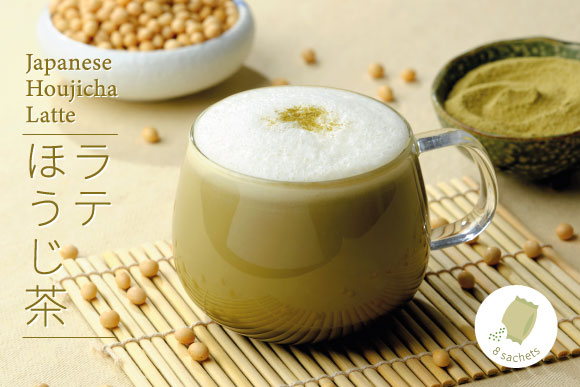 Retail : RM 25
Member : RM 16.9 (Save 32%)


About This Product

Missing your favourite houjicha latte but can't make a run to a cafe? Make your own houjicha latte at home or in the office instead! The houjicha used in our recipe is sourced from Mie Prefecture, the third largest green tea growing region in Japan and home to many other premium quality teas. Our Japanese Houjicha Latte With Organic Soy Milk offers you the same delicious flavour and decadently smoky taste of your favourite roasted tea latte in the comfort of your own home. Swapping out dairy for organic soy milk doesn't just make it a healthier option, but a vegan-friendly one too! The creaminess of the soy milk also adds a natural sweetness and helps balance out the flavour of the houjicha's smoky bittersweetness.

Country of Origin: Malaysia

Ingredients
Organic Soy Milk, Houjicha, Sugar, Matcha.

Allergy Information
Contains soy products.


Related Products
Ratings & Reviews
Share your feedback by reviewing this product. Help other shopper decide whether it's right for them.
Anonymous | Posted 2 weeks ago
The best. Never regret
Initially, I've tried matcha green tea but too sweet for me. Then I've found houjicha latte. Definitely suit my tastes. Not too sweet at all. The taste of soy milk is not too strong that overtake the flavour of houjicha. I just love it so much...
Sit* N M from Putrajaya, Putrajaya | Posted 3 weeks ago
Good drink
Can drink it any time and worth it
Ash*** K from Petaling Jaya, Selangor | Posted 1 month ago
Joa*** L from Melaka , Melaka | Posted 1 month ago
Quite a nice drink
Taste not bad. Not sweet at all :)
Lis* F from Bangsar South, Kuala Lumpur | Posted 1 month ago
Soothing
Soothing to my tummy and soul !
Au M A from Cyberjaya, Selangor | Posted 2 months ago
Nice beverage
I like this latte drink as it's low calories and taste not too sweet
Cho** C L from KUCHING , Sarawak | Posted 2 months ago
Anonymous | Posted 2 months ago
It's so great!
Rasa yang lemak, sedikit pahit dan manis adalah booster pada waktu pagi. Sedap sangat!
Jia W M from Putrajaya, Selangor | Posted 3 months ago
Not sweet latte
Prefer if the houjicha come with a little bit of bitter taste.
Tan K Y from Gelugor, Penang | Posted 3 months ago
1st Purchase
I am delighted that Signature Market introduces the houjicha version of the matcha latte! I love the roasted matcha taste. Like its matcha variant, this also comes in individual sachets which makes it convenient to enjoy a cup, anytime, anywhere.
VIV*** L M Q from NIBONG TEBAL, Penang | Posted 3 months ago
Houjicha super fragrant
It's a nice tea time drink. Love the houjicha fragrance and it is not too sweet as well.
FOO Y L E from PERMATANG PAUH, Penang | Posted 3 months ago
Taste so good
The smell and the taste of houjicha is so great.. a very good ratio of houjicha and soy, allow the houjicha aroma & taste to stand out, while the latte smoothness is there at a right level... great blend!
Japanese Houjicha Latte with Organic Soy Milk
(25g x 8 sachets)