Free Heart of Spring Bamboo Bowl*

About This Product

No other food describes the experience of first love better than dark chocolate. Bittersweet, warm and comfortingly rich with an aftertaste that lingers long after the rest of the drink is finished - dark chocolate as a beverage is both seductive and soothing but getting the right balance of bitter and sweet is a balancing act not many succeed at. Starting with an aromatic chocolatey aroma due to the 55% cocoa content to the last luscious sip, our Premium 55% Dark Chocolate Powder yields the most sinfully decadent cup of hot (or cold) chocolate you'll find in the market. Showcasing a delicate balance of bittersweet paired with an intoxicatingly rich aroma of chocolate, it's a taste you're sure to fall in love with.

Country of Origin: Malaysia

Ingredients
Cocoa Powder, Sugar, Non-dairy Creamer, Fructose, Chocolate Powder, Guar Gum.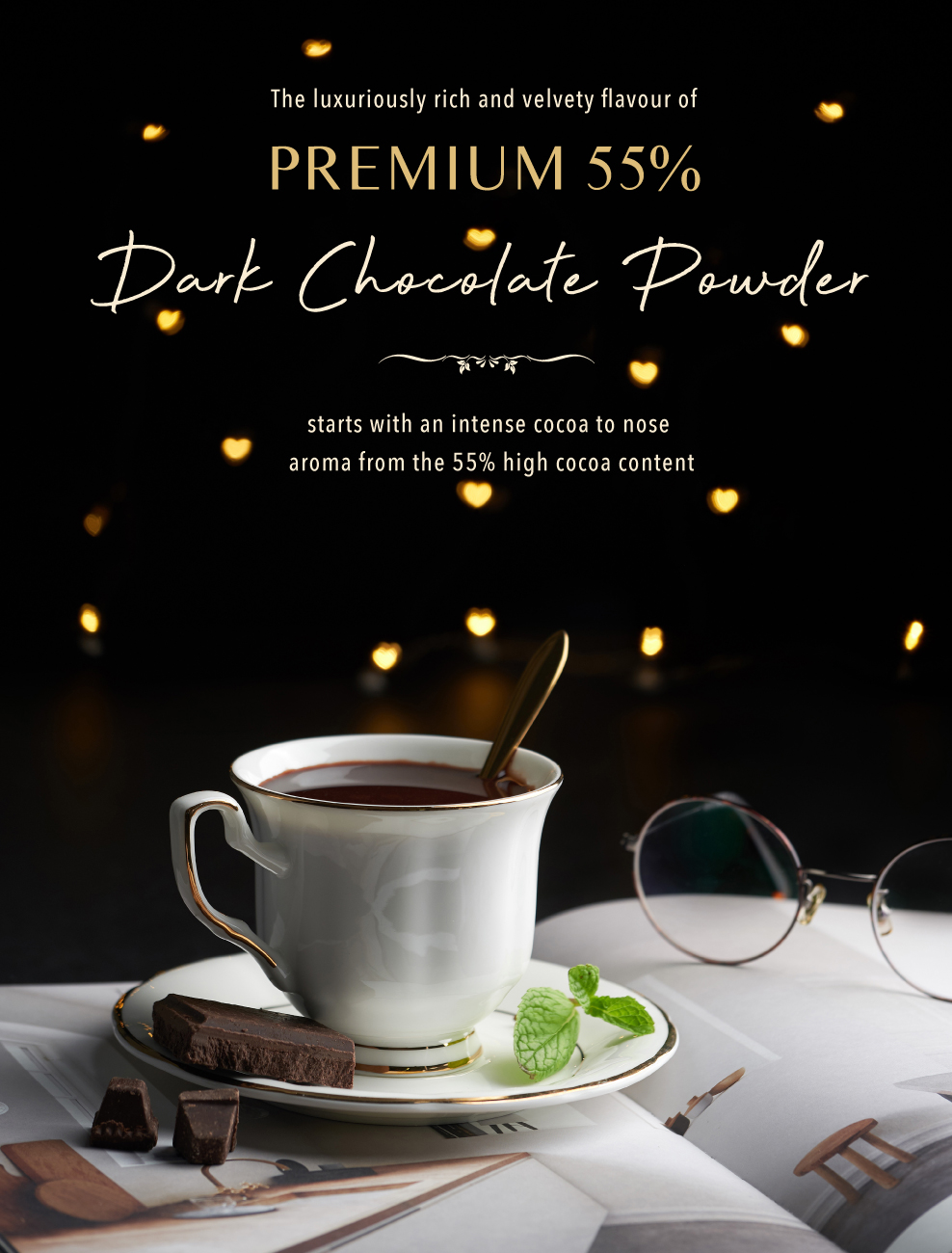 Buy 3 get free gift
Related Products
Ratings & Reviews
Share your feedback by reviewing this product. Help other shopper decide whether it's right for them.
Pri*** A from Semenyih, Selangor | Posted 2 weeks ago
One of the best
One of the best chocolate drinks i have had..
Ama*** from Butterworth , Penang | Posted 3 weeks ago
Not so sweet and thick texture
Tried it as soon as i receive it. The taste was good.... the dark chocolate taste is there, not so sweet. love it. Parents love it too.
Pri*** N from Skudai, Johor | Posted 3 weeks ago
TASTY hot chocolate in super LOW CALORIES
Just need 1 tablespoon of powder to put in 200ml hot water, ready to serve and fantastic taste!
Zul******** Y from Banting, Selangor | Posted 1 month ago
Dark chocolate powder
Good, nice
roe* y from Kota bharu, Kelantan | Posted 1 month ago
suit my taste
Dark choc is my new favorite hot choc..so delicious, suit my taste
CHE***** L from SEREMBAN, Negeri Sembilan | Posted 2 months ago
ER J L from WPKL, Kuala Lumpur | Posted 2 months ago
Mix with coffee that is a great choice!
The good aroma of cocoa
nab**** from kuala lumpur, Kuala Lumpur | Posted 2 months ago
ok
not really liking the taste, but just personal taste
Che* S L from Ampang , Selangor | Posted 2 months ago
My comfort drink
This is so good that can have a cup of hot dark chocolate when you're feeling down.
Yap W W from Cheras, Selangor | Posted 3 months ago
Ele*** from Cheras, Selangor | Posted 3 months ago
Great drink
Thick chocolate drink 👍 Less sweet compared to others. Would have been better if there's lesser sugar
Lim K c from Cheras, Kuala Lumpur | Posted 4 months ago
Rich chocolate
Very rich in chocolate
Premium 55% Dark Chocolate (Beverage)
(150g)