Signature Market
Instant Natural Brown Rice - Chocolate
(500g)
Selling : RM 23 (Save 30%)
(
log in
for member pricing )

About This Product

Brown rice often gets passed over in favour of white rice due to its taste and texture when cooked. However, it's actually more nutritious than our typical steaming plate of pearly white grains. Brown rice is considered a whole grain as it contains three parts of the grain kernel: the outer fibre-filled layer (bran) the nutrient-rich core (germ) and the starchy middle layer (endosperm). Due to the way it is processed, only the hull (inedible outer shell) is removed unlike white rice which has had its bran and germ removed. This makes brown rice a much healthier and more nutritious option than white rice.
Now available in a delicious chocolatey flavour, you can enjoy the smooth, creamy richness of chocolate with the added benefits of brown rice and cocoa in one delicious, easy to prepare drink. No artificial preservatives, colouring or lactose, just the nutritious goodness brown rice to give you the energy needed to power through your day. Suitable for use as a supplement to your daily meals, our Instant Natural Brown Rice Powder-Chocolate is suitable even for infants aged 6 months and above, pregnant women and elderly.

Country of Origin: Malaysia

What Does This Taste Like?
A rich chocolatey malt-like drink with the aroma of roasted rice and chocolate.

Health Benefits
1. Brown rice retains most of the vitamins that white rice doesn't due to processing methods.
2. Contains vitamins A, B1, B2, B12, E as well as minerals such as magnesium, calcium, zinc and iron.
3. Rich in calcium which promotes healthy bones and teeth.
4. Covers the main food classes such as carbohydrates, fat, protein and cellulose.
5. Good source of dietary fibre to maintain bowel health, lower cholesterol and control blood sugar levels. May also help prevent constipation and boost metabolism rate.
6. Powerful source of antioxidants such as polyphenols which can aid in regulating blood sugar levels.
7. Helps improve blood flow and lower blood pressure levels, reducing the risk of heart disease and strokes.
8. May improve mood and alleviate some symptoms of depression.
9. Flavanols in cocoa can help improve symptoms of Type 2 Diabetes.
10. Cocoa contains anti-asthmatic compounds such as theobromine and theophylline thus helping people with asthma.
11. Excellent supplement for those lacking abovementioned classes of vitamins and minerals. It's also suitable for infants 6 months and above.

Usage Directions
Pour the contents of 30g into a cup and add 180ml of hot water. Stir until contents are fully incorporated. Alternatively, you may use a shaker bottle to prepare it.

How To Consume
See usage directions.

Ingredients
Brown Rice, Malted Cocoa Powder, Non-Dairy Creamer, Brown Sugar.

Allergy Information
-None-

Storage Instructions
Store in an airtight container to maintain freshness. Keep in a cool, dry place. Avoid exposure to sunlight or excessive heat.


Related Products
Ratings & Reviews
Share your feedback by reviewing this product. Help other shopper decide whether it's right for them.
Ana S M S from Universiti Putra Malaysia, Serdang, Selangor | Posted 2 weeks ago
Yummy
light and delicious choco drink.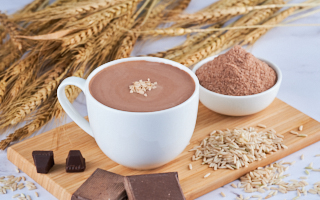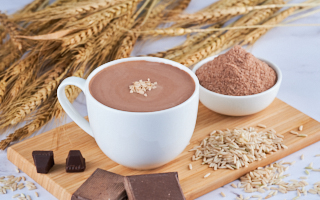 Instant Natural Brown Rice - Chocolate
(500g)