Free Matcha & Houjicha Latte with any purchase*

About This Product

Almond milk, almond nougat, almonds everywhere - bored of eating plain ole' almonds? Need some spice in your life but afraid of the burn? Don't fret, we've got just the snack for you. Our Scrumptious Chilli Almonds are just mildly spicy enough to tease your taste buds with a hint of tanginess to whet your appetite. We promise you won't get heartburn or a mouth on fire from these nuts. Roasted instead of fried to preserve the nutrients, you'll get a dose of vitamins as well as getting your cravings satisfied!

Country of Origin: Malaysia

Ingredients
Almond, Sugar, Salt, Chilli Powder, Vinegar.

Allergy Information
Contains nut products.

Storage Instructions
Store in an airtight container or in its original resealable bag to maintain freshness. Keep in a cool, dry place. Avoid exposure to sunlight or excessive heat.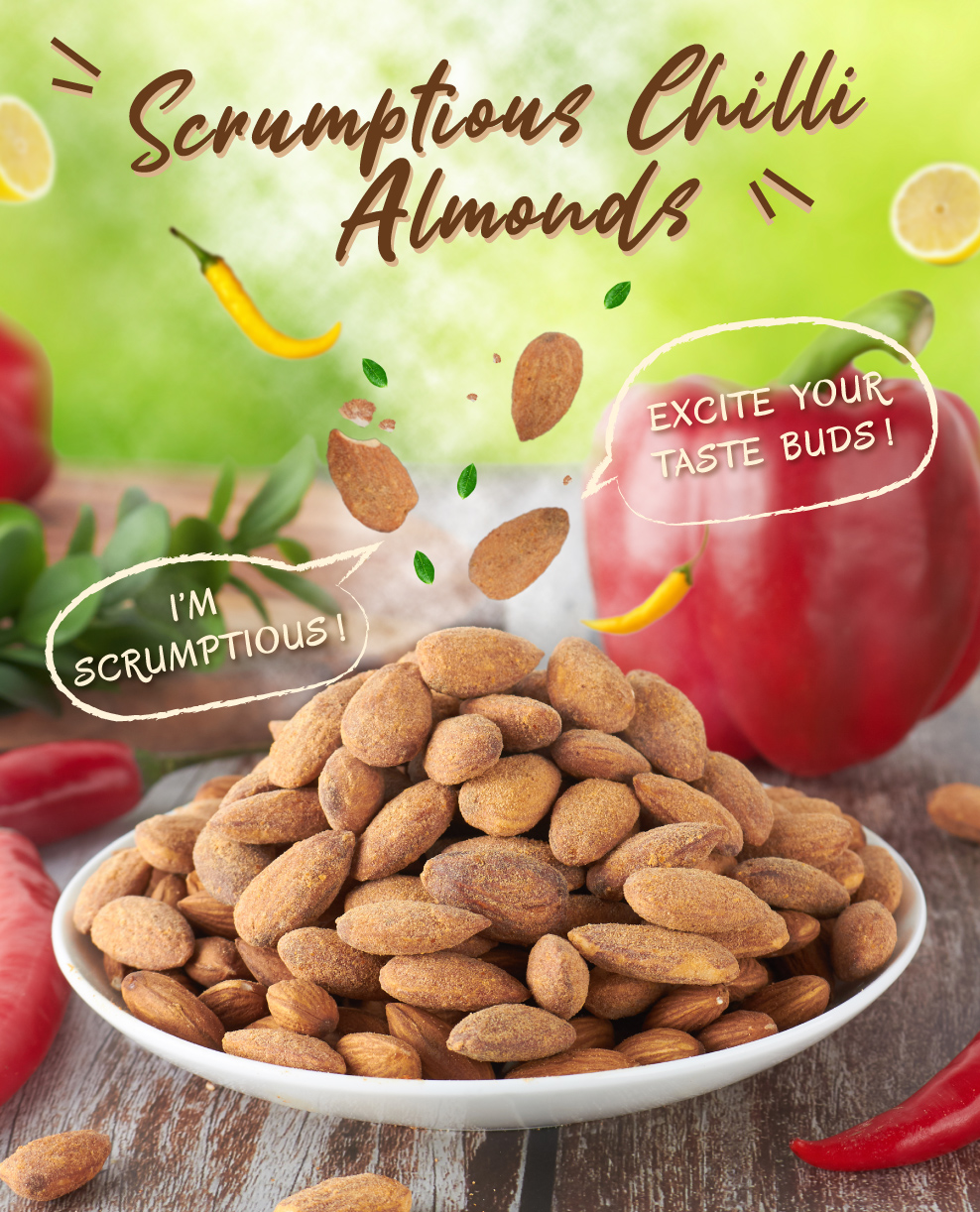 Buy 1 Get Rebate
Related Products
Ratings & Reviews
Share your feedback by reviewing this product. Help other shopper decide whether it's right for them.
Pri** from Petaling Jaya, Kuala Lumpur | Posted 4 weeks ago
Sab*** V from Kajang, Selangor | Posted 2 months ago
Sha***** M N from Kuala Lumpur, Kuala Lumpur | Posted 3 months ago
Delicious
Delicious ever and cheap
IVY T from Seri Kembangan, Selangor | Posted 3 months ago
Repurchase!!
Like spicy snacks!
Ari** b A A from Kuantan, Pahang | Posted 3 months ago
Nice
Nice flavor. Not that spicy
Car**** L from Bayan Lepas, Penang | Posted 3 months ago
Delicious
Freshly baked with lightly seasoned almonds
Aid* A from Shah Alam, Selangor | Posted 5 months ago
Delicious
Like it. Great taste. The chilli tastes just nice.
Muh* Y from SEPANG, Selangor | Posted 5 months ago
Just nice
Taste good but doesn't really spicy.
nor******* m n from kuala terengganu, Terengganu | Posted 6 months ago
Scrumptious Chilli Almonds
my everyday must have it!
Ana*** M from Petaling Jaya, Selangor | Posted 6 months ago
Tasty!
This one is addicitve. Can't stop eating and the light spiciness in there is a good mix.
Sha***** M W from Putrajaya, Putrajaya | Posted 6 months ago
Mildly hot
I guess with it being mild you can snack on this for longer period of time
Scrumptious Chilli Almonds
(110g)