Signature Market
Fruit Leather Strips - Apple (Expiry On: May 2020)
(45g)
Selling : RM 14.5 (Save 19%)
(
log in
for member pricing )
Natural
About This Product
If you've ever read the nutrition labels behind a packet of fruit roll-ups otherwise known as fruit leather, you'd see a list of additives ranging from added sugars to artificial flavourings, colourings and preservatives. Not at Signature Market though. Our Fruit Leather Strips are made from 100% pure fruit with no additives or preservatives. Naturally sweetened from the fruit's natural flavours, chewy, juicy, vegan-friendly and kid-friendly, it's the perfect snack for when your mouth is feeling that itch to gnaw on something a little chewier than the usual cookies or dried fruit snacks. Signature Market's Fruit Leather Strips are great as candy replacements as they still retain most of the fruit's vitamins and minerals without packing on the artificial sweeteners. They are dried at low temperatures to preserve naturally occurring vitamins, enzymes and nutrients for a healthier chewy candy option. Make the healthy switch today and enjoy the concentrated natural tangy-sweet flavour of red and green apples as well as a dose of vitamin C when you snack on our Fruit Leather Strips-Apple!
Country of Origin: Malaysia
What Does This Taste Like?
Chewy and juicy with a naturally sweet apple flavour.
Health Benefits
1. ZERO added sugar and preservatives.
2. Made with 100% PURE fruit.
3. Antioxidant-rich and contains high levels of vitamin C which help to maintain healthy skin and eyes.
4. Good source of soluble fibre that helps to lower blood cholesterol and pectin that aids gut health.
5. Contains potassium which benefits heart health and may help prevent cardiovascular diseases.
6. Aids digestion and improves intestinal health.
7. Helps to maintain healthy skin, respiratory system and eyesight.
8. May aid weight loss and relieve symptoms of anaemia.
Usage Directions
Open packet and consume.
How To Consume
Great as a candy replacement for kids.
Ingredients
Green Apple, Red Apple.
Allergy Information
-None-
Storage Instructions
Store in an airtight container or in its original resealable bag to maintain freshness. Keep in a cool, dry place. Avoid exposure to sunlight or excessive heat. Best consumed within 1 week upon opening for optimum freshness.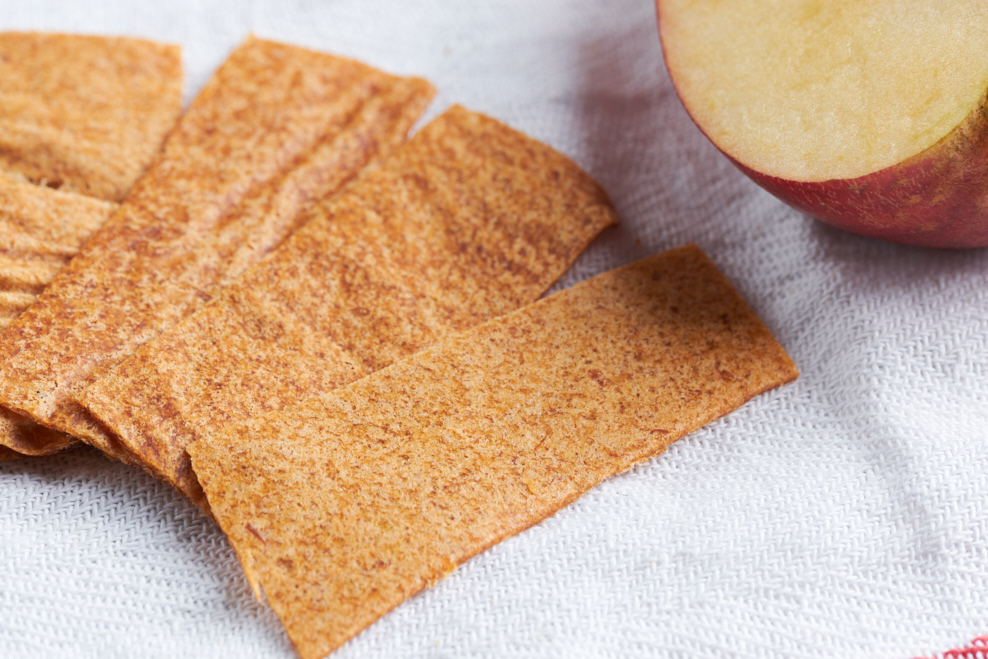 Related Products
Fruit Leather Strips - Apple (Expiry On: May 2020)
(45g)