Signature Market
Dried Mulberries
(200g)
Selling : RM 18 (Save 10%)
(
log in
for member pricing )
Organic
About this product
Country of Origin: China
Produced from high quality mulberries from China & processed with natural drying. The Signature Market Dried Mulberries provides you the original & natural taste of dried mulberries in a healthy way. Enjoy our delicious dried mulberries as snacks or sweet treats.
✔ Non-GMO
✔ Natural Taste
✔ Vegetarian
Did You Know?
Mulberries are famous for its heart and liver protection function. This is due to their impressive content of antioxidants, which are compounds that help fight off harmful free radicals and protect cells from damage. Not only that, dried fruits are actually loaded with micronutrients, fibers and minerals. Flavonoids which are responsible for the color and flavor of mulberries helps to lower the risk for heart disease. Hurry and grab yours today!
Healthy Options to Enjoy
1.
Top Your Cereal or Yogurt.
-Top on cereal or oatmeal with a handful of Dried Mulberries. It works well with low fat yogurt and cottage cheese, too.
2.
Add flavor to Your Trail Mix
-Trail Mix would not be the same with Dried Mulberries. Enjoy the healthy & natural savoury by adding dried mulberries into your trail mix.
3.
Healthy Snack Choice
-Substitute unhealthy snacks with Signature Market Dried Mulberries as a healthier choice.
Ingredients
Dried Mulberry.
Storage
Keep in cool and dry place.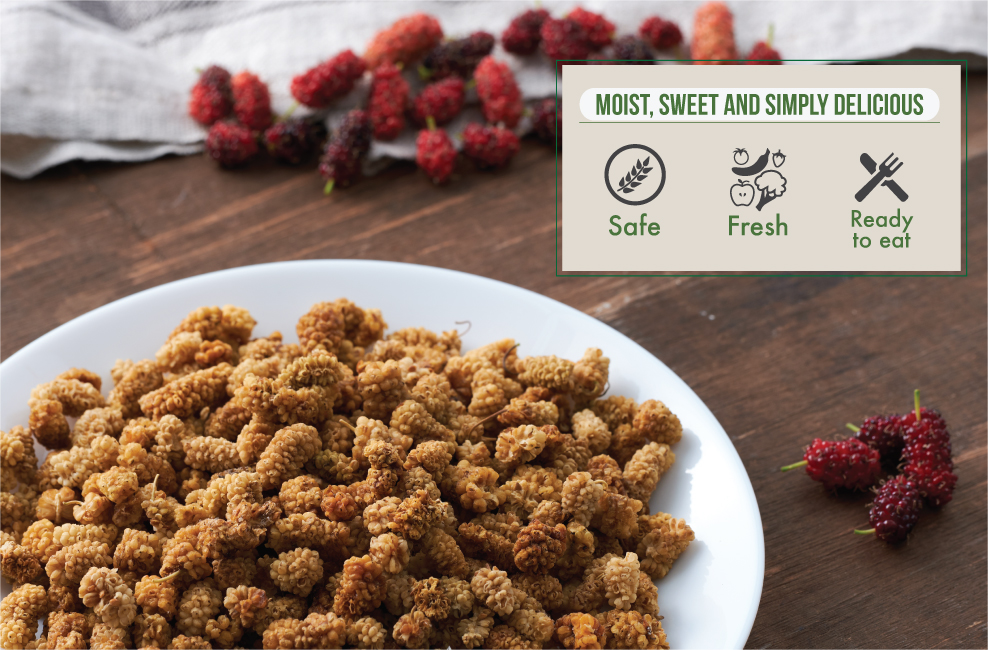 Related Products