Free Matcha & Houjicha Latte with any purchase*

About This Product

Sweet with just the right balance of tartness, dried mulberries are a tasty cross between dried goji berries and figs. When dried, they gain an addictively crunchy texture that adds some textural contrast to any food they're added to. A superfood in its own right, mulberries contain plenty of plant-based protein and antioxidants. Mulberries are also rich in vitamin C, E and K1 as well as iron and potassium. Produced from high quality non-GMO mulberries grown in the cool climates of China, our Dried Mulberries are naturally dried to preserve their original flavour and nutrients as much as possible so you can enjoy them as nature intended.

Country of Origin: China

Ingredients
Dried Mulberry.

Allergy Information
-None-

Certified Halal
This product has been certified as halal by JAKIM.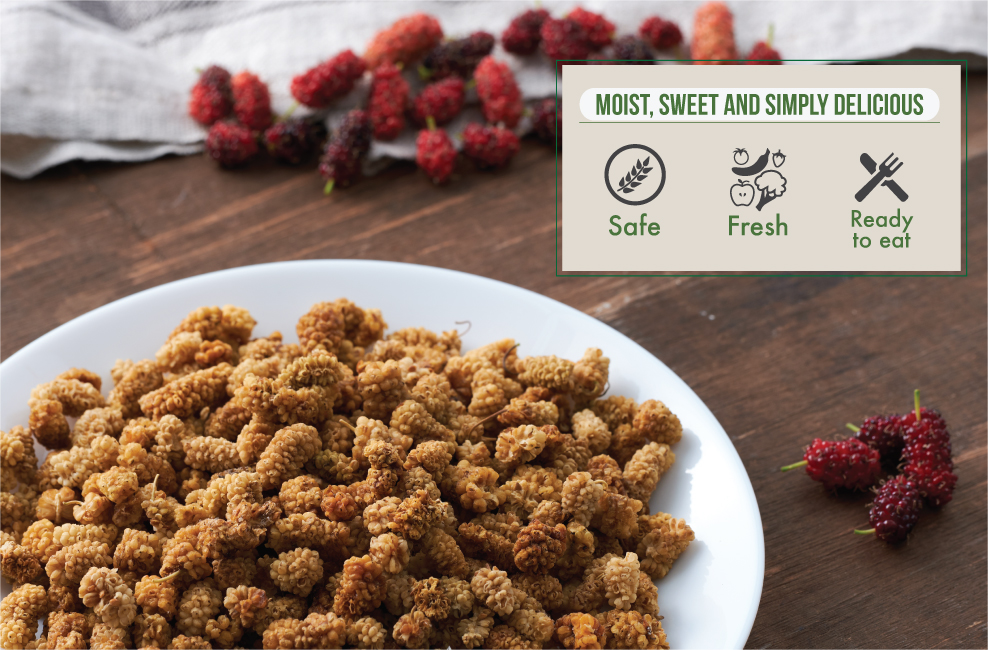 Buy 1 Get Rebate
Related Products
Ratings & Reviews
Share your feedback by reviewing this product. Help other shopper decide whether it's right for them.
Dar*** B from Kuala Lumpur, Kuala Lumpur | Posted 3 weeks ago
Ugly but delicious!
Dont be fooled by its looks.
Ste***** O from Mentakab , Pahang | Posted 3 weeks ago
Ist time purchase
Will share after taken
Nur A A M from Putrajaya, Putrajaya | Posted 1 month ago
Surprising sweetness and unique taste
I was not a fan of berries yet I ordered one out of curiosity. Surprisingly, its taste was to my liking. I like how the texture of the dried mulberries were a bit chewy yet the sweetness of the fruits remain. However, you might be discourage to try due to the physical look was a bit unattractive. It is now added to my list of favourite. I am glad that I made the call to try it. It is listed in my snacking trio combo.
Wyl** Y from Puchong, Selangor | Posted 1 month ago
Perfect snack
Take one handful and snack on them / Add them into your morning cereal or granola. Perfect.
And* N from Putrajaya, Putrajaya | Posted 2 months ago
Sedap
Sedap. Berbaloi beli waktu sale
CHE** H S from Shah Alam, Selangor | Posted 3 months ago
EMM* C from Mentakab , Pahang | Posted 6 months ago
Ard** K from Petaling Jaya, Selangor | Posted 7 months ago
Very nice snack
hopefully the sweetness of it is do no harm to diabetics patients.
Lyn* W from Seri Kembangan, Selangor | Posted 8 months ago